ISIS Sirte Executions: What To Know About Islamic State Takeover Of Libya City After Egyptian Beheadings, Expansion In North Africa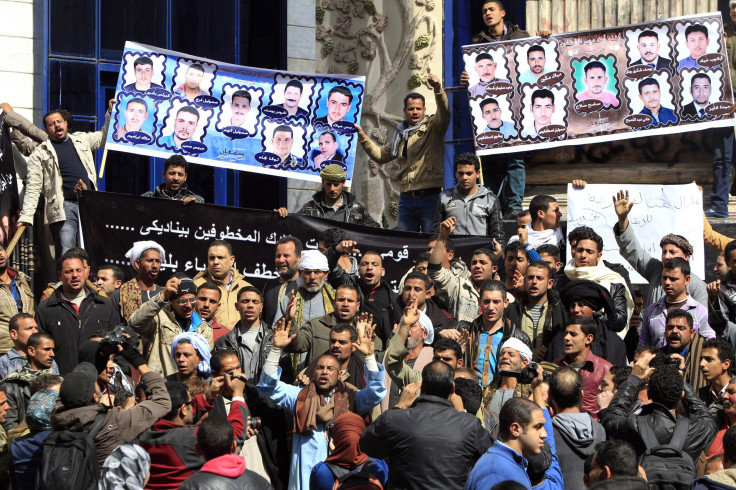 The Libyan government sent fighters Tuesday to Sirte, a city on Libya's northern coast, to fight the Islamic State group in the latest sign of ISIS's growing reach. Since October 2014, ISIS's presence in the North African country has expanded from Derna, a city along the northeastern coast of Libya, all the way to Sirte, another coastal city about 530 miles away that is the hometown of Moammar Gadhafi, Libya's leader until his death following the country's popular uprising in 2011.
Libya's Tripoli-based government has deployed a battalion to recapture certain buildings and institutions captured by ISIS in Sirte while the Libyan air force launched airstrikes on Derna. The battle against ISIS in Libya has escalated since Tripoli Province, a group that has pledged allegiance to ISIS, released a video Sunday claiming to show it had beheaded 21 Coptic Christian Egyptians, who had had been held captive in Sirte. In retaliation, Egypt carried out airstrikes on Derna, an ISIS stronghold in Libya, Monday.
The fall of the government headed by Gadhafi in 2011 left a political vacuum various militant groups have been fighting to occupy and control. Gadhafi had ruled the country for 42 years. ISIS's presence in Libya became noticeable starting in late October when a video showed a crowd of Libyan militants declaring allegiance to Abu Bakr al-Baghdadi, the leader of ISIS. In November, another group that called itself Mujahedeen of Libya also declared its allegiance to Baghdadi. ISIS's presence has since expanded to al-Bayda, Benghazi, Sirte, and other cities, and it controls the whole of Derna, a city of about 100,000, CNN reported. In November, the Libyan air force bombed some ISIS positions in Derna.
About 800 ISIS fighters operate in Derna, as part of a branch calling itself the Barqa division of ISIS. ISIS was able to take over Derna in part because of Abu Nabil al-Anbari, an Iraqi member of ISIS and senior leader in the group. Anbari was sent there in September by Baghdadi to help take control of the city.
ISIS claimed during the weekend it controlled some municipal institutions -- a hospital, radio station and some government buildings -- in Sirte, and the Financial Times reported it was broadcasting Baghdadi's sermons on local radio.
© Copyright IBTimes 2023. All rights reserved.
FOLLOW MORE IBT NEWS ON THE BELOW CHANNELS