Islamic State In Egypt: God Wants All Christians Dead, New ISIS Video Claims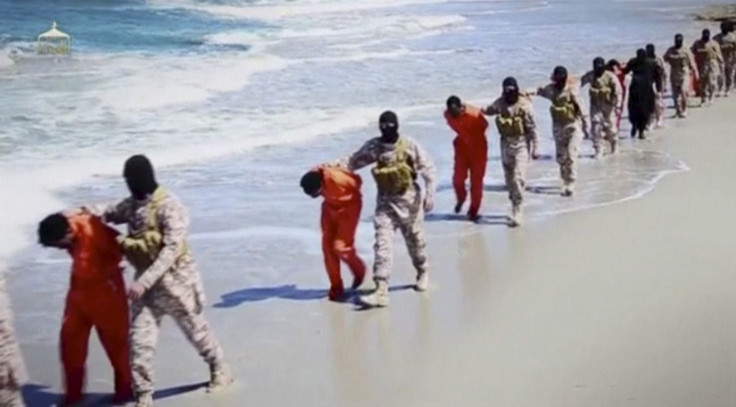 God wants all Christians dead, an Islamic State group in Egypt declared in a video released over the weekend featuring a suicide bomber who killed nearly 30 people in a Coptic cathedral late last year, Reuters reported Sunday. The suicide bomber identified as Abu Abdallah al-Masri claims in the 20-minute video that jihadists in Egypt will be freed soon when the ISIS group "liberates" Cairo.
The ISIS fighter also known as "The Egyptian" killed 29 people, mostly women and children, at St. Mark's Cathedral in Cairo in December in the militant group's deadliest attack in Egypt outside the Sinai Peninsula. Islamic State in Egypt was formerly known as the "Sinai Province" group and the church attack was seen in Egypt as a sign that the militants were growing stronger.
Egypt, with 90 million residents, is home to 9 million Christians, the Middle East's largest Christian community. Masri calls the Coptic pope and Christian businessmen ISIS' "favorite prey," in the video.
"Finally, to my brothers in captivity: Rejoice, you believers, do not falter or grieve. I swear to God we will very soon liberate Cairo and free you from captivity," Masri says in the video. "We will come bearing explosives, I swear we will, so rejoice, you believers."
The narrator explains that Christians were no longer "dhimmis," or non-Muslims in Islam who benefit from state protection. Instead, Christians are "infidels" helping the West wage battle on Muslim nations.
"God gave orders to kill every infidel," one of the militants carrying an AK-47 assault rifle says in the video. "Oh worshippers of the cross … the soldiers of the state are watching you," says another masked militant.
Christians in Egypt have increasingly been threatened by violence. Coptic Christian teacher Gamal Tawfiq, 50, was shot dead Thursday by two militants on a motorbike, while militants killed Bahgat Zakher, a Christian veterinary surgeon, in el-Arish earlier this month.
ISIS lures new recruits with its tales and videos showcasing brutal violence. Fighters from the Islamic State group have arbitrarily detained, tortured and forcibly married Sunni Arab women and girls in Iraq, Human Rights Watch said in its latest report Monday.
© Copyright IBTimes 2023. All rights reserved.