'Islamic State In Jerusalem' Claims Killings Of Israeli Hebron Teenagers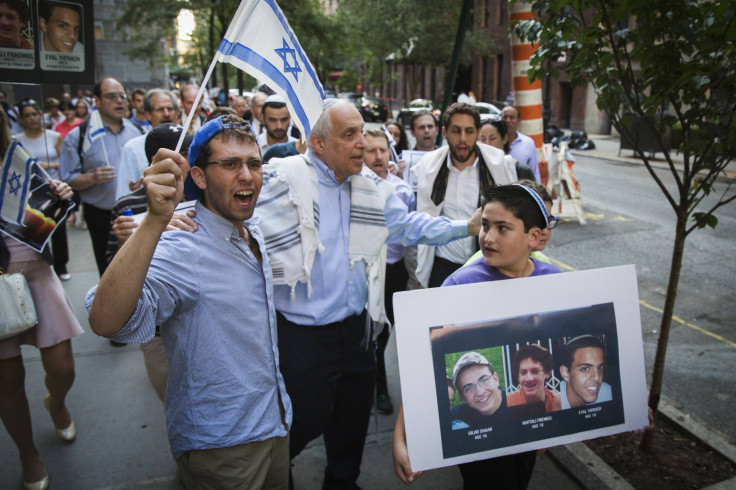 A Palestinian jihadi group calling itself "Supporters of the Islamic State in Jerusalem" claimed responsibility for the abduction and killing of three Israeli students in Hebron, whose bodies were found on Monday evening in a shallow grave.
The statement was posted on an open access jihadist website supportive of the Islamic State of Iraq and the Levant (Isis), the Sunni militant group which is waging war in Iraq and has declared a caliphate straddling Iraq and Syria.
The Israeli military
discovered the corpses
of 16-year-olds Naftali Frenkel, Gilad Shaar and 19-year-old Eyal Yifrach near the village of Halhul, north of Hebron, not far from where they disappeared on 12 June.
The three bodies were found around 6 pm in a shallow grave dug by their abductors in a valley between Beit Khalil and Halhul. According to Ynetnews.com, the boys were shot shortly after their kidnapping.
Israel has accused Hamas of abducting the teens, who disappeared while hitchhiking at night from the Jewish settlement of Gush Etzion.
Premier Netanyahu said: "Hamas is responsible and Hamas will pay." Hamas has denied any involvement.
Israel launched a wide-range operation in the West Bank to find them. More than 400 people, most said to be members of Hamas, were arrested and more than 1,300 sites were searched.
The massive manhunt exacerbated tension in the region and six Palestinians have been so far killed in clashes with Israeli forces.
This article is copyrighted by IBTimes.co.uk, the
business news
leader
FOLLOW MORE IBT NEWS ON THE BELOW CHANNELS