Islamic State Mass Graves: Iraq Uncovers Execution Sites In Former Palace Of Saddam Hussein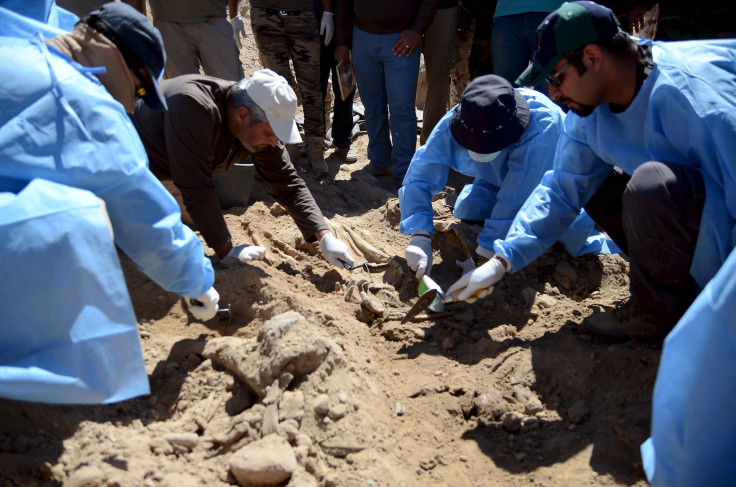 Iraqi authorities said they have uncovered mass graves of Shiite soldiers executed by Islamic State militants in a former palace complex of Saddam Hussein in his hometown of Tikrit. Investigators said the graves contain the remains of 1,700 soldiers who were stationed at nearby Camp Speicher and were captured by the Islamic State group during last summer's fighting.
At least 160 bodies, bound and showing signs of execution style gunshot wounds, have been found since the government began excavating the area earlier this month, the Washington Post reported. Searchers have found 10 locations they believe to be the site of mass graves in the former Iraqi dictator's palace. Islamic State group militants took Tikrit during their blitzkrieg-like advance across northern Iraq last summer with the help of Iraqis loyal to Saddam Hussein's Baath party. The Iraqi army made a stand at Camp Speicher, but the camp fell after days of siege, constant shelling and a lack of timely reinforcement. All of the soldiers left there were either captured or killed.
Photos of mass executions emerged shortly after the Islamic State overran Tikrit in June, showing truckloads of Shiite soldiers being brought to execution sites, many wearing civilian clothes they donned in attempts to escape the city undetected. Human Rights Watch examined the photos and mapped the likely execution sites. Many soldiers were executed on the banks of the Tigris River and their bodies left to float downstream.
Then in March, the Iraqi army began an assault on Tikrit backed by Shiite militias, Iranian advisers and U.S.-led air power. After a month of ferocious street-to-street battles and Tikrit all-but leveled and abandoned, the Iraqi army declared victory April 8. At least 536 buildings around the city have been affected in some way by the fighting while 137 were destroyed and 241 are heavily damaged, according to Stars and Stripes.
Isolated firefights continue around the city and searchers exhuming bodies at Hussein's former palace say they remain wary.
© Copyright IBTimes 2022. All rights reserved.
FOLLOW MORE IBT NEWS ON THE BELOW CHANNELS