Israel Mounts Operation To End Gaza Rocket Fire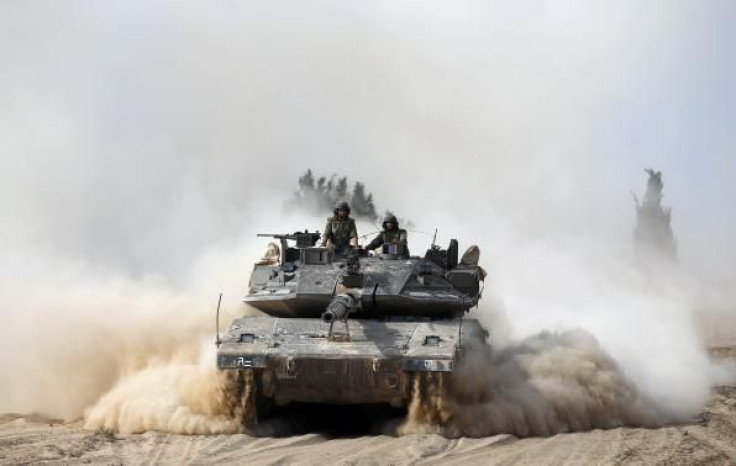 Update, 11:55 p.m. ET: The Israeli army had hit 50 targets in the Gaza Strip between late Monday and early Tuesday, The Jerusalem Post reported, adding 47 targets were hit by Israel's air force while three were hit by the Israeli navy off the coast of Gaza.
"We are entering into a long operation. This is only the start," a senior official for the Israel Defense Forces' Operation Protective Edge said, according to the report. "We are preparing to increase ground forces on Gaza border."
Update, 10 p.m. ET: The aerial offensive launched by Israel in the Gaza Strip -- part of a campaign named "Operation Protective Edge" that's targeting Hamas Islamist militants firing rockets into Israel -- bombed more than 30 targets, including homes, Reuters reported. The military urged Israelis within a 40-km (24-mile) radius of the southern coastal territory to stay within reach of protected area. As a precaution against rocket fire, it also ordered summer camps shut.
Original story:
The Israeli military late Monday announced an operation to end rocket fire from Gaza.
"Operation Protective Edge" was announced in a tweet:
#IDF has commenced Operation Protective Edge in #Gaza against #Hamas, in order to stop the terror #Israel's citizens face on a daily basis
Later it added:
#Hamas will not be safe as long as it continues to threaten the lives of #Israeli civilians pic.twitter.com/hIVuAQ62vw
The action came after 30 rockets were fired within 30 minutes, bringing to about 70 the number fired throughout Monday, Ynetnews reported. The Jerusalem Post put the number of rockets at 80 for the day. One person was reported injured.
The military said 12 of the rockets were shot down by the Iron Dome missile defense system.
Fighter jets flew sorties over Gaza looking for targets, Israel Radio reported.
The military also called up some 1,500 reservists.
Hamas' Izz Al-Din Al-Qassam claimed responsibility for the rocket fire.
"We can't avoid dealing with Gaza because there is noise [security developments] in other arenas," a source told the Post in reference to rioting Arab Israelis and in Palestinian districts east and north Jerusalem. The source accused Hamas of "taking an active and dominant part" in the attacks.
The escalation came as dozens of masked Palestinians tossed Molotov cocktails and improvised gas grenades at police in Shuafat, near where slain Palestinian teen Mohammed Abu Khdeir's family was mourning. Khdeir was burned alive in retaliation for the deaths of three Israeli teenagers who had been kidnapped by militants.
Ynetnews said 50 Palestinians engaged in throwing rocks at police near Tamra, north of Haifa, and dozens more rioted in Beit Safafa near Jerusalem.
Prime Minister Benjamin Netanyahu Monday called Khdeir's father and promised the youth's killers would be prosecuted fully, Ynetnews reported. The family, however, has rejected condolences from Israeli officials, turning away former President Shimon Peres when he tried to pay his respects, Ma'an News Agency reported.
© Copyright IBTimes 2023. All rights reserved.