Israel Palestine Clashes Update: IDF Rocket Kills Pregnant Woman, 3-Year-Old Girl In Gaza Amid Escalating Violence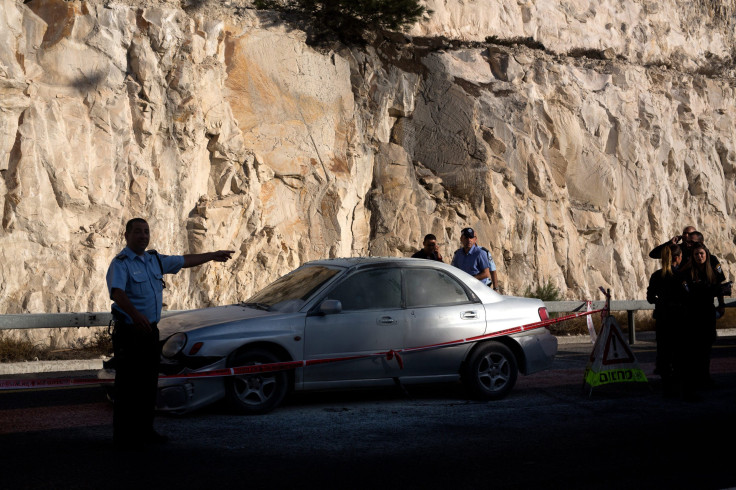 UPDATE: 4:35 a.m. EDT -- A Palestinian woman detonated an explosive device in her vehicle in the West Bank Sunday, lightly wounding an Israeli police officer and critically wounding herself, according to reports.
Police spokesman Micky Rosenfeld told the Associated Press that the police officer noticed the woman driving suspiciously Sunday morning and motioned her to stop. She then chanted "God in great" and detonated the explosive.
The attack is the latest incident in an upsurge in violence in the Israeli-Palestinian conflict in recent days.
Original story:
Officials said Israeli rockets aimed at Hamas targets in the Gaza Strip Sunday killed a pregnant Palestinian woman and her 3-year-old daughter, Reuters reported, as the latest wave of violence between Israelis and Palestinians approached its third week. In 12 days of violent clashes in cities throughout Israel, the Gaza Strip and the Israeli-occupied West Bank, four Israelis and 22 Palestinians have been killed, including two Palestinian boys ages 13 and 15 who were shot by Israeli forces.
The woman and her daughter were killed when one of the Israeli strikes caused a house to collapse. A 5-year-old boy and a man also were wounded, said Ashraf al-Qidra, a spokesman for the Gaza Health Ministry. The Palestinian boys were killed at a demonstration in the Gaza Strip, and the Palestinian Red Crescent, a humanitarian organization, said it had treated seven Palestinians who had been shot with live ammunition, the Ma'an News Agency reported.
The Israeli air force strikes were aimed at two weapons-manufacturing sites belonging to Hamas in northern Gaza, the Israeli military said Sunday morning, local time, the Jerusalem Post reported. The IDF said the strikes were in retaliation for a rocket, which the army blamed on Hamas, fired from Gaza at Ashkelon, an Israeli city 8 miles north of the border with Gaza. Israel's Iron Dome missile defense system intercepted the rocket.
In Jerusalem, Israeli Prime Minster Benjamin Netanyahu ordered police reinforcements amid a week of increasingly bloody clashes between Israelis and Palestinians in the city. Throughout the country, some 1,300 reserve troops have been called up and deployed.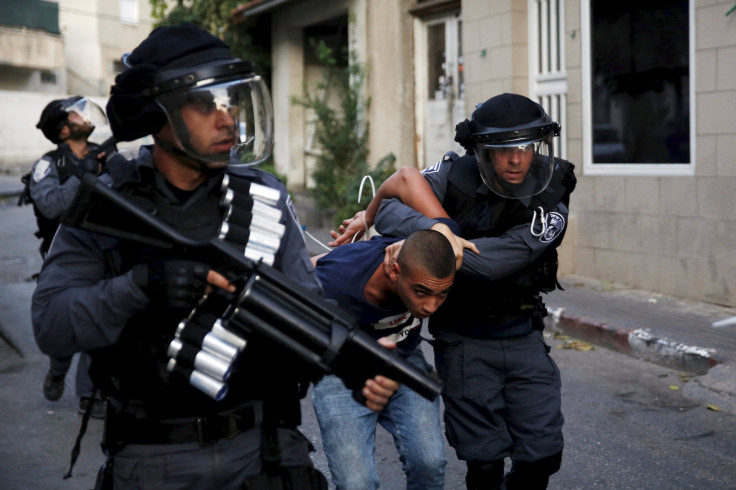 A 16-year-old Palestinian boy stabbed two Israelis Saturday, injuring them before police killed the boy, CNN reported. Israeli police also fired on and killed another Palestinian who stabbed two Israeli police officers Saturday.
Hundreds have been injured in clashes in Jerusalem, the West Bank city of Hebron, Gaza, Tel Aviv, an Israeli settlement in the West Bank and elsewhere. Several Palestinians from Gaza broke through a border fence into Israel Saturday, where some were arrested while others returned to Gaza. Clashes also broke out along the border Friday between Palestinians and Israelis.
The clashes entered their 12th day Sunday after Israel announced restrictions on Palestinians entering al-Aqsa Mosque. Located on the Noble Sanctuary, or Haram al-Sharif, it is considered the third holiest site in Islam and known to Jews as the Temple Mount.
© Copyright IBTimes 2023. All rights reserved.
FOLLOW MORE IBT NEWS ON THE BELOW CHANNELS