Israeli Election Preview: The Samaritans, Caught Between Two Votes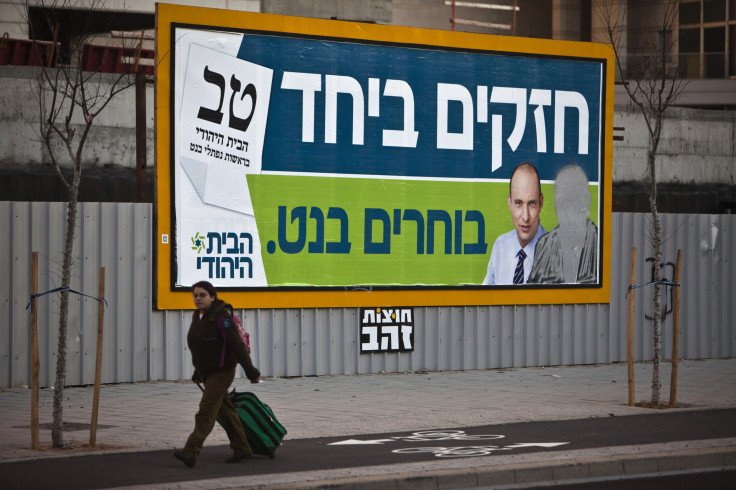 At 881 meters (2,900 feet), Mount Gerizim is one of the highest peaks in the West Bank -- and the view from it is a snapshot of what the Holy Land has become today.
On the one hand, the Arab city of Nablus covers the valley, its urban development sprawling eastward to absorb Balata, the largest camp in terms of population for the Palestinian refugees who were displaced in 1948 after the foundation of the state of Israel.
On the other hand, a crown of Jewish settlements and outposts top the hills, one of them Itamar. There, in 2011, the often-violent daily confrontations with the neighboring Palestinian village of Awarta climaxed with the massacre of the Fogels, a family of five including an infant, killed in their sleep by two Palestinian youngsters.
And on the slopes of Mount Gerizim, trying to keep out of the oldest ongoing conflict in the Middle East, there's a community of a few hundred people living in the village of Kiryat Luza.
They are the Samaritans, who consider themselves the descendants of Jacob (also called Israel) and the keepers of tradition, hence the name Samaritans, an ancient Hebrew word for guardians. They are neither Jewish, although their religious practices are very close to Judaism's, nor Muslim.
And while they are largely successful at staying out of the clashes between their neighbors, they can't really keep out of politics altogether. In fact, they are twice as politically active as everybody else around them, or at least have the right to be: They can, and do, vote in both Palestinian and Israeli elections.
Tuesday, like the almost 5.7 million Israeli citizens of voting age, the Samaritans will cast their ballots for the 19th Knesset, the Israeli parliament.
"I will cast my ballot, why not? It is my duty, and so I will show that we are participating. But I won't tell you who I will vote for!" Fayad Altif, an 83-year-old retired English and math teacher, said.
According to the Samaritan holy books and customs, which differ in parts from the Jewish ones, the place chosen by God to build the temple and where the near-sacrifice of Isaac by Abraham took place was on Mount Gerizim and not on Jerusalem's Temple Mount, as Jews believe.
But the unique double-voter status of the 370 Samaritans of Kiryat Luza doesn't come from ancient tradition. It is very much the product of recent history.
In 1987, as the first Palestinian uprising against the Israeli occupation, commonly known as the First Intifada, broke out, most of the Samaritans moved from the West Bank city of Nablus, where they had lived for centuries, to a tiny cluster of concrete buildings along a single road, today's Kiryat Luza.
The other Samaritans, looking to ease their economic hardship, had already resettled over previous decades in Holon, a suburb of Tel Aviv.
Because of this split, the Samaritans living on Mount Gerizim hold both Israeli and Palestinian IDs, unlike their brethren in Holon. They must comply with two sets of laws but also enjoy the right to vote for political elections on both sides.
To do so, the Samaritans must drive to the polling station in Har Bracha, a nearby Israeli settlement along the road winding downhill from Gerizim.
Sunday, sitting in the living room of a three-story house in Kiryat Luza where he lives with his wife, two sons and their families -- with whom he communicates in Arabic -- Altif frequently fished out of his jacket his two IDs, one in an orange and one in a green case, to make his point clear.
"As Samaritans, we stand in a very sensitive position. We have to let both the Israelis and the Palestinians feel that we are with them. But whatever happens, we will never leave our Holy Mountain," Altif, who also voted for the Palestinian municipal council in Nablus last October, vowed.
Totaling 760 people between Kiryat Luza and Holon -- up from 150 people in 1967 but down from an estimated 1 million during Biblical times -- the Samaritans, who during their history have been the victims of persecution and forced conversion to Islam, feel that being on good terms with everyone is vital to their efforts against extinction.
"Out of around 100 residents who are eligible to vote, less than one-third will cast their ballot. It has always been like this," Ishak Al Samiri, the secretary of the committee in charge of all civil and political affairs of Kiryat Luza, said.
"Many here work for the Palestinian Authority, as teachers or employees, and they are afraid of being misunderstood if they go to vote in the Israeli elections," he said in his office inside the village's Visitors Center.
Those cautious feelings may be inspired by the fact that Kiryat Luza finds itself under three authorities.
Pursuant to the Oslo Agreements of 1993 and subsequent protocols, Mount Gerizim is in Area C, under Israeli control, the village is in Area B, under mixed Israeli and Palestinian control, and the main road at the foot of the village leading to Nablus is in Area A, under Palestinian authority.
The situation seemed very different in Holon, where the 400 Samaritan residents speak Hebrew among themselves.
"Yes, we will cast our ballot as our brothers on Mount Gerizim, who have more rights than we do," Benjamin Tsedaka, a spokesperson for the Samaritans of Holon, who hold only Israeli ID, said.
But if the people of Kiryat Luza have double representation, "they deserve it," Tsedaka said, "because they live right in the center of our faith, Mount Gerizim."
FOR FREE to continue reading
✔️ Unlock the full content of International Business Times UK for free
offer available for a limited time only
✔️ Easily manage your Newsletters subscriptions and save your favourite articles
✔️ No payment method required
Already have an account?
Log in
© Copyright IBTimes 2023. All rights reserved.