Israeli Elections Update: Benjamin Netanyahu Says No Palestinian State If He's Prime Minister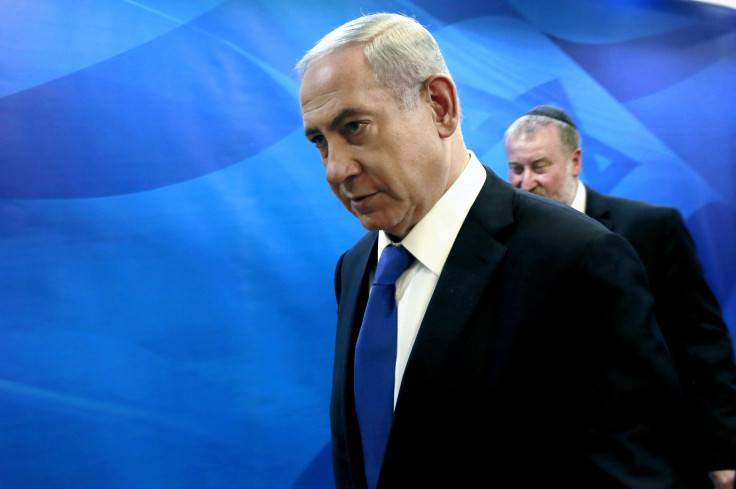 Israeli Prime Minister Benjamin Netanyahu said Monday he would not allow formation of a Palestinian state in the Middle East if he is re-elected in Israel's upcoming election, according to reports. Netanyahu, who seeks a third consecutive term, trailed opponent Isaac Herzog of the Labor Party by a slim margin in opinion polls ahead of Tuesday's vote.
Palestinian leaders have repeatedly sought the establishment of a state that would include Gaza, the West Bank and East Jerusalem, which Israel has occupied since 1967. But Netanyahu said any acceptance of such a state would give Islamist radicals a base from which to attack Israel, Reuters reported.
"I think that whoever today moves to establish a Palestinian state and withdraw from territory is giving attack territory for Islamic extremists against the state of Israel," Netanyahu told Israeli news site NRG, according to the Associated Press. "Whoever ignores that is burying his head in the sand. The left is doing that, burying its head in the sand time after time."
When Netanyahu was asked if his comments meant he would not support a Palestinian state, he replied "indeed." Netanyahu in the past has said he was committed to a two-state solution.
Herzog and his centrist Labor party have called for renewed peace talks and communication with Palestinian Authority President Mahmoud Abbas, as well as increased attention to domestic economic concerns, such as cost of living. A poll conducted Friday gave the Labor party a slight edge over Netanyahu's Likud party by a margin of 24 seats to 20 seats, according to Haaretz. Herzog would require a coalition to assemble a 61-seat majority within Israeli's Knesset to become prime minister.
Faced with the prospect of a defeat, Netanyahu in recent days has stepped up nationalist rhetoric to establish himself as the candidate better equipped to manage Israel's international security concerns. Netanyahu traveled to Washington earlier this month to warn the U.S. Congress about the dangers of a soft stance on Iran's nuclear program -- a trip that angered President Barack Obama and his administration. Netanyahu's dismissal of the possibility of a Palestinian state could further strain relations with the West.
"This is the real Netanyahu. From the beginning, he was attempting to carry out a grand deception by pretending to be in favor of a two-state solution. But what he was actually doing on the ground is destroying the chances of peace," Palestinian official Hanan Ashrawi told the AP.
Netanyahu told supporters Sunday unspecified "foreign powers" and Israeli journalists had actively undermined his efforts at re-election, the Washington Post reported. A successful bid would give Netanyahu a chance to become Israel's longest-tenured prime minister.
© Copyright IBTimes 2023. All rights reserved.