Israeli Elections Close As Netanyahu Uses Iran Nuclear Situation To Boost Ratings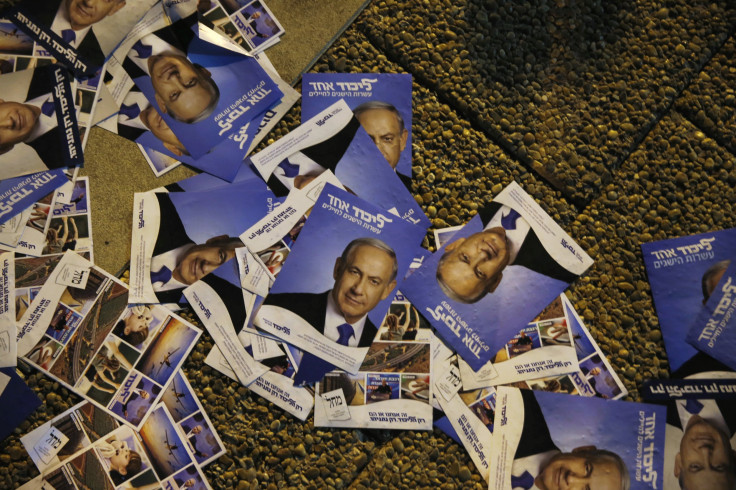 Israeli Prime Minister Benjamin Netanyahu looked to be heading toward defeat in Tuesday's Israeli elections, with local polling indicating opposition leader Isaac Herzog holding a narrow lead. The buildup to the election has largely been overshadowed by the Iran nuclear weapons speech Netanyahu gave to Congress March 3.
Polls indicate Netanyahu's Likud Party will get 22 seats, just behind Herzog's Zionist union, which is set to win 26 of 120 seats in Israel's parliament, the Knesset. The Zionist Union includes Herzog's Labor Party and the Hatnuah party, led by Tzipi Livni. To become prime minister upon winning the election, Herzog will need to rely on support from other parties to form a 61-seat ruling coalition.
While Netanyahu is seemingly facing defeat, his comments before Congress earlier this month regarding Iran's nuclear program gave him a small boost in popularity and have come to frame the final days of campaigning.
"Why do they not support me when I fight to neutralize threats like Iranian nuclear weapons," asked Natanyahu of the Zionist Union leaders on an Israeli TV show Sunday evening. "Why do they refuse to say they support the massive security effort we are undertaking?"
Herzog, whose is the son of former Israeli President Chaim Herzog, replied by saying Israel's security "is more important than everything for us" before adding, "The international community knows that you [Netanyahu] are weak and does not accept your position."
Should Netanyahu win his fourth term in office, he would be set to become the longest serving Israeli leader since David Ben-Gurion, who served for around 13 1/2 years over two terms spanning three decades. Netanyhu, who first served as prime minister from 1996 to 1999, would need to stay in power until 2019 to become the longest serving.
However, it now looks unlikely since the Likud Party is no longer in a partnership with Yisrael Beiteinu, the party with which it came to power in 2013. Had they remained together this time around, they would be on course to gain 27 seats and the first chance at forming a coalition government.
© Copyright IBTimes 2023. All rights reserved.
FOLLOW MORE IBT NEWS ON THE BELOW CHANNELS