Israeli Jets Bomb Gaza Strip After 3 Teens Are Found Dead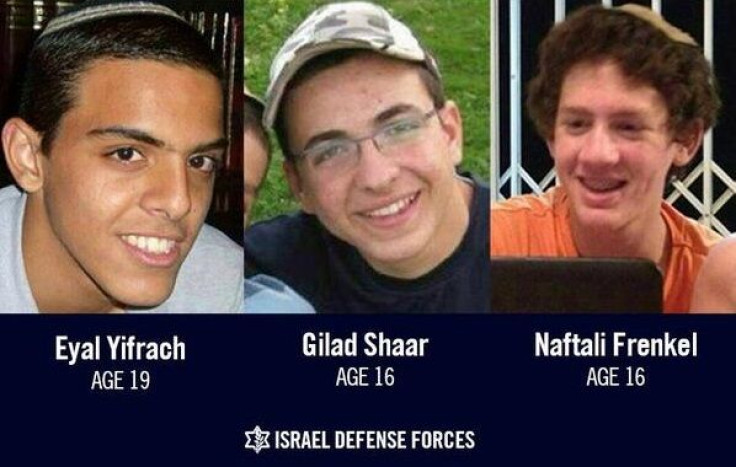 The Israeli Air Force struck 34 "terror targets" in the Hamas-ruled Gaza Strip Monday night, hours after the bodies of three missing Israeli teenagers were found in the West Bank, the military said.
The airstrikes were reported by the Israeli newspapers Haaretz and the Jerusalem Post.
The Israel Defense Forces Spokesman's Office stated, "The IDF will continue to act decisively and to the extent required, until peace is returned to the residents of the State of Israel."
A rocket launched from Gaza exploded in the Eshkol Regional Council area of southern Israel, causing some damage to property. One woman suffered from shock and was treated at the scene. Another rocket exploded in open terrain. One Palestinian was also killed in a clash with Israeli soldiers in Jenin in the northern West Bank.
Earlier, Israeli soldiers broke into the homes of Hamas operatives and suspected kidnappers Marwan Qawasameh and Amar Abu Aisha in Hebron, Haaretz reported. According to Palestinian reports, the Israeli army detonated the houses.
Palestinian President Mahmoud Abbas called for an emergency meeting of his leadership to debate the situation after the three Israeli youths, who disappeared in southern West Bank in June 12, were found dead, officials told China's Xinhua news agency.
Nabil Abu Rdineh, said in a statement published by the Palestinian state-run Wafa news agency that the emergency meeting "will debate the current political developments and the consequences of the latest incidents."
A high-ranking Palestinian official, speaking on condition of anonymity, told Xinhua that Abbas asked the United States' intervention to put an end to more Israeli military escalation after the three Israelis went missing.
"Abbas has condemned the incident of kidnapping the three Israelis and reiterated that the Palestinians condemn all types of violence," said the official.
Meanwhile, Hamas warned Israel on Monday against waging war on the Gaza Strip, saying this would "open the gates of hell" on Israel. Hamas spokesman Sami Abu Zuhri said that Israel bears responsibility for the latest escalation in the Gaza Strip.
The events come after the military operation launched to locate teenagers Gil-Ad Shaer, Naftali Fraenkel, and Eyal Yifrah reached a tragic end Monday afternoon when security forces discovered their bodies buried in a field northwest of Hebron, no more than a 10-15-minute drive from where they were abducted.
© Copyright IBTimes 2022. All rights reserved.
FOLLOW MORE IBT NEWS ON THE BELOW CHANNELS