Israel Bombs Gaza Following Rocket Fire, Israeli Foreign Minister Discusses Reoccupying The Territory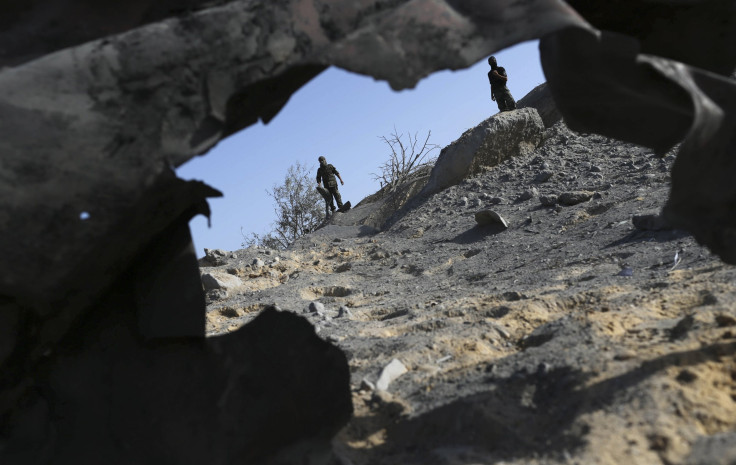 Israel responded to a round of rocket fire Saturday with a series of airstrikes in Gaza Sunday. Israeli Prime Minister Benjamin Netanyahu did not rule out a larger operation following a month of rocket fire from militants while the reoccupation of the Gaza Strip was also discussed by the Israeli foreign minister.
Reuters reports the airstrikes targeted sites associated with the Izz el-Deen al-Qassam Brigades, Hamas' military wing. There are conflicting reports on the number of locations, with Israeli officials saying six sites were targeted while Palestinian officials say eight sites were targeted. An earlier report from the Associated Press says 12 sites were targeted including weapons manufacturing sites, "terrorist activity" locations and hidden rocket launchers. The Israeli airstrikes were ordered after six rockets from Gaza hit Israel Saturday, one of which set a factory ablaze, AP said. Three people were injured in the blaze, Reuters reported.
Two people were injured in the airstrikes, Reuters reported. Prime Minister Benjamin Netanyahu, speaking to his cabinet, said during the weekend, "the Israel Defense Forces attacked multiple targets in response to firing at Israel from the Gaza Strip."
Israel pulled out of the Gaza Strip in 2005 and Hamas gained control of the territory in 2007. June has seen an increase in rocket fire from Gaza, with 60 reported attacks for the month, four times the number of rockets in May, AP said. Palestinian officials reported 80 Israeli airstrikes in June killed two militants and wounded dozens, Reuters said. Israel has coordinated raids in the West Bank in the search for three missing teenagers. Netanyahu said the operation serves two purposes: to locate the teens and to disrupt Hamas.
Netanyahu did not rule out more attacks, saying, "We are ready to expand this operation, if necessary," Reuters reported. In an interview on Army Radio, Israeli Foreign Minister Avigdor Lieberman discussed the possibility of reoccupying Gaza, saying, "Either with each round we attack terror infrastructure and they shoot, or we go to full occupation," AP reported.
© Copyright IBTimes 2023. All rights reserved.
FOLLOW MORE IBT NEWS ON THE BELOW CHANNELS