Israeli Security Forces Take Control Of Illegal Jewish Structures In The West Bank Ahead Of Demolition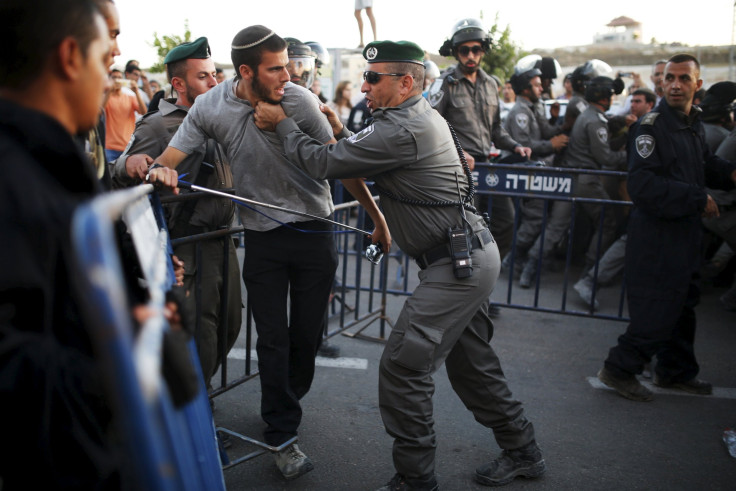 Israeli security forces took control of houses and buildings constructed illegally in the West Bank settlement of Beit El -- located near the city of Ramallah, north of Jerusalem -- on Tuesday. The move, which comes ahead of a court-mandated deadline to dismantle two buildings in the region, triggered clashes between the Israeli forces and Jewish settlers.
"A border police unit on Tuesday took control of the Dreinoff buildings [the two structures declared illegal] ahead of their demolition as ordered by the High Court with the aim of avoiding violence during the operation," the Israeli military reportedly said, in a statement released Tuesday.
Clashes reportedly broke out after nearly 300 settlers attempted to block Israeli security forces from entering the buildings. Dozens of settlers were forcibly evacuated and arrested, but were later released, Haaretz reported.
"The situation, the feeling here is very very bad, and we hope that our representatives will really do something quickly," Pesach Sabich, a settler from Beit El, reportedly said.
Last year, Israel's Supreme Court ordered the two structures -- known as the Dreinoff buildings and allegedly built on private Palestinian land seized by the Israeli military in the 1970s -- be demolished by July end, following a petition by Palestinian landowners and an Israeli human rights group.
The Israeli government has until Thursday to carry out the demolition, according to local media reports. The court's decision came despite recent efforts by the Israeli government -- criticized by the international community -- to retroactively legalize several settlements in the occupied West Bank.
"We are actively trying to strengthen the settlements, in accordance with the law," Israeli Prime Minister Benjamin Netanyahu said on Tuesday, according to a report by Haaretz. "Our stance on the houses in Beit El is very clear: We oppose the demolition and are taking legal action to prevent this move. I want the government's stance -- that the planning process on the site has been finished and there is therefore no reason to demolish the homes -- be brought to the High Court for attention."
© Copyright IBTimes 2023. All rights reserved.
FOLLOW MORE IBT NEWS ON THE BELOW CHANNELS