Israeli Security Forces Use Stun Grenades And Tear Gas Against Palestinian Worshippers Inside Jerusalem Mosque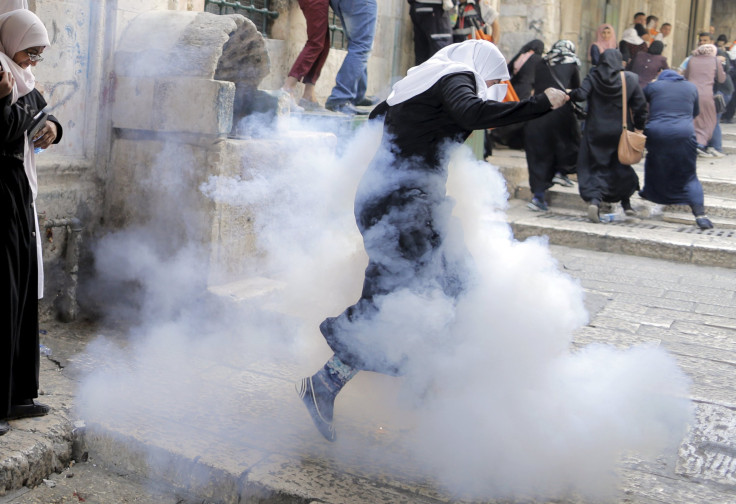 Israeli security forces employed stun grenades and tear gas against Palestinian worshippers inside the Al-Aqsa Mosque compound in Jerusalem early Sunday. The raid by dozens of Israeli police officers and soldiers began after Palestinian volunteer guards allegedly confronted about 80 Jewish settlers who attacked the mosque, Al Jazeera reported.
The scores of Palestinian worshippers inside the mosque during the clashes were quickly removed by Israeli police as the situation escalated. The police said in a statement that "masked protesters who were inside the mosque threw stones and fireworks at police," Al Jazeera reported.
Palestinians outside the mosque responded by also throwing stones at the gathering security forces.
WATCH: RIGHT NOW Masjed AlAqsa is under attack!! Our 3rd holiest mosque people. #AlAqsaUnderAttack pic.twitter.com/YwuGj8Vo20

— Abbas Sarsour (@iFalasteen) September 13, 2015
Witnesses told Al Jazeera that Israeli security forces damaged the mosque and . According to the latest reports, the mosque and its surrounding premises are currently closed to visitors.

Palestinian President Mahmoud Abbas condemned what he called an "attack" by Israeli authorities. "The presidency strongly condemns the attack by the occupier's military and police against the Al-Aqsa Mosque and the aggression against the faithful who were there," his office said in a statement.
An Israeli police representative said the police received intelligence in the morning about possible disturbances at Al-Aqsa Mosque that could involve explosive devices as well as stones thrown at Jewish visitors. "[O]ur police officers entered the area, I am talking about the Temple Mount area only, and shut the front doors of the Al-Aqsa Mosque to prevent those riots from overflowing onto the Temple Mount area," Al Jazeera quoted the representative as saying. "Our police units took the situation under control from 20 to 25 minutes only using stun grenades, nonlethal weapons only, to make sure that situation remained calm."
The clashes came just hours before the beginning of the Jewish New Year, with celebrations to start at sunset and continue until Tuesday evening.
© Copyright IBTimes 2023. All rights reserved.
FOLLOW MORE IBT NEWS ON THE BELOW CHANNELS