Palestine Flag UN: Ahead Of General Assembly And Pope Francis Visit, Fight For Palestinian State Grows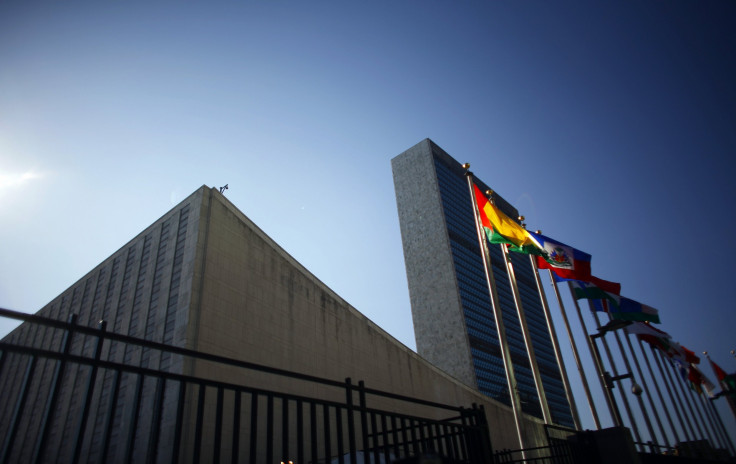 With a fresh victory at the United Nations allowing it to raise its flag at the next General Assembly session, Palestine is seeking to return global attention to the creation of a Palestinian state even as world leaders remain focused on other issues in the Middle East, including the civil war in Syria, the rise of the Islamic State group, the nuclear deal with Iran or the war in Yemen.
"This keeps alive the sense that there's a Palestinian national movement," said Richard Falk, a former United Nations special rapporteur on human rights in Palestine and professor emeritus of international law at Princeton. As Palestine strives not to let its cause fade from the global stage, "this is consistent with that overall move toward legitimating a Palestinian state as a reality in international political life," he added.
The U.N. General Assembly approved a resolution Thursday night to allow nonmember observer states, which include Palestine and the Vatican, to fly their flags at the U.N. alongside those of member states in time for the 70th General Assembly, the annual gathering of world leaders that begins Tuesday. Despite Israel's scathing response to the initial proposal, it passed by 119 to eight, with 45 countries abstaining.
Mahmoud Abbas, president of the Palestinian Authority, which governs the West Bank, is scheduled to address the General Assembly Sept. 30, and Pope Francis, who is a supporter of Palestine, is due to speak Sept. 25.
The last round of peace negotiations between Israel and Palestine collapsed in April 2014. That July, a deadly war between Gaza and Israel led to the deaths of 2,104 people in Gaza, an estimated 69 percent of whom were civilians. Six civilians in Israel died, along with 67 Israeli soldiers. In other conflicts within the past decade, such as Israel's "Operation Cast Lead" in December 2008, the disparity in casualties has been similarly gaping.
Unable to compete with Israel on the ground, Palestine has in recent years adopted instead a strategy of cultivating legitimacy on an international, legal level. In 2011, Palestine joined the United Nations Educational, Scientific and Cultural Organization as a full member. The following year in November 2012, it won a status upgrade to nonmember observer "state," rather than "entity," at the United Nations. In April, Palestine formally became a member of the International Criminal Court, a move that would give it recourse to pursue charges against Israel for war crimes. Numerous countries have also begun to recognize Palestine diplomatically in recent months.
After the flag-raising resolution passed, Riyad Mansour, the Palestinian ambassador to the U.N., called the vote "a reaffirmation of the legitimacy of the national aspirations of the Palestinian people, of their existence among the nations of the world and their right to self-determination."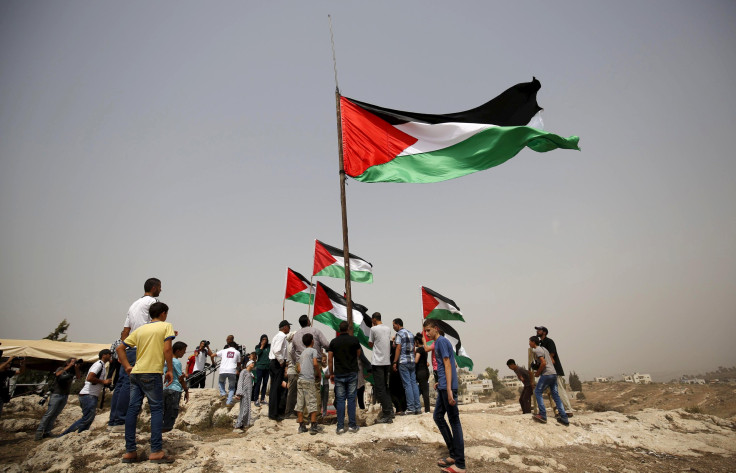 Nevertheless, the proposal ruffled more than a few feathers that showed how even a gesture like raising a flag remains highly sensitive when tied to the issue of Palestine. The proposal to raise Palestine's flag was "meaningless" and "hollow," Ron Prosor, Israel's ambassador to the United Nations, said when the proposal was first put forth.
Advocates on both sides questioned what difference the gesture would make in negotiations or the situation on the ground. The Palestinian Mission to the United Nations did not return repeated requests for comment on what it hoped the proposal would achieve.
"The lives of Israelis and Palestinians will remain the same whether or not a Palestinian flag flies in New York," Prosor, the Israeli ambassador, said in a statement after Thursday's vote. "No vote can turn an empty symbolic gesture into a state."
Some Palestinian activists voiced similar doubts after numerous failed attempts at creating an independent state. "Our quest is not for another failing Arab state with a meaningless flag and useless institutions, but for a homeland that was stripped from us," Azzam Tamimi, a Palestinian-British academic and activist, told Al Jazeera.
The United States, which opposed the resolution, urged renewed negotiations to achieve peace and a Palestinian state. "This vote is not a vote for the status quo or a rejection of Palestinian aspirations for statehood," U.S. Ambassador to the U.N. Samantha Power said in a statement, adding, "The parties themselves must ultimately take the constructive, responsible steps required to achieve a two-state solution and end the cycle of violence and suffering that has persisted for far too long in the Middle East. "
But with negotiations unlikely to start up again soon, being able to raise its flag at the United Nations may be one of the Palestinians' few options to draw world leaders' attention, particularly at a time when so much else is afoot in the region.
"They have to do whatever they can do to stay on the agenda," said Falk, the former U.N. official. "There's not much they can do."
FOR FREE to continue reading
✔️ Unlock the full content of International Business Times UK for free
offer available for a limited time only
✔️ Easily manage your Newsletters subscriptions and save your favourite articles
✔️ No payment method required
Already have an account?
Log in
© Copyright IBTimes 2023. All rights reserved.