Israel's New Conflict: Battle Over Sustained Energy Policy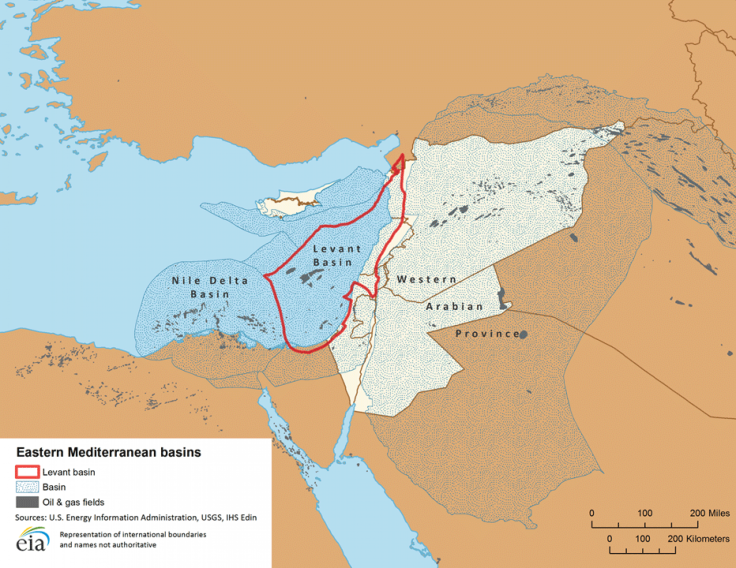 With new discoveries of natural gas off Israel's shores, the Middle Eastern country that had always been an energy importer now faces major policy decisions for safeguarding and capitalizing on its new resource.
Thanks to Houston-based Noble Energy Inc.'s (NYSE:NBL) major deep-water discovery, the country is now able to tap into huge natural gas reserves in the Eastern Mediterranean Sea, called the Levant Basin, a stretch of sea extending from the coasts of Cyprus, Israel, Lebanon and Syria. It is estimated to contain 122 trillion cubic feet of gas. In 2010, Noble discovered the largest natural gas field within the basin called the Leviathan, which is 80 miles off Israel's coast.
With that much natural gas on hand, Israel is now in a position to export, and the Israeli government led by Prime Minister Benjamin Netanyahu has been trying to decide how much. Initially the amount was set at 53 percent, but opposition groups have been fighting to keep more natural gas at home, arguing that less exporting means lower energy costs locally -- similar to the debate happening in the U.S.
Facing pressure from the public, the Israeli cabinet reduced natural gas exports to 40 percent, but the opposition was still not satisified and petitioned the Israeli Supreme Court in June to decide whether the government or Knesset should be able to determine export policy. With Israel's historically heavy reliance on imported oil and gas, it has had some of the highest energy costs in the world, and reducing reliance on imported hydrocarbons would factor into the country's energy security policy.
After several months, the Supreme Court finally made its ruling, rejecting the petition by opposition groups and allowing the government to set natural gas export policy.
Israeli Finance Minister Yair Lapid welcomed the decision, saying that the energy sector will help bring investment to the Israeli economy, enabling "small, medium and large enterprises to reduce their energy costs, expand their businesses and add jobs."
Noble Energy also applauded the ruling, calling it an important step in encouraging further exploration and production.
"Noble Energy is committed to continue working with the government of Israel to create a clear path to Leviathan sanction and enhanced delivery to the domestic market," the company said.
Another player happy with the court's decision is Cyprus, which shares an exclusive economic zone (EEZ) with Israel and has been working with Noble Energy explore natural gas off its shores. Cyprus wants to become an exporting hub by establishing a liquefied natural gas (LNG) export facility able to serve Israeli gas fields. Cyprus has been waiting to see how much natural gas Israel would be exporting as well as how the country decides to export it.
"The advantageous geographic location of Cyprus – at the crossroads of major international energy routes to Europe and the Far East through the Suez Canal – makes the island a natural regional energy hub in the Eastern Mediterranean and the natural location to develop a liquefied natural gas plant," Aristos Constantine, trade commissioner of the Republic of Cyprus, told International Business Times in a statement.
Israel is considering how best to export the gas and potentially building its own LNG facility. But experts say the cost would be prohibitive, so a Cypriot option could appeal to Israel. Alternatively, Israel could pipe its natural gas through Turkey to Europe, but shaky relations between the two countries make this scenario doubtable.
Israel is not the only country trying to get its energy policy on track.
© Copyright IBTimes 2023. All rights reserved.