Israel's Ultra-Orthodox Parties Lose Knesset Seats But Stand To Gain Influence Under Netanyahu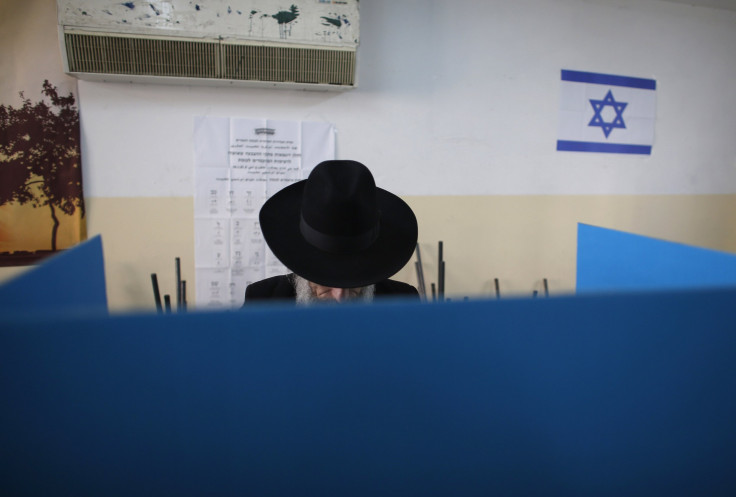 Israel's ultra-Orthodox parties made a disappointing showing in the country's elections Tuesday, losing a combined four seats in parliament as Prime Minister Benjamin Netanyahu's Likud party soared to an unexpected victory. But while their political prospects may ostensibly appear bleaker following the election, ultra-Orthodox politicians could actually gain more influence in the upcoming Knesset because of the crucial role they will likely play in helping Netanyahu form a government.
One of the primary reasons that ultra-Orthodox, or Haredi, parties like Shas did not do well is because some of their voter base was likely convinced by Netanyahu's last-minute appeals to vote for Likud in order to avoid a win by the center-left Zionist Union party. "A lot of it had to do with the fear campaign that Netanyahu promoted: a fear of leftists, a fear of Arabs," said Brent E. Sasley, an associate professor of political science at the University of Texas at Arlington. "The right has managed to co-opt the public discourse on what Zionism means and the left has been portrayed as bad for Israel and on security issues."
On the eve of the election, Netanyahu made a stunning reversal on his stated commitment to a two-state solution to the Israeli-Palestinian conflict, vowing that if he returned to office he would never allow for the establishment of a Palestinian state. "I think that anyone who is going to establish a Palestinian state today and evacuate lands is giving attack grounds to the radical Islam against the state of Israel," he said Monday, as polls showed Zionist Union competitor Isaac Herzog with an edge heading into the elections. The prime minister also urged supporters to head to the polls to support Likud on Tuesday in order to head off a "drove" of Arab voters, who he claimed were being bused in by left-wing organizations.
"Some people who went to Likud certainly were convinced by that," Sasley said. This, he argued, was part of the reason that the combined number of Knesset seats for Shas and the United Torah Judaism (UTJ) ultra-Orthodox parties dropped from 18 to 14, based on the latest numbers, a low showing given their performance in recent years. Sasley also pointed to rifts between various ultra-Orthodox factions as contributing to their performance. Shas splintered, and its Yachad offshoot took away votes from the main party, but rendered them effectively null because Yachad did not cross the 3.25 percent electoral threshold required to obtain seats in the Knesset.
Clear Rifts Exposed
Israel's ultra-Orthodox parties represent a community that makes up about 10 percent of the country's population of eight million citizens but, because of the high birth rates among the community, this proportion is rapidly growing. Demographers predict that by 2034 about 1 in 5 Israelis will be ultra-Orthodox. While Shas and UTJ share the hawkish security views of other parties on the right wing of Israel's political spectrum, recent years have exposed clear rifts between the ultra-Orthodox factions and the more secular segments of the Israeli right.
One of the most politically volatile of these rifts has been the issue of military draft exemptions. In Israel, military service is mandatory for all 18-year-olds, with men required to serve for three years and women for two. However, the ultra-Orthodox community has been exempt from this requirement since Israel's founding in 1948 in order for its members to devote themselves exclusively to religious study in accordance with their beliefs. The predominance of this lifestyle among the community has meant that the majority of ultra-Orthodox men are unemployed and rely on state benefits, something that has, along with draft exemptions, sparked resentment from secular Israelis across the political spectrum.
Politicians from ultra-nationalist right-wing Foreign Minister Avigdor Lieberman to centrists like former Finance Minister Yair Lapid have supported measures to change the draft exemption law, requiring ultra-Orthodox men to serve in the military. The community has reacted angrily to such moves, contributing to their decision to sit out the previous governing coalition formed by Netanyahu, which included both Lapid and Lieberman. That government was the first in a long time that did not include any ultra-Orthodox parties.
Partners Needed
However, that is likely to change as Netanyahu is widely expected to draw on ultra-Orthodox parties to form a coalition this time. The prime minister needs partners in order to get to the 61 seats required to have a majority in the 120-member parliament; Likud won 29 to 30 seats on its own, according to the latest tally.
"It's a cliché to say that the Haredim [Orthodox] and Likud are natural allies but in many ways that cliché is true," Sasley said. "Likud has been particularly willing to provide resources for their communities because it's easier to go with them than with the centrists." Likud has shown a willingness to pursue policies that give religion a greater role in public life, something that ultra-Orthodox parties prioritize in addition to the kinds of social welfare programs that help their community.
While the extent of ultra-Orthodox influence in a possible future government will depend on the overall makeup of Netanyahu's eventual governing coalition, there will likely be some kind of agreement that will allow the ultra-Orthodox to pursue the policies they care about, including military draft exemptions, according to Sasley. "There's certainly lots of room for [ultra-Orthodox parties] to address their political priorities," he said.
© Copyright IBTimes 2023. All rights reserved.