Israel's Zionist Union Calls Iran Nuclear Deal 'Problematic'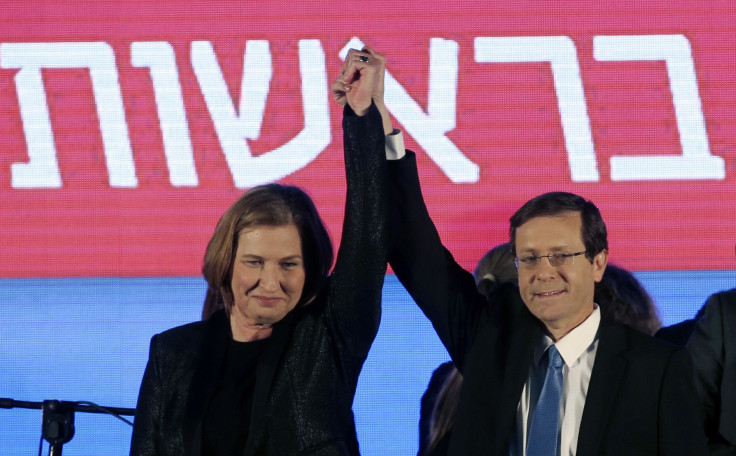 Israel's Zionist Union is calling on the country's government to engage in intensive talks with the U.S. over the recently reached accord on the Iran nuclear agreement framework. The political alliance's co-leaders Isaac Herzog and Tzipi Livni urged the Jewish state's leadership to seek clarification of areas they perceive as "problematic" in the deal between the Islamic Republic and the so-called P5+1 group of world powers.
The Zionist Union's lack of confidence in the accord also prompted it to present an "alternate plan of action" in the event Iran violates its terms, according to the Jerusalem Post. In a document released Sunday, the political alliance encompassing the Israeli Labor Party and Hatnuah said Israel should seek the authority to take military action against Iran to protect itself from an agreement that has "real potential dangers for the long term" -- dangers it indicated must be eradicated by the time Iran and the P5+1 group sign a comprehensive deal, presumably circa June 30.
The P5+1 group consists of the five permanent members of the United Nations Security Council -- China, France, Russia, the U.K. and the U.S. -- plus Germany.
Clearly criticizing the approach employed by Israeli Prime Minister Benjamin Netanyahu to this point in the negotiating process between Iran and the P5+1 group, the Zionist Union said in the document: "Instead of a policy that leaves Israel without a meaningful influence on the world powers' decision-making process, Israel must immediately hold a comprehensive, intimate and deep strategic discussion with the U.S. about all of the relevant issues and to complete the discussion before the completion of the final agreement."
The Zionist Union aims to allow for the empowering of the Israel Defense Forces "in a way that will give Israel an American umbrella and the unrestricted ability to act against threats and violations both of the deal and against our regional enemies that are supported by Iran," the Jerusalem Post reported.
With 24 of the 120 seats in the national legislative body called the Knesset, the Zionist Union also proposed the final agreement allow for the gradual removal of sanctions on Iran only after the Islamic Republic proves it is scaling back its nuclear program by allowing for inspections and eliminating its existing reserve of enriched uranium, the Post said.
© Copyright IBTimes 2023. All rights reserved.