Istanbul Pride 2015: Turkish Riot Police Fire Water Cannon, Rubber Bullets At Pride Parade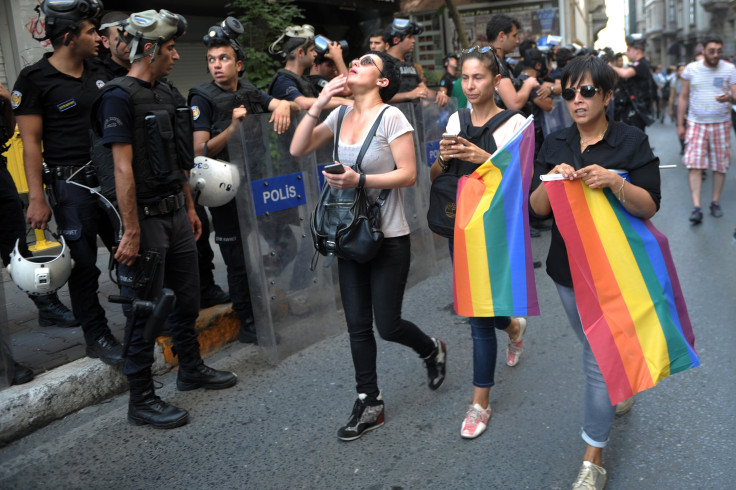 Turkish riot police were deployed at the Istanbul Pride parade Sunday, and eyewitnesses reported they used rubber bullets and a water cannon on tens of thousands of marchers in the city's Taksim Square, where many at the lesbian, gay, bisexual, transgender and intersex (LGBTI) event were holding rainbow pride flags.
Reports claimed tear gas had also been used and that marchers were chanting slogans accusing Turkish President Recep Tayyip Erdogan of "fascism," in the wake of news that the government banned the parade because it fell during the Muslim holy month of Ramadan.
Turkish riot police are frequently deployed at any large gathering that has taken place in the square since the 2013 Gezi Park demonstrations, regardless of its political or social purpose. That said, the annual parade has been undisturbed by security forces in the past.
"The 13th Istanbul LGBTI Pride Parade ... has suddenly been banned by the governorate using the month of Ramadan as the reasoning without any announcement," Turkey's LGBTI News reported on its Facebook page. "All entrances and exits to and from Taksim and Istiklal Street have been shut down."
The government has not released an official statement addressing whether the parade had been banned.
"All Pride Parade participants are urged to remain in place and not leave Beyoglu until the walk could be started as planned," LGBTI News said.
The American and British consul-generals were present at the parade Sunday, according to the Hurriyet Daily News: The American Charles Hunter and the British Leigh Turner participated in the Istanbul Pride celebration, as did at least two leaders of the Turkish political opposition.
Turkish opposition members of parliament formed a human chain in the square to protect marchers from riot police, Al Jazeera America reported.
Turkey is home to one of the largest LGBTI communities in the region, but its members continue to face discrimination from their government.
In 2010, former Minister of State Responsible for Women and Family Affairs Selma Aliye Kavaf said: "I believe homosexuality is a biological disorder, a disease. It needs to be treated."
Homosexuality is legal in Turkey, unlike in several neighboring countries, but there is still no law protecting the LGBTI community from discrimination. Same-sex unions are not legal, and homosexual and transgender individuals are banned from compulsory military service.
Members of the community continue "to face discrimination in employment and in interactions with the state authorities," an Amnesty International report said last year. "No progress was made [by Turkey] in bringing provisions to prohibit discrimination on grounds of sexual orientation and gender identity into the Constitution or into domestic law."
© Copyright IBTimes 2023. All rights reserved.