Gay Catholics Welcome In The Church? Vatican Comments Yield 'Cautious Optimism'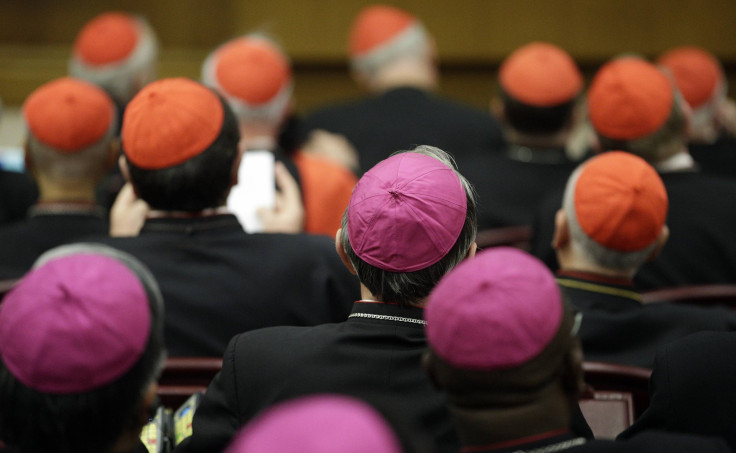 Long shunned by the church, gay Catholics are reacting positively to a document just issued by the Vatican that indicates the church is becoming more accepting of gay parishioners. The document states that gay people have "gifts and qualities to offer to the Christian community" and should be welcomed by the church. While same-sex marriages are still out of the question, the comments have been heralded by gay groups as an encouraging sign that the 2,000-year-old institution is offering a more progressive stance toward historically marginalized members of its flock.
The bishops' report is a preliminary one published midway through a two-week synod called by Pope Francis to discuss the church's position on moral issues such as cohabiting unmarried couples, whether divorced and remarried individuals can receive Communion and how to treat children from these unconventional families. While the bishops were clear that the church would not abandon its teachings on marriage as defined between a man and a woman, the 12- page report acknowledged that same-sex couples which the document described as "homosexual unions" -- language that is largely unprecedented -- often provide "mutual aid to the point of sacrifice" for each partner in the relationship. The bishops also said the church will pay "special attention" to children of gay couples, but did not give any specifics on how this would be accomplished. Additionally, the bishops concluded there are "positive aspects of civil unions and cohabitation" – a dramatic shift from traditional teachings which said such unmarried straight couples were "living in sin."
The report is an official summary of discussions and prepared speeches given during the first week of the synod. Since the document, referred to by its Latin name "relatio," was read out loud to 200 bishops, priests and lay people and shared online on Monday, LGBT groups have reacted positively to the comments, but remain wary on how it will translate to the parish level.
Marianne Duddy-Burke, executive director of DignityUSA – an organization that works for the full inclusion of LGBT people in the Catholic Church -- said the "relatio" offered "unexpected positive signs" for gay Catholics and their families.
"The change in tone is remarkable," Duddy-Burke told International Business Times. "To go from being labeled as 'objectively disordered' to having gifts and qualities needed by the church is very welcome among LGBT people."
Francis DeBernardo, executive director of New Ways Ministry, another advocacy group for gay Catholics, agreed that it was a positive change, but added that the church's stance on same-sex marriage did not come as a surprise.
"What is also significant and hopeful is what is not said. In stating that same-gender marriages are not accepted by the hierarchy, there is no vicious condemnation of them, as previous hierarchical statements have," DeBernardo said in a statement, referring to remarks made by former Popes John Paul II and Pope Benedict XVI and their supporters.
While the document may be revolutionary for its unprecedented language towards some (but not all) members of the LGBT community -- it has been criticized for ignoring the concerns of transgender individuals -- it is still a draft and does not guarantee that any lasting changes will be made at the local level.
"Will [Catholic bishops] stop leading the fight against marriage equality, and stop firing church workers who marry their same-sex partners? Will priests stop denying Communion to LGBT people?" Duddy-Burke asks.
The former question has a direct impact on Nicholas Coppola. The 49-year-old retired construction worker from Long Island attended Mass every morning at his parish, St. Anthony's in Oceanside, New York, for almost a decade. A proud gay Catholic, he did not keep sexuality secret from his fellow parishioners. However, when he married his longtime boyfriend, David, his pastor said he was fired from his volunteer posts.
Today, Coppola attends Mass on a weekly basis by commuting to New York City's St. Francis Xavier, which has an LGBT ministry. The "relatio" gives him hope that one day he might be able to return to his local church.
"I had chills yesterday. There was such an obvious change we see in language," Coppola said. While the document is just a summary of points discussed at the synod and does not represent any kind of official declaration, Coppola said he was moved by what the bishops had to say.
"I see myself knocking on my church's door and asking, 'Can I come home?'" Coppola said. "I don't need an apology. I just want to be back in my community. That's what I'm praying for, but I'm afraid at the same time of being let down."
The same goes for Sam, a 28-year-old woman from Illinois who asked that her full name be withheld because she has not come out. She said the bishops' comments give her hope that she can one day reveal who she is.
"A lot of me not coming out has to do with the Catholic faith and not wanting to disappoint my die-hard Catholic of a grandmother," she said, adding,"I do think [the comments] could help me come out one day."
Benjamin Brenkert, a former Jesuit seminarian, has been openly gay since he was a teenager. He was raised in the Catholic Church and spent 10 years preparing for the priesthood before he decided to call it quits.
His decision stemmed from a string of firings in churches and institutions where gay employees have been let go or denied Communion for defying the teachings of the Catholic Church. The last straw for Brenkert was when a food pantry worker who was fired from St. Francis Xavier Parish in Kansas City, Missouri, when her marriage to another woman was mentioned in a local newspaper article.
"It pains me to have left, but I can't pursue ordination in the church because in some ironic twist the church is recognizing me as a celibate gay man … but gays and lesbians who want to minister and are coincidentally married cannot serve the church today," Brenkert said.
For him, the document still leaves a lot of gaps. "The church did not apologize for centuries of anti-gay and anti-homosexual rhetoric that contributes to violence against the LGBTQ community," Brenkert said.
Bernárd Lynch, a gay priest who has personally been targeted by the Vatican for his steadfast support for LGBT Catholics, says the document is "significant in its positive tone, but nothing of substance has changed." It will remain just words on paper until action is seen on the ground to make the church and its community more inclusive for gay Catholics and their families.
"While in a famine any piece of bread is better than no bread, I would wait and see if we are going to get the loaf we need to heal the terrible damage done by Pope Francis' predecessors John Paul II and Benedict XVI," Lynch said.
On the other side, conservative bishops like Cardinal Raymond Burke have not budged. In an interview published four days before the "relatio" was released, Burke called gay relationships "intrinsically disordered" and encouraged families not to support gay family members' relationships. On Tuesday he criticized the "relatio," saying it does not accurately represent every bishop's opinion.
Indeed, Burke may have a point. The document was drafted by six individuals appointed directly by Pope Francis who are known to be more liberal than the 200 or so senior prelates at the synod.
Over the next week groups of bishops will revise the document – section by section – until a final report is published after the synod concludes. Next October, there will be a second synod on the same topics. Ultimately, Francis will have the final say on what, if any, changes are made to the Catholic Church's teachings and practices.
"So the drama continues," Cardinal Luis Antonio G. Tagle of Manila said at a news conference following the release of the "relatio."
Coppola says he is remaining "cautiously optimistic" until the second synod takes place next year. At home, he says he will be waiting anxiously to see whether the comments will trickle down to his local bishop and priest. He hopes they will allow him to resume leading religious education classes, serve as a lector, and visit homebound parishioners as he used to. "I'm at a point where I need to see change," he said. "I can't hear it anymore. I need to see it."
© Copyright IBTimes 2023. All rights reserved.