It's Official, Microsoft Transforms Into A Devices And Services Company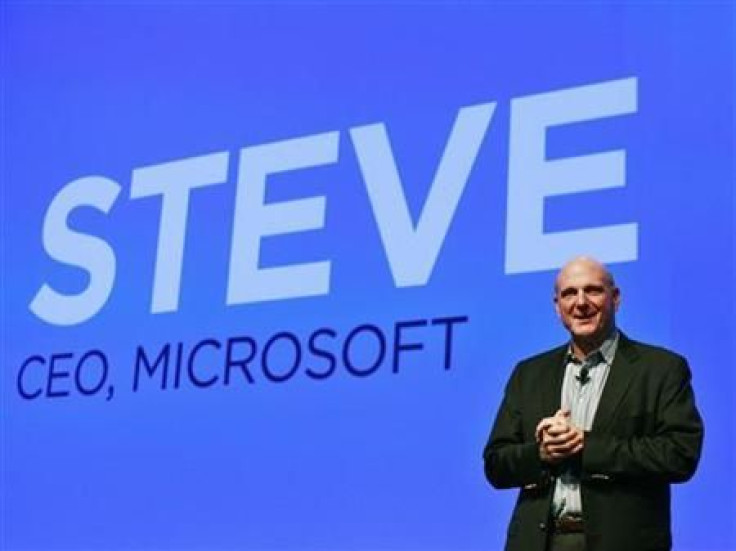 In a letter to shareholders Tuesday, Chief Executive Officer Steve Ballmer officially stated that Microsoft is a devices and services company. "This is a significant shift, both in what we do and how we see ourselves — as a devices and services company. It impacts how we run the company, how we develop new experiences, and how we take products to market for both consumers and businesses. The work we have accomplished in the past year and the roadmap in front of us brings this to life."
While the original vision for the company as envisioned by Bill Gates was, "a personal computer on every desk and in every home running Microsoft software." Apart from a few exceptions including Xbox and Zune, hardware was left to partners.
Come Oct.26, the official launch of Microsoft Surface will pitch Microsoft in direct competition with traditional hardware partners.
Despite hardware partners turning upset with the developments, Ballmer has gone the extra mile to assure them of the continuous partnership stating, "We will continue to work with a vast ecosystem of partners to deliver a broad spectrum of Windows PCs, tablets and phones. We do this because our customers want great choices and we believe there is no way one size suits over 1.3 billion Windows users around the world. There will be times when we build specific devices for specific purposes, as we have chosen to do with Xbox and the recently announced Microsoft Surface. In all our work with partners and on our own devices, we will focus relentlessly on delivering delightful, seamless experiences across hardware, software and services."
Mashable notes how Cloud presents the next big business opportunity for the Redmond-based giant. "Unique to Microsoft, we continue to design and deliver world-class cloud solutions that allow our customers to move to the cloud on their terms," Ballmer states in the letter.
"Building and running cloud services in ways that unleash incredible new experiences and opportunities for businesses and individuals," Ballmer adds.
Key among the focus areas is the unifying Windows 8 platform where "the company is firmly establishing one platform, Windows, across the PC, tablet, phone, server and Cloud to drive a thriving ecosystem of developers, unify the cross-device user-experience, and increase agility when bringing new advancements to market."
The closing remarks note, "It truly is a new era at Microsoft," and that the company has "an unprecedented amount of opportunity for both this year and the long term."
However, as Mashable points out survival in the new era is not going to be easy given the changes happening within the company and the industry.
Of course, the moot point is whether Microsoft can recreate the success story from new aspects of business the same way it had done in the past.
Steve Ballmer Bonus Gets Trimmed
In a Microsoft-related news, it has been announced that bonus for Steve Ballmer in fiscal 2012 has been trimmed following the slower-than-planned progress in online services division and failure to comply with an agreement with European regulators.
Apparently, Ballmer's bonus was $620,000 that is less than half the possible maximum bonus of $1.37 million, as per regulatory filing made Tuesday.
It is also lower than $682,500 doled out a year earlier, Bloomberg has reported, adding Ballmer's salary was $685,000.
Peter Wootton, a spokesman for Redmond, Washington-based Microsoft, told Bloomberg that several Microsoft executives earned a bonus equal to 90 to 120 percent of base salary.
Ballmer's bonus was at 91 percent of his salary. Ballmer, who ranks 48 on Bloomberg's Billionaire List, has not received stock compensation at his own request, Bloomberg has pointed out.
© Copyright IBTimes 2023. All rights reserved.