It's Only Monday And Already Japan's Prime Minister's Week Is Off To A Bad Start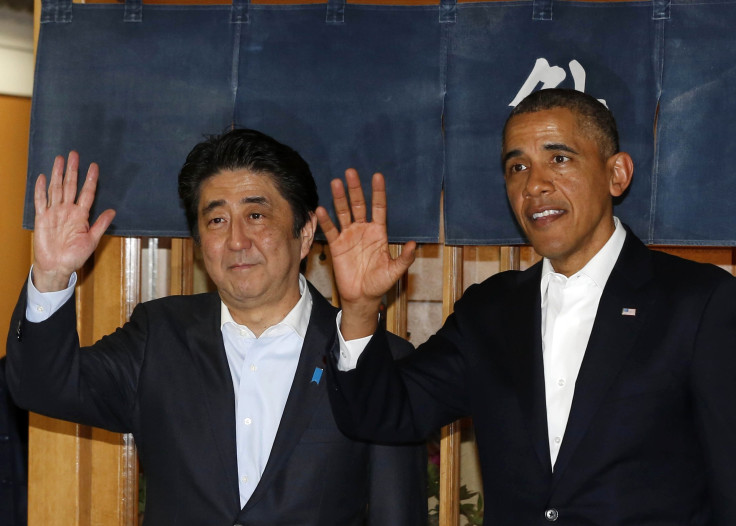 It's only Monday and already Japanese Prime Minister Shinzo Abe's week is off to a bad start.
Fresh off the heels of a summit with U.S. President Barack Obama that failed to provide a trade deal hoped for by both sides, the International Monetary Fund on Monday cautioned that Japan's long-struggling economy is dragging on the rest of Asia and faces slowing growth and deflation absent fundamental changes to the way it does business.
"The third arrow of Abenomics -- structural reforms -- is essential for Japan to avoid the risk of falling back into lower growth and deflation, a further deterioration in the fiscal situation and an over reliance on monetary stimulus, with negative consequences for the region," the IMF said in its report.
In addition to structural reforms, Abenomics, as the prime minister's policies have been dubbed, includes fiscal stimulus, or government spending aimed at boosting the economy, and monetary stimulus, wonkspeak for lower interest rates making borrowing and investing more attractive.
A boost in the nation's consumption tax earlier this year drove strong retail sales before it went into effect, and is likely to have driven inflation higher after its implementation.
The IMF predicted that "inflation will rise to 2.8 percent this year (around 1 percent of which is due to the consumption tax hike) and moderate to 1.7 percent in 2015. Inflation is expected to stay in the 1 to 2 percent range.
The latest look at Japan's monetary environment arrives on Wednesday, when the Bank of Japan releases its semiannual economic outlook.
The first two elements of Abenomics have largely succeeded in getting consumers more optimistic about growth and spurring them to spend, but that's showing signs of petering out after a strong GDP jump of 4 percent in the first half of 2013. By the fourth quarter that had slowed to just 1 percent, bringing in the full year's performance to a decidedly cool 1.6 percent.
Monetary and fiscal policy can work in the short term, experts say, but changes in the government subsidies to industries like agriculture, as well as tapping its underutilized female workforce will be needed to sustain the kind of growth the country will need to compete in Asia, particularly against China.
The IMF said Asian domestic demand has been generally solid and Japan is seeing wealth effects from rising stock prices boost consumer spending.
© Copyright IBTimes 2023. All rights reserved.
FOLLOW MORE IBT NEWS ON THE BELOW CHANNELS