Ivanovo Blues: Economic Downturn in Russia's Regions Fuels Decline, Sporadic Protests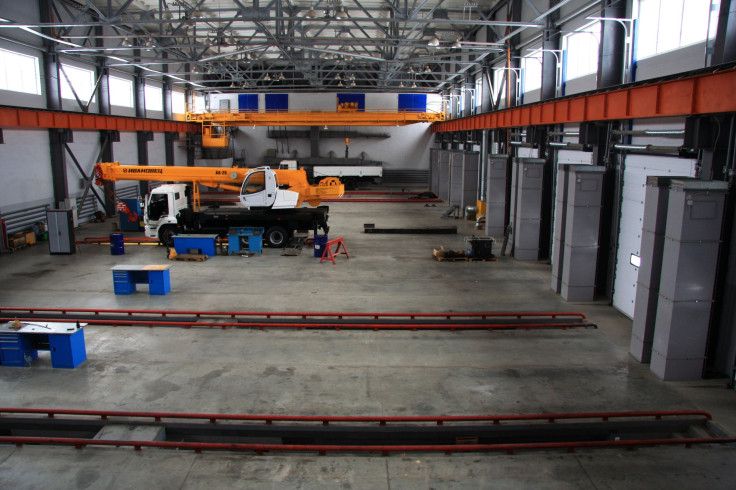 IVANOVO, Russia — Avtokran is a company on the edge of disaster.
The large Russian machinery manufacturer, which saw demand for its mobile cranes collapse as economic crisis gripped the country in late 2014, is still battling hard to avoid bankruptcy.
Production nose-dived from 2,070 cranes in 2013 to a mere 70 in 2015.
"We basically didn't work [last year]," Vasily Belov, head of Avtokran, told International Business Times.
Remaining employees at the firm's factory on the outskirts of regional capital Ivanovo, 155 miles to the east of Moscow, were switched to a two-day workweek at the beginning of the month and a further 20 percent of Avtokran's 1,800 workers will be laid off in the near future.
Businesses like Avtokran are at the sharp end of Russia's ongoing recession that is being driven by a collapse in the price of oil, Russia's chief export earner, and waves of sanctions imposed by Western countries over the Russian invasion of Ukraine in March 2014.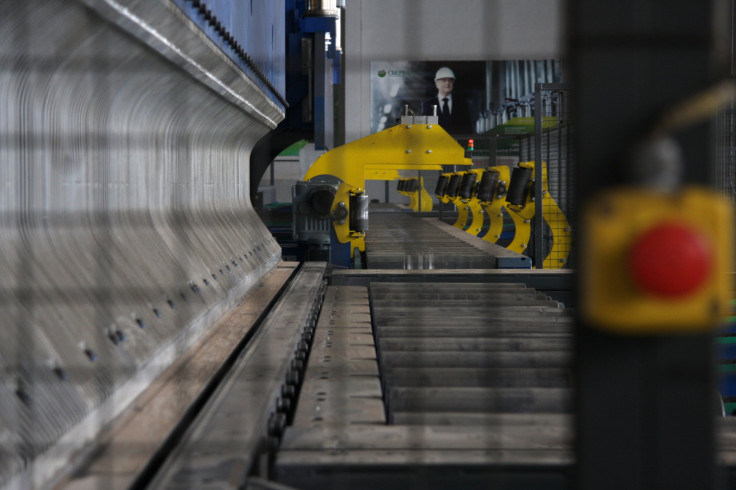 The country's gross domestic product contracted 3.7 percent in 2015; a torrid result for an economy once considered a leading emerging market. Inflation hit almost 13 percent, real wages slumped 9.5 percent and unemployment jumped 7.4 percent. The ruble fell 20 percent against the U.S. dollar, recording historic lows not seen since Russia's 1998 financial crisis.
Economic woes are expected to continue through 2016, with predictions of a further GDP contraction of over 1 percent.
While there are few signs of economic problems translating into political protest, a prolonged downturn threatens to undermine the prestige of President Vladimir Putin, who has presided over an almost unbroken period of rising living standards during his 16 years at the top of Kremlin politics.
Ivanovo exhibits many of the problems and opportunities thrown up as people and businesses adapt to the slump. "Ivanovo is a typical provincial Russian city," said Mayor Aleksei Khokhlov during an interview at one of the city's smartest hotels. "The first [economic] shock has passed, and people now understand it's not a freak occurrence but the new rules of the game."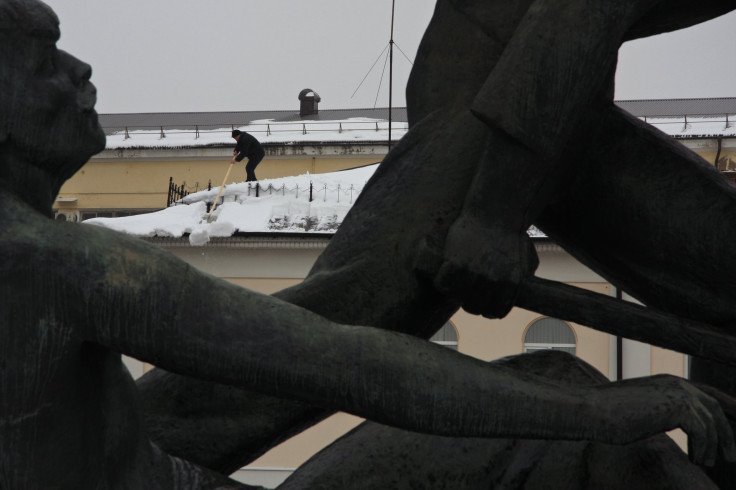 With a population of just 400,000, Ivanovo is ranked No. 43 by population size in Russia, one of many middle-bracket urban centers experiencing large outflows of young people but which function as the country's industrial and political backbone, providing almost unwavering support for Putin and his paternalist politics.
The machine-building sector in Ivanovo has been one of the sector's hardest-hit in the current crisis, and factories like Avtokran, founded in the 1950s, have fallen a long way from their Soviet heyday. While director Belov said 2015 was no worse than other market troughs the factory has survived, the truth is that chronic under-investment and the legacy of a command economy means Avtokran only functions thanks to financial handouts from the government.
Critics in Ivanovo said Avtokran's story is typical, and that state money is the only lifeline for companies grappling with high interest rates, a slew of bankruptcies and falling demand.
"The businesses still moving forward are the ones that receive budget money… it's the officials who decide which businesses survive," said Alexei Mashkevich, the chief editor of 1000ekz, a journal for the city's political and economic elite.
But the picture is not all bleak and some in the city have benefited from the economic situation. Ivanovo is famous for its textile production, a tradition dating back to Tsarist times that's declined in recent years — but the devaluation of the ruble has given manufacturers a fillip and made them competitive against foreign rivals for the first time since the Soviet Union breakup.
In 2015, Ivanovo's textile production sector expanded by more than a quarter.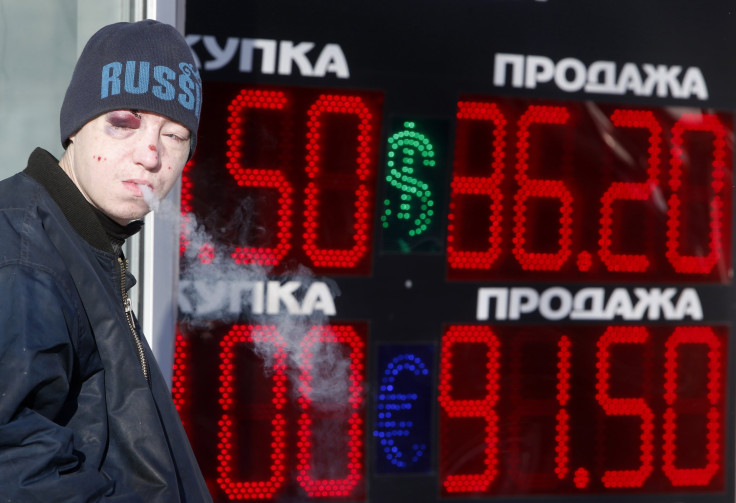 "It's very simple: Turkey dropped out [of the textile business], Pakistan dropped out and China has dropped out… People used to travel to Turkey to buy rags and then sew coats or underwear here, but now that's expensive," said Mayor Khokhlov.
As in Russia as a whole, Ivanovo's food processing industry also bucked the economic trend in 2015, recording 17 percent growth as it reaped dividends from the Kremlin ban on food imports from Western countries imposed in late 2014 in response to European and U.S. sanctions over Ukraine.
One of the big unknowns amid the turbulence is whether popular dissatisfaction with economic problems will fuel political protests against the Kremlin. In Ivanovo, there have been a series of small protests related to specific issues in recent months, including over the situation at Avtokran.
"The country's leadership do not care about manufacturing; they only care about Syria, Ukraine and lining their own pockets," one worker, who has been employed at Avtokran's factory for 40 years, told IBT.
At least six rallies in the city have been held since November by a group of people who each bought homes from Su-155, a real estate firm, in advance of construction — but whose apartments were never finished.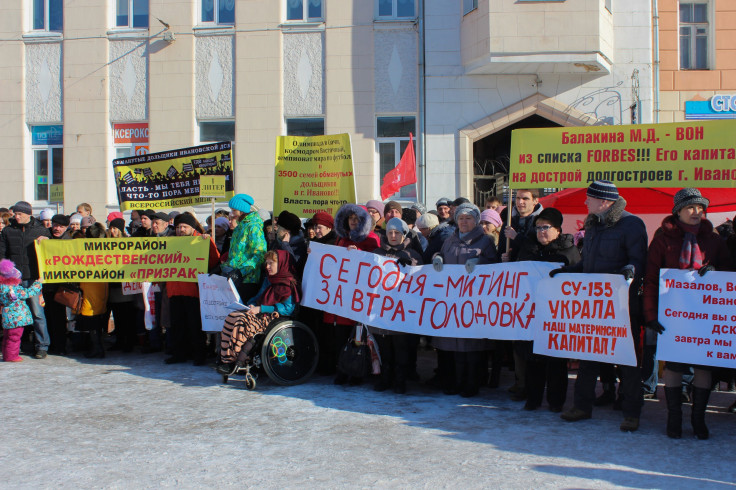 Ilya Tikhomirov, 29, sold his previous Ivanovo apartment in March 2014, took out credit and moved in with his wife's parents after buying a three-room flat scheduled to be completed by the end of 2015. His building is still no more than a foundation after work ground to a halt in late 2014. "People have been broken," he said. "It's not clear why no one has been punished."
Ordinary people in Ivanovo said that over the last year they had felt the pain from static salaries and rising prices in the shops.
"Prices have increased in shops… I buy fewer clothes and we spend a long time looking for shoes so as to find cheap ones," said Ksenia, 29, a HR manager crossing Ivanovo's Revolution Square, adding that her wages were cut last year.
Rising inflation and a weak ruble have battered consumer spending in Russia, once a key economic driver. Last year, retail sales recorded some of their biggest monthly falls in 15 years. The level of investment in the country — one possible pillar of an economic rebound — has also been locked in a steady downward spiral.
Many experts see 2016 as a pivotal year for the economy: While Putin has said the peak of the crisis is past, many predict the country will slip toward the sort of chronic stagnation that plagued the late Soviet Union.
Roman Chernyshev, 30, the head of Textile Solution, a maker of anti-stress toys in Ivanovo and a relatively rare local example of a successful small business, said his company was profitable last year despite being unable to borrow at rates less than 23 percent a year and losing 80 percent of its clients when the ruble collapsed in 2014.
"We are rowing against the current, but we are rowing faster than the others," he said. "Things won't get better this year, but they might normalize by 2020."
FOR FREE to continue reading
✔️ Unlock the full content of International Business Times UK for free
offer available for a limited time only
✔️ Easily manage your Newsletters subscriptions and save your favourite articles
✔️ No payment method required
Already have an account?
Log in
© Copyright IBTimes 2023. All rights reserved.