Ja Morant's Suspension: 5 Other NBA Players Who Faced Disciplinary Actions Over Social Media Posts
The Memphis Grizzlies have suspended star player Ja Morant for at least two games over his social media post.
Morant allegedly brandished a gun inside a Denver nightclub and live streamed it on his Instagram page, which has more than 9 million followers. All his social media pages were disabled after the video drew widespread backlash. The National Basketball Association (NBA) has also opened an investigation into the matter.
The 21-year-old isn't the only NBA player to face suspension for sending out objectionable messages, virtually. Here's a list of present and past players associated with the league to have faced disciplinary action in the form of suspensions and fines.
Dion Waiters
Former NBA player Dion Waiters, who played for the LA Lakers and Miami Heat, was suspended by the latter in December 2019 after he posted a photo on Instagram of himself on a boat. The photo came at a time when Waiters had called in sick, irking Miami Heat that had acquired him for a $52 million four-year contract for the 2016-2020 period. Waiters deleted the photo but he couldn't escape suspension, which lasted six games "for failure to adhere to team policies, violation of team rules, and continued insubordination."
Ty Lawson
Ty Lawson, who was scooped up by The Ball Hoggs in mid-2022, was not just suspended but banned for life by the Fujian Sturgeons, a Chinese Basketball League team he played for one season. The ban came in September 2020 after he posted an explicit photo of his hand placed on the back side of a girl at what appeared to be a club.
"Chinese woman got cakes on the low... might switch up my stance soon lol," he wrote on his Instagram Story before posting the photo.
"His inappropriate words are inconsistent with the social responsibilities and values abided by our club and have brought serious adverse social impacts to the club and the league. We will not sign him for the new season," Fujian Sturgeons said in a statement to Chinese publication Xinhua at the time.
Joel Embiid
Joel "The Process" Embiid is a no holds barred personality, especially when it comes to his social media activities. In the past decade, the NBA levied him a hefty fine of $10,000 for saying "Man, f—k LaVar Ball" in a 2017 Instagram video.
LaVar, in a 2017 radio interview, blasted young Philadelphia 79ers players for spending a lot of time on social media and said it was the reason for their lackluster record that season. The former football player's reaction seemed to be aimed at one of Embiid's tweets, which came after the Los Angeles Lakers selected LaVar's son Lonzo as their No. 2 overall pick.
"Please dunk on him so hard that his daddy runs on the court to save him," Embiid had tweeted to his Philly 79ers teammate Ben Simmons.
Embiid was fined $10,000 for using inappropriate language on social media. An unbothered Embiid once again hopped on to Twitter after the announcement and tweeted, "That day has finally come ha #TheProcess."
Kyrie Irving
The Brooklyn Nets suspended Kyrie Irving for five games last year after he posted a link on Instagram to an anti-semitic documentary. The Nets said Irving refused to explicitly state he was not anti-semitic on multiple occasions.
"Accordingly, we are of the view that he is currently unfit to be associated with the Brooklyn Nets. We have decided that Kyrie will serve a suspension without pay until he satisfies a series of objective remedial that address the harmful impact of his conduct and the suspension period served is no less than five games," the team added in a statement. Irving issued an apology later.
Anthony Edwards
Minnesota Timberwolves guard Anthony Edwards was slapped with a fine of $40,000 last September for a homophobic video he posted on social media. He had recorded a group of men on the sidewalk and called them "queer a—" followed by a racial slur. Edwards later apologized for saying "immature, hurtful, and disrespectful" things, adding, "I was raised better."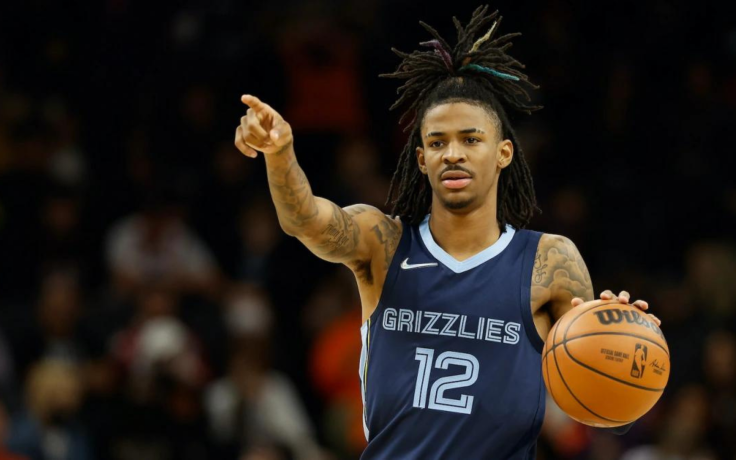 © Copyright IBTimes 2023. All rights reserved.