Jaguar Land Rover Says It's Waiting For Information About Luxury Cars Worth Over $150M Aboard Stranded Ship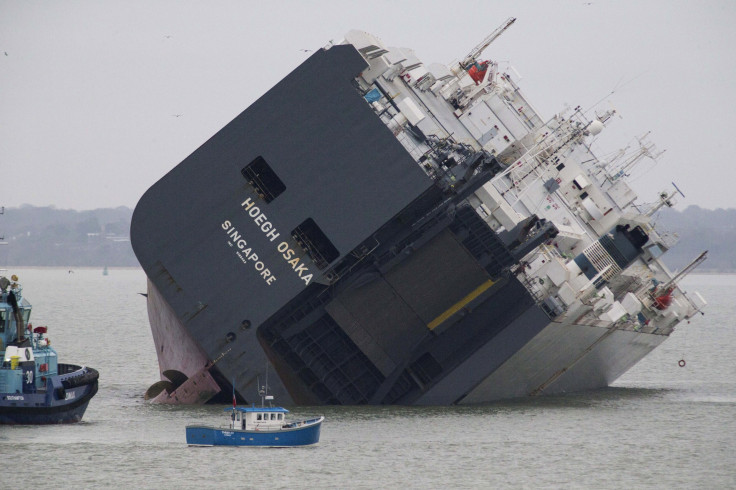 Jaguar Land Rover said on Tuesday that the company was waiting for more information about the condition of 1,200 of its luxury vehicles, which were inside a 51,000-ton cargo ship that has been stranded off the southern coast of England since Saturday.
The huge car transporter ship, Hoegh Osaka, which ran aground in the English Channel, was carrying 1,400 vehicles, most of which were Range Rovers and other Jaguar Land Rover models, covered by insurance, Reuters reported, citing a spokesman for the British carmaker, owned by India's Tata Motors. Although Jaguar Land Rover did not provide any indication of the value of its cargo, Reuters calculated that the price of the 1,200 luxury cars could be worth close to $151.80 million.
"We're still evaluating what has happened," the spokesman told Reuters. "Our main objective is to get sold orders to customers."
While salvage experts have not yet reported on the condition of the cargo, reports said that they may have moved as the ship dangerously listed at a near-45 degree angle. The vessel, which sailed from Hampshire port, was on its way to Germany. According to its owners, Hoegh Autoliners, the ship was deliberately run aground on Saturday evening after it began to list.
"We can confirm that we do have roughly 1,200 Jaguar and Land Rover products aboard the stricken ship," Jaguar Land Rover said in a statement, obtained by Birmingham Post. "Until such time as the salvage operation can safely begin, we can tell you nothing further about the implications for the cargo. However, the most important consideration is that the crew are safe and well."
© Copyright IBTimes 2023. All rights reserved.