Jakarta Attacks Spark Concerns Over Rise Of ISIS In Indonesia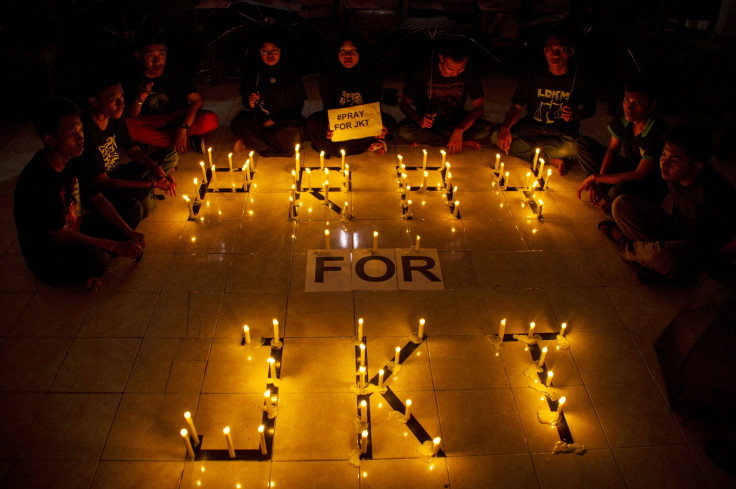 Thursday's attacks in the Indonesian capital, Jakarta, which killed at least seven people, are believed to have been the handiwork of an outfit, or outfits, linked to the Islamic State group. Prior to the attack — the deadliest in the predominantly Muslim nation in over six years — Indonesian authorities were aware of a "credible threat" amid heightened concerns over the recent growth of ISIS in the region, the Associated Press (AP) reported.
"Islamic State fighters carried out an armed attack this morning targeting foreign nationals and the security forces charged with protecting them in the Indonesian capital," Reuters reported, quoting an ISIS-affiliated "news" agency, confirming earlier statements by Jakarta's police chief, who said the Sunni militant group was "definitely" behind the attack.
Radical Islamist groups have been responsible for several attacks in the country. However, the attacks in the past, including the deadly bombings in Bali in 2002 — which killed over 200 people — were carried out by groups such as the now weakened Jemaah Islamiyah, linked to al Qaeda.
Terrorist Attacks and Threats in Indonesia | FindTheData
Thursday's attacks were the first successful ones by ISIS in the country, hinting at the increasing influence of the militant group in the nation which is home to the world's largest Muslim population. Indonesian authorities and counterterrorism analysts say that hundreds of Indonesians, including entire families, have gone to Syria and Iraq over the past year to live in ISIS-controlled territories and support its cause.
Last month, in comments made to an Australian newspaper during a meeting between Australian and Indonesian officials, Australia's Attorney-General George Brandis said he had "no doubt at all" that ISIS was seeking to establish a "distant caliphate" in Indonesia, "either directly or through surrogates."
There are varying estimates about the number of Indonesians involved with militant groups in Syria and Iraq currently. Some estimates suggest that up to 500 citizens of the South Asian nation have joined the conflict, raising the specter of trained fighters returning to the country and carrying out attacks.
Earlier this month, authorities intensified their manhunt for Santoso, Indonesia's most high-profile ISIS supporter, who many believe could be an inspiration for Indonesian militants returning from the Middle East.
"A number of foreign terrorist fighters have come to our backyard," Andy Rachmianto, director for international security and disarmament at Indonesia's foreign ministry, said, in November. "They want to fight, they want to do jihad … in Indonesia."
© Copyright IBTimes 2023. All rights reserved.