Jan Brewer, Obama Meeting: Did Arizona Governor's Finger Pointing Cross a Line?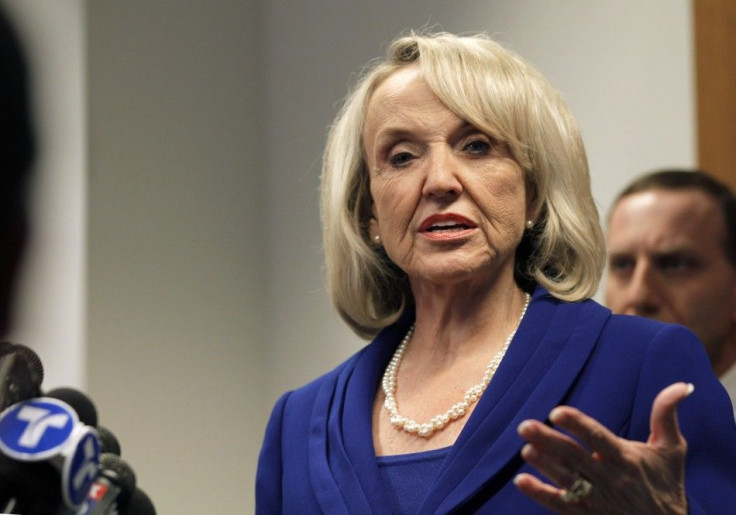 Arizona Gov. Jan Brewer's meeting with President Barack Obama on a Phoenix airport tarmac resulted in an image of the commander-in-chief on the receiving end of an index finger pointed directly at his face.
The two had been entangled in a heated battle over immigration policy, as Obama's Department of Justice is suing Arizona for implementing a draconian law that the administration says encroaches on federal power. Brewer, for her part, said she supports the immigration law, which is now before the U.S. Supreme Court, because the federal government has failed to control immigration and enforce the nation's laws.
Does that excuse the finger-pointing? Did it cross the line? After all, the president is the head of the state. The president of the United States commands awesome power and respect in public.
But the country is in an era of, You lie, which a U.S. congressman from South Carolina famously shouted at Obama during his 2009 State of the Union address. That earned Rep. Joe Wilson an official rebuke from the U.S. House.
John S. Baick, a Western New England University professor of history who studies popular culture, said the American presidency is rife with examples of the leader of the free world taking venom from governors and politicians -- in private, of course.
The general overwhelming rule has been that in public affairs, people are on their best behavior, Baick said. That's simply a given in American society.
Brewer Thursday maintained the gesture was not a sign of disrespect and Obama in an interview said it was really not a big deal.
Still, it raises the question of how a governor -- or any one, for that matter -- acts in the presence of a sitting president, especially a meeting involving the press.
The picture showed a commander-in-chief who is being lectured by the governor. In what circumstances is it appropriate to literally point the finger, Baick said.
Dr. John N. Mellon, an expert in business decorum who teaches business at Misericordia University in Pennsylvania, said the finger pointing could be excused considering the controversial matter being discussed and Brewer's status as one of the nation's 50 governors in the nation.
The topic, Mellon said, absolutely matters.
They're not equals, of course, but she is trying to stress a point, so I'm not totally offended at this point to the president to the degree of some people, Mellon said. She's trying to stress a point that she wants the person to take a second look or basically look at the situation from a new perspective.
-
© Copyright IBTimes 2023. All rights reserved.
FOLLOW MORE IBT NEWS ON THE BELOW CHANNELS