Japan Airlines, or JAL, Reports Possible Battery Glitch On Boeing 787 Dreamliner Flight To Tokyo From Helsinki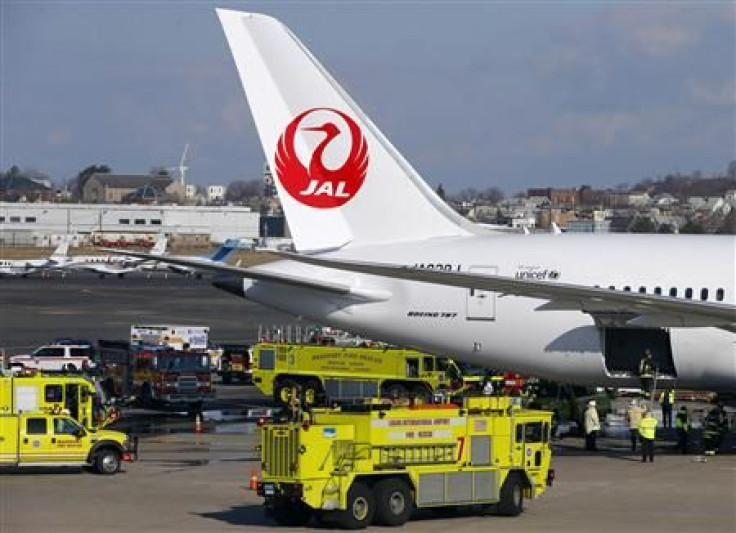 Japan Airlines Co Ltd, or JAL (TYO: 9201), said that a Tokyo-bound Boeing 787 Dreamliner flight from Helsinki, Finland, encountered a possible glitch in the battery system that may be similar to the problem that caused Dreamliner fleets worldwide to be grounded by the U.S. Federal Aviation Administration, or FAA, earlier in the year.
JAL told the Boeing Company (NYSE:BA) that its pilots reported a warning light linked to the battery during the flight, although engine-monitoring systems did not show any abnormal variations in voltage and electrical current, and the plane arrived in Tokyo without any delay, Agence France-Presse, or AFP, reported on Sunday, citing a JAL spokesman.
"After its arrival we changed the auxiliary battery and charger, and the plane is now back in normal operation," the spokesman told AFP.
JAL, which operates the second-largest number of Dreamliner aircraft, was one of the first airlines to report burnt batteries on one of its 787 planes, a recurring issue that prompted the FAA to suspend Dreamliner flights worldwide for four months starting on Jan. 16. Boeing redesigned the battery system to prevent heat from spreading and causing electrical fires, before resuming flights in the second quarter of 2013.
In October, JAL diverted two of its Dreamliner flights bound to Tokyo from San Diego and Moscow following electrical glitches that led to the failure of a system to prevent ice from accumulating around the engine on one flight and rendered six toilets unusable in the other. Other carriers around the world, such as Japan's All Nippon Airways, Poland's LOT and Air India, have reported a variety of issues with Boeing's pioneering Dreamliner aircraft since the FAA lifted the ban.
Also in October, JAL snubbed Boeing, long its exclusive supplier, in favor of its European rival, Airbus, in a deal to buy 31 A350 jets, although the airline maintained that the decision to switch vendors had nothing to do with the Dreamliner's troubles.
© Copyright IBTimes 2023. All rights reserved.
FOLLOW MORE IBT NEWS ON THE BELOW CHANNELS