Japan Earthquake Update: 250,000 People To Leave Homes Amid Further Quake Fears While Economic Impact Spreads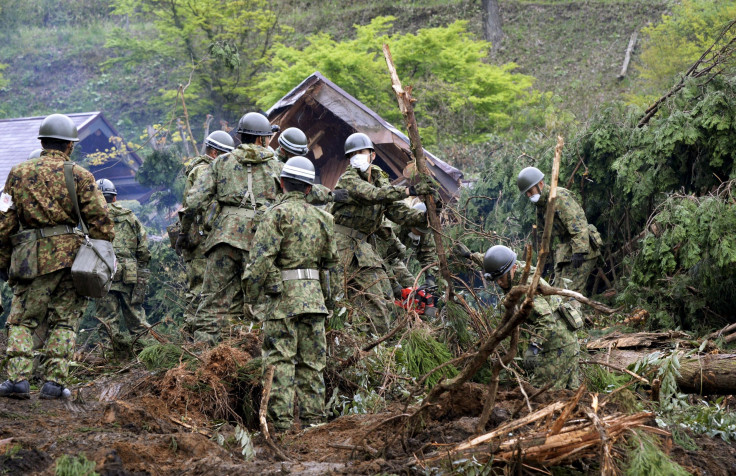 Nearly 25,000 people have been urged to leave their homes amid fears of more earthquakes in Japan after two quakes struck on Thursday and Friday, leaving 42 people dead, an aid agency told BBC. A series of earthquakes measuring up to magnitude 7.3 struck southwestern manufacturing hub of Kumamoto, leading several firms to suspend operations fearing damages.
Japanese Red Cross Society's advisor Naoki Kokawa told BBC Monday that more medical teams were being dispatched to evacuation centers while rescuers continue to search the rubble for survivors. Police told local media that 11 people were reported missing while more than 1,000 people were injured.
"There are still missing people. We want to make further efforts to rescue and save people and prioritize human lives," Prime Minister Shinzo Abe told parliament.
Several manufacturing units suspended their operations, raising concerns of supply chain disruptions. Electronics giant Sony Corp., as well as automakers Honda Motor and Toyota Motor, cited damage at their plants for the suspension. Chipmaker Renesas Electronics' plant in Kumamoto, which was the hardest hit, reportedly said that there had been damage to some equipment.
Sony's shares closed 6.78 percent lower on Monday while Toyota Motor closed 4.76 percent down. Nissan Motor shares were lower by 2.83 percent and Honda Motor slipped 2.92 percent.
The U.S. military joined relief efforts Monday in Japan for providing aerial support and care for tens of thousands of people seeking shelter.
"We are doing our best," Abe reportedly said, when the opposition criticized the government's handling of the relief effort. "We are striving to improve living conditions for the people who have sought refuge."
© Copyright IBTimes 2023. All rights reserved.
FOLLOW MORE IBT NEWS ON THE BELOW CHANNELS