Japan Embarks On Long Journey To Renewables-based Energy Independence With World's Largest Wind Farm Project
But to replace all the nuclear power it took offline after 2011 Fukushima diaster will require much more.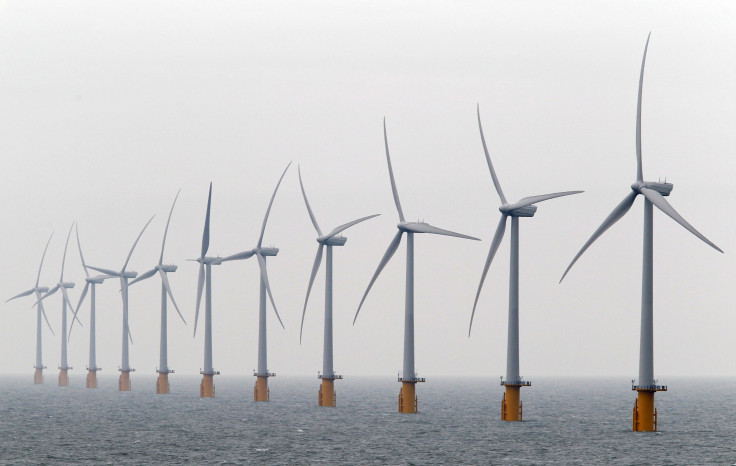 In the wake of the 2011 Fukushima Daiichi nuclear disaster, Japan has been thrust full steam into developing alternatives to nuclear power.
Less than two years after one of history's worst nuclear disasters led the government to decide to shut down all but two of its atomic energy plants, Japan is developing near the shuttered facility the world's largest offshore field of wind farms capable of producing 1 gigawatt, roughly enough to power about 700,000 homes.
The massive project is just one item on a longer to-do list, if the only country to suffer nuclear war succeeds in its stated goal of energy independence based on renewables by 2040. And with that comes a laundry list of projects and investments for years to come. Already Japan has attracted about $2 billion in investment and interest from more than 30,000 companies since it announced new feed-in tariffs, or the amount utility companies must pay for the energy the wind farms produce, in July, according to a renewable energy advocacy group, the Global Wind Energy Council.
While the offshore wind farm doesn't even come close to replacing Daiichi's 4.7 gigawatt output, much less compensate for the massive amount of power taken offline from the other 53 plants that were shut down after the accident, it's one of the largest wind projects to have been announced since the disaster.
"The shutdown of Japan's nuclear reactors in the aftermath of the earthquake and tsunami has changed the perspectives towards renewable energy technologies," said Suchitra Sriram, energy and environment analyst at market researcher Frost & Sullivan.
The recently announced wind farm project, due for completion in 2020, will comprise 143 offshore turbines about 10 miles off the coast of Fukushima prefecture, located roughly in the middle of the country along the east coast. Construction is expected to begin in July, according to New Scientist.
The project's builder has not been publicly disclosed, but one possible local player could be Mitsubishi Corp (TYO:8058). The Tokyo-based company is major player in offshore wind farming.
Mitsubishi, Japan's largest conglomerate by market value, recently announced it was acquiring a 50 percent stake in the Luchterduinen offshore wind farm with Dutch electric and gas utility services provider Eneco Holding N.V. Earlier this month, Dutch grid operator TenneT TSO B.V. announced that Mitsubishi would be investing $3.9 billion in four offshore wind projects in a 40 percent equity share agreement.
According to a report in November from the Global Wind Energy Council, Japan ended 2011 with 2.5 gigawatts of maximum wind capacity, including the 166 megawatts added that year from 78 installed turbines. (One gigawatt is equal to 1,000 megawatts.) This amounts to less than 1 percent of Japan's electricity demand. By comparison, Germany, the world leader in wind power, had a capacity of 29 gigawatts at the end of 2011, providing the country with 7.8 percent of its electricity demands.

The GWEC said one major hurdle for Japan in its drive to rapidly accelerate renewable energy development is that its entire energy sector requires an overhaul.
"Since the share of renewables in the energy mix in Japan is low, major efforts are required to replace the old energy system with a more modern and flexible system, suitable for large deployment of renewables," said the report. "However, the most serious problem in Japan is the monopolistic and vertically integrated structure of its utilities. The future of Japan's electricity sector post-Fukushima remains a major subject of debate."
© Copyright IBTimes 2023. All rights reserved.