Japan Farm Minister Scandal Presents Opposition With Opportunity To Weaken PM Abe's Reform Bills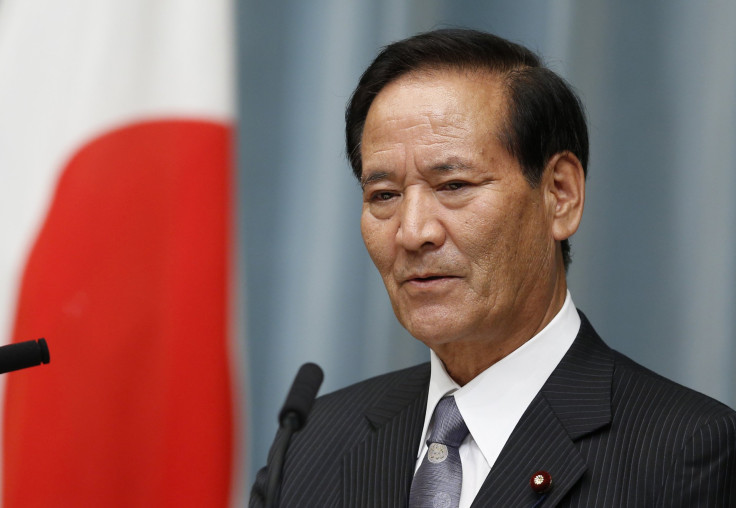 Japan's farm minister Koya Nishikawa resigned on Monday over questionable political donations, making him the third cabinet member to resign since Prime Minister Shinzo Abe took power in 2012. The opposition party has seen this as an opportunity to gain ground for blocking Abe's momentum on passing reforms he's expected to introduce into the parliament later this year.
Nishikawa had maintained that he was innocent but decided to step down so as not to delay the passing of several agricultural reforms in the parliament later this year, according to Japanese news Asahi Shimbun. "Responsibility for appointing (Nishikawa) lies with me," Abe said, taking responsibility for the scandal that rocked his cabinet, according to Japan Times. Abe has named former farm minister Yoshimasa Hayashi as Nishikawa's successor. The agricultural reforms were part of Abe's move to limit the power of Japan's farm lobbies as he attempted to revitalize the country's economy.
Nishikawa's scandal involved a September 2012 donation from a local company made to his and Abe's party, the Liberal Democratic Party. The company had received a 700 million yen ($5.9 million) government subsidy in May that year, and according to the country's Political Funds Control Law, companies that have received government subsidies were prohibited from making political donations within a year of receiving the aid. The company had donated to an LDP branch in a district which Nishikawa headed.
Nishikawa had also been implicated in questionable donations he accepted from the sugar industry when he was a key figure in the Trans-Pacific Partnership free trade negotiations, which would protect the local sugar industry. Nishikawa had said that he didn't accept the money, according to Asahi Shimbun. Japan's trade minister Yuko Obuchi and justice minister Midori Matsushima had resigned last October following similar scandals regarding questionable donations made to constituents.
The current scandal has provided the opposition party Democratic Party of Japan some foothold in gaining ground in the parliament known as the Diet, where "[the DPJ] will try to pry the crack open further and keep grilling the Abe administration," the Diet's lawmakers said, according to the Japan Times. The LDP controls both the upper and lower houses, and Abe is expected to push for several reforms in the Diet session this spring, including a landmark constitutional ban on Japan's military overseas deployment as well as several economic policies popularly known as "Abenomics." Abe had been increasingly gaining momentum with his reform bills that he's expected to introduce into the Diet, especially after its hostage crisis in January where two Japanese civilians were beheaded by the terrorist group Islamic State.
© Copyright IBTimes 2023. All rights reserved.