Japan Fears Trump Could Link Security With Trade At Summit With Abe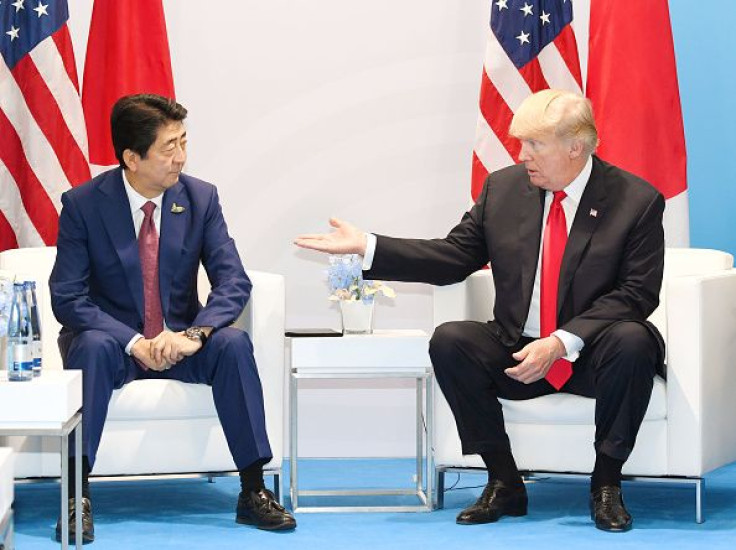 Japanese Prime Minister Shinzo Abe could find his oft-touted close ties with Donald Trump sorely tested at a summit this week in which Tokyo fears the U.S. leader will try to link vital security matters with touchy trade topics.
It is a fraught time for both sides, and comes as Trump prepares to meet with North Korean leader Kim Jong Un, whose government has been openly antagonistic toward Japan.
Abe is struggling with declining popularity because of suspected cronyism scandals. Trump, whose White House is grappling with scandals and investigations of its own, may be hunting for a political win ahead of November midterm congressional elections.
Japan wants Trump to avoid a deal in which Pyongyang gives up ballistic missiles that can hit the U.S. mainland but keeps shorter-range missiles that threaten Japan. Abe also wants Trump to bring up Japanese citizens kidnapped by Pyongyang long ago.
At the summit with Trump on Tuesday and Wednesday, Tokyo is equally eager to avoid being pushed into talks on a two-way free trade agreement aimed not only at market access but at monetary and currency policies.
"If Abe brings up abductions and short and mid-range missiles, it's obvious that Trump will say, 'OK, do something on the economic side,'" said a Japanese ruling party lawmaker well-versed in U.S.-Japan ties, who declined to be identified because the topic and timing are sensitive.
Trump's ability to give allies policy whiplash was on display last week when he said he'd asked aides to re-open talks on the multinational Trans Pacific Partnership (TPP) that he abandoned last year. Afterward, he tweeted that the United States would only rejoin if offered "substantially better" terms and urged a bilateral deal with Japan, which "has hit us hard on trade for years!"
Eleven remaining members, led by Japan, signed a TPP-11 agreement in March. Tokyo has long hoped Washington would return to TPP but is opposed to any major makeover of the pact to help that happen.
"What Trump wants most is a 'success story,' and that means bringing Japan into bilateral economic talks," the lawmaker said. Trump's decision to include Japan as a target for tariffs on its steel exports while exempting several other countries was widely seen as pressure on Japan to agree to a free-trade deal.
DELICATE BALANCE
Japan will propose a new framework to discuss trade issues with Washington as a way to coax it back to TPP, the Nikkei business daily said on Saturday. Ongoing talks led by U.S. Vice President Mike Pence and Japanese Deputy Prime Minister Taro Aso have produced few results.
But such a proposal would face headwinds if Trump insists on renegotiating the TPP or tries to push Tokyo into a two-way pact.
"TPP achieved the impossible … if they want to rebalance or change, it is very delicate and I don't see a realistic possibility of going further in any way," said a Japanese government source who also declined to be identified because of the sensitivity of the topic.
Abe, who was the first foreign leader to meet Trump after his election and has since held two summits — both of which included chummy rounds of golf — sought this week's meeting after Trump stunned Tokyo with his willingness meet Kim Jong Un.
A senior U.S. administration official told reporters in Washington that the two countries were cooperating from the top down.
"We manage frictions as they come. And I think, overall, the relationship has never been better," the official said.
Japanese officials fear the U.S. midterm elections this year and other domestic headaches are making Trump especially keen for success both in talks with North Korea and on the economic front, where he has threatened a trade war with China and pressed South Korea into revising a bilateral free-trade deal.
"The midterm elections are foremost in Trump's mind," Katsuyuki Kawai, a special ruling Liberal Democratic Party (LDP) adviser for foreign affairs to Abe, told Reuters.
"This is precisely the time when allies must join together on security matters to face North Korea," Kawai added.
Abe may find the talks complicated by his efforts to improve ties with Russia and China - while being likely to join Trump in criticizing some of Beijing's trade practices.
Abe is expected to meet Russian President Vladimir Putin in May to seek progress in a decades-old territorial dispute. On Saturday, Abe expressed support for the "resolve" of the United States, Britain and France to halt chemical weapons use but only "understanding" for their attacks on Syria, which Putin has denounced.
Given Trump's propensity for deal-making, diplomatic experts advised Abe to steer clear of details at the summit.
"We don't want to turn the whole thing into bargaining between the United States and Japan," said Narushige Michishita, a former defense official and now a professor at the National Graduate Institute for Policy Studies.
FOR FREE to continue reading
✔️ Unlock the full content of International Business Times UK for free
offer available for a limited time only
✔️ Easily manage your Newsletters subscriptions and save your favourite articles
✔️ No payment method required
Already have an account?
Log in
© Copyright Thomson Reuters 2023. All rights reserved.