Japan Gears Up For Vote On Shinzo Abe's Economic Reform Agenda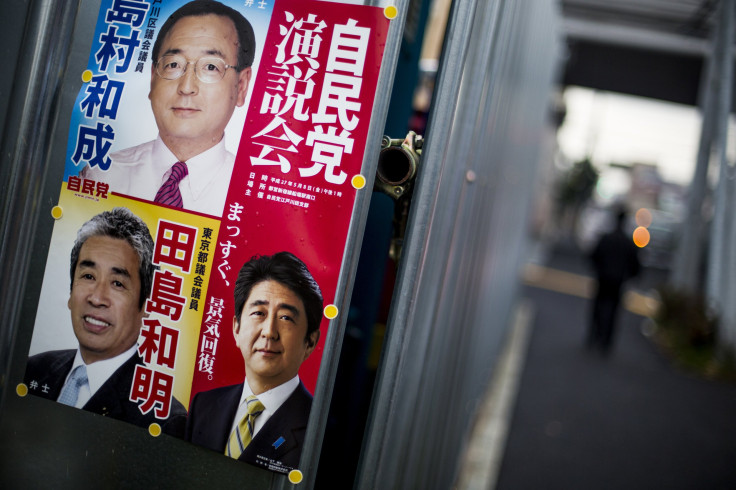 Japanese voters will head to the polls Sunday in a snap parliamentary election that is being billed as a test of strength for Prime Minister Shinzo Abe and his signature slate of economic policies, dubbed Abenomics. Abe's Liberal Democratic Party (LDP) is expected to dominate the election, but the number of seats they win or lose will be interpreted as a mandate on Abe's economic agenda as Japan muddles through a recessionary dip.
Parliamentary candidates have been scrambling since the prime minister dissolved the lower house of the legislature on Nov. 21, and set the election date for December, two years earlier than planned. "The election will be held to ask the public whether we will [move] forward with Abenomics or end it," Abe said last month. He also said holding elections now would solidify his decision to delay a controversial consumer tax hike that was originally scheduled for next October.
Analysts have also noted, however, that holding elections now would ensure the dominance of Abe and his party before lawmakers face a host of controversial issues next year, including legislative revisions that could pave the way for a wider military role and discussions over restarting nuclear power plants.
But holding elections Sunday isn't ideal timing for the ruling LDP. Since the Japanese government raised the consumer tax rate from 5 percent to 8 percent in April – a wildly unpopular move – the economy has contracted for two consecutive quarters. The next tax hike, now scheduled for 2017, would raise the rate to 10 percent. The Japanese yen has also plummeted by more than 40 percent during the past two years of Abe's term.
Nevertheless, the LDP has a strong lead in the run-up to Sunday's election, with expectations that it could win as many as 300 seats of a possible 480. The party held 295 seats in the lower house before it was dissolved last month, and Abe had only set a goal of winning a majority with 238. The opposition Democratic Party of Japan (DPJ) has struggled against its competitors, still recovering from its loss in the 2012 election that thrust the LDP and Abe back into power after three years of DPJ dominance. (Abe had one previous term as prime minister from 2006 to 2007.)
But Abe's own public approval ratings have suffered recently, dropping below 40 percent last month for the first time since he became prime minister in 2012, according to Japan's Asahi Shimbun newspaper. The paper also reported that 39 percent of poll respondents saw Abenomics as a failure, as opposed to 30 percent who said the measures were successful, and another 31 percent who had no comment.
Abenomics, a series of aggressive measures to ease monetary policy, is the centerpiece of the prime minister's economic approach to Japan's deflationary doldrums. The measures have included a $210 billion spending stimulus package, a heightened inflation target of 2 percent and a host of structural reforms aimed at expanding workforce diversity, slashing corporate tax rates and liberalizing some sectors of industry. While the consumption tax hike has been one of the most controversial elements of Abenomics so far, Abe's gains on structural reforms have remained murky. Japan's aging population and shrinking workforce have put a crunch on the economy, and pressure from interest groups, including agriculture and pharmaceutical lobbies, has hindered some of his proposed changes.
Even though Abe has tried to frame the election as a referendum on the economy, several other political issues are at stake if he and his party retain their hold on the government. The legislature needs a two-thirds majority to revise the constitution, and all eyes are on Article 9, which asserts that "the Japanese people forever renounce war as a sovereign right of the nation and the threat or use of force as a means of settling international disputes."
While Article 9 has been the cornerstone of Japan's postwar pacifism, in July Abe announced that the country still retained right to collective self-defense, and ended a ban on Japanese military action abroad. It was a provocative move in the midst of Japan's ongoing territorial conflict with China, and a revision of Article 9 could further inflame tensions between the region's two biggest powers.
The fate of Japan's nuclear power plants also hangs in the balance. Abe has advocated for restarting some 48 nuclear power plants that were shut down in the wake of the 2011 Fukushima nuclear disaster, an issue that continues to be highly divisive among the Japanese public. Two reactors at the Sendai nuclear power plant have been cleared to restart next year, despite vocal opposition from some local residents. Since Japan diverted its energy sources from nuclear, the country has been relying more on imported coal, and its carbon emissions rose to their highest level on record last year.
© Copyright IBTimes 2023. All rights reserved.