Japan Recession 2014: Why Abenomics Isn't Working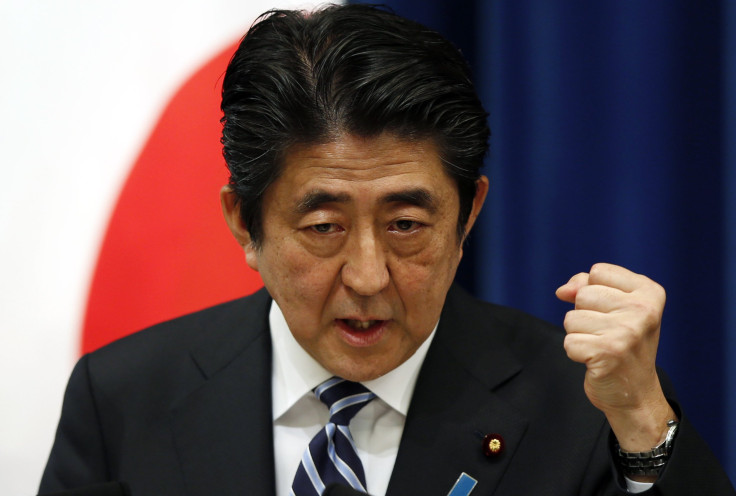 In the midst of its multipronged economic revitalization program known as "Abenomics," Japan is deeper in recession than previously thought. Data released Monday revealed the world's third largest economy contracted more than expected in the July-September quarter, leading many economists to conclude at least one element of Prime Minister Shinzo Abe's recovery plan was ill-conceived: increasing the country's consumption tax from 5 percent to 8 percent.
"It's quite striking that despite the massive scale of monetary loosening, that even just a fairly small tax increase is enough to plunge the economy into recession," said Jonathan Buss, an economist at Oxford Economics.
Japan stunned economists in November, unexpectedly falling into recession. The recession prompted Abe to delay a sales tax hike for 18 months. The tax was meant to follow the consumption tax increase that went into effect in April and is widely blamed for pushing the economy into recession.
Monday's data revealed Japan's GDP for the most recent quarter contracted at an annualized 1.9 percent rate, higher than the initial 1.6 percent annual rate reported last month, igniting concerns about Abe's effort to spur growth.
Abe, who was elected for a second term in December 2012, launched his plan to bolster Japan's economy at the start of his first term in 2006-07. Abe introduced it as a three-pronged approach to combat two decades of deflation and stagnant economic growth with new monetary, fiscal and structural policies.
Abe's monetary policy consists of printing additional currency to make Japanese exports more attractive and generate modest inflation. The second prong, fiscal policy, entails new government spending programs to stimulate demand while the third approach, structural reforms, includes various regulations to make Japanese industries more competitive.
"The consumption tax has really been the crucial point," Buss said.
The point of Abenomics was to try and engage in fiscal consolidation without harming growth or jeopardizing the Bank of Japan's plans to increase inflation. It was initially thought monetary easing would be enough to allow Japan to raise taxes without undermining growth or inflation, Buss said, but Monday's data underscores it won't be easy.
Abe's fiscal arrow was a combination of the consumption tax, followed by a stimulus program to offset the consumption tax in the short run. In October, Japan instituted more monetary easing as inflation stalled following the tax hike in April. The Bank of Japan agreed to inject 80 trillion yen, or $720 billion, into the economy through its quantitative easing program.
"The consumption tax hike certainly weakened the economy, but it was also an unavoidable step for Japan. It was just a question of when to hike taxes," said Bill Adams, senior international economist at PNC Financial Services Group.
But that's not Japan's only problem. Lower energy prices are also taking a toll. While some countries including the U.S. are benefiting from the recent plunge in oil prices, Japan is not.
"The devaluation of their currency [and] the devaluation of oil have basically offset each other. So, where other countries see positive growth because of low energy costs, Japan might not have that on their side," said Lennon Sweeting, corporate dealer at USForex Inc.
In the meantime, experts forecast the U.S. dollar will be worth 125 Japanese yen before the end of 2014. The dollar Monday traded at 120.72 yen. That could be an advantage for Japan as currency devaluation could lead to higher exports, Sweeting said.
"Japan could get the economy moving because it's cheaper for the world to buy Japanese products. Importers of Japanese goods could buy more than they might have previously and it would be less costly to do business with them," Sweeting said. But the disadvantage is that a weaker yen leads Japanese businesses to have far less purchasing power around the world -- limiting access to global goods and pushing up energy costs significantly.
"What they want to do is persuade the world that Japan has inflationary intentions, even if that means the rest of the world sees Japanese decision-makers as reckless," said Gary Burtless, senior fellow in economic studies at the Brookings Institution.
The Japanese people will soon have a chance to decide what they think of Abenomics. The country's snap election, which Abe called last month, is set to take place Sunday.
© Copyright IBTimes 2022. All rights reserved.
FOLLOW MORE IBT NEWS ON THE BELOW CHANNELS