Wall Street Week Ahead: Dow Jones Industrial Average Flirts With 18,000 Milestone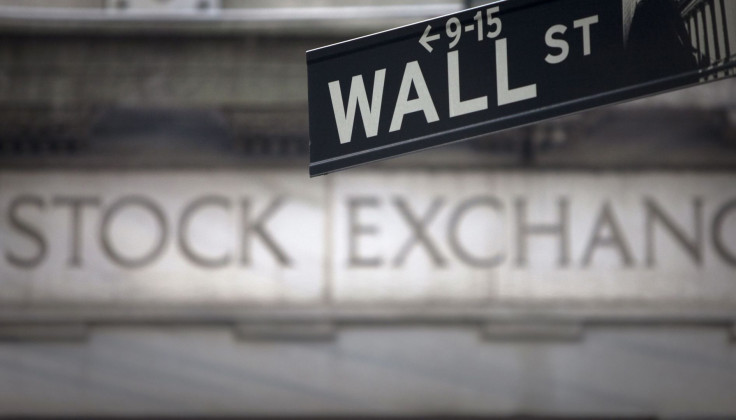 U.S. stocks eased slightly Monday after Japanese and Chinese economic reports painted a mixed picture of the global economy. The modest decline follows Friday's stronger-than-expected U.S. jobs data that boosted the Dow Jones Industrial Average stock index to a record high that was within a mere 10 points of 18,000, a psychologically important milestone.
The Dow, which measures the share prices of 30 large industrial companies, slipped in midday trading 14 points, or 0.08 percent, at 17,944.80; the S&P 500 Index, which tracks the share prices of the nation's 500 largest publicly traded companies, lost 1.31 points, or 0.06 percent, at 2,074.06. The tech-heavy Nasdaq Composite rose 6.75 points, or 0.15 percent, to 4,788.07.
Japan, the world's third-largest economy, kicked off the week with a weaker-than-expected revision to its gross domestic product, revealing its economic contraction last quarter was worse than initially thought. Japan's GDP for the July-September quarter contracted at an annualized 1.9 percent rate, worse than the 1.6 percent annual initial reported last month.
"The economy [Japan] is likely to maintain above-trend growth in the years to come, in part thanks to lower oil prices and postponement of the consumption tax hike. However, we expect core inflation will undershoot the BoJ [Bank of Japan's] bullish forecasts in 2015 and believe this will probably prompt policymakers to implement additional easing measures next summer," Willem Buiter, economist at Citigroup, said in a research note.
China's trade figures revealed a bleak outlook on the world's second-largest economy after data Monday showed the country's overseas shipments rose 4.7 percent in November from a year earlier and down from an 11.6 percent rise in October, the customs administration said Monday. China's imports fell 6.7 percent from a year earlier, compared with a 4.6 percent rise in October. "We expect China's official data to show real GDP growth slowing slightly below 7 percent in 2015, the lowest since 1999, and the economy's underlying momentum may well be even softer," Buiter said.
The Dow and S&P 500 Index soared to record highs Friday after a report on November's job creation showed the U.S. economy added the most jobs, during one month, in nearly three years. U.S. employment rose last month by a robust 321,000 jobs last month while the unemployment rate remained unchanged at 5.8 percent, the Labor Department said Friday. Following Friday's stronger-than-expected jobs report, investors and economists are looking ahead to this week's economic calendar, which will reveal the overall health of the U.S. economy as retail sales for last month are released later this week, along with the producer price index (PPI), which will give economics a sneak peek into U.S. inflation.
Following mixed reviews of Black Friday and Thanksgiving Weekend sales, investors and economists are also looking ahead to retail sales released Thursday, a key economic indicator of the U.S. economy. Analysts expect the indicator will provide a clearer picture of how Americans spent their money during the holiday shopping season. Economists expect retail sales to increase 0.3 percent last month, unchanged from October. Retail sales, excluding motor vehicle and parts, which are considered to be volatile, are forecast to decline 0.2 percent last month from 0.30 percent in October.
Friday, the U.S. Department of Labor will release its PPI, a key indicator that measures the average change in selling prices received by domestic producers of goods and services over time. Economists expect it to have declined 0.1 percent last month from 0.2 in October. Core producer prices, which is the PPI minus food and energy components, is also a key gauge for inflation. That figure is forecast to edge up 0.1 percent last month from a 0.4 percent gain in October.
"If core PPI is up just a little bit, that could give the Fed the green light to raise interest rates," Jim O'Sullivan, U.S. economist at High Frequency Economics, said.
Here's the latest economic calendar for the week of Dec. 8. All listed times are EST.
Monday, Dec. 8
No major U.S. economic data scheduled.
Non-U.S.:
Japan -- Gross Domestic Product revision (Q3)
Tuesday, Dec. 9
7:30 a.m. -- NFIB small business index (Nov.)
10 a.m. -- Job openings (Oct.)
10 a.m. -- Wholesale inventories (Oct.)
Wednesday, Dec. 10
2 p.m. -- Federal budget (Nov.)
Non-U.S.:
China -- Consumer price index (Nov.); Producer price index (Nov.)
Thursday, Dec. 11
8:30 a.m. -- Weekly jobless claims
8:30 a.m. -- Retail sales (Nov.)
8:30 a.m. -- Import prices (Nov.)
10 a.m. -- Business inventories (Nov.)
Non-U.S.:
Australia -- Unemployment rate (Nov.)
Switzerland -- Swiss National Bank interest rate decision; press conference
Friday, Dec. 12
8:30 a.m. -- Producer price index (Nov.)
9:55 a.m. -- Consumer sentiment (Dec.)
Non-U.S.:
China -- Retail Sales (Nov.); Industrial Production (Nov.)
© Copyright IBTimes 2023. All rights reserved.