Japanese Eyeball Licking Sexual Fetish Blamed For Pink Eye Epidemic Among Teens, 'Oculolinctus' Next 'Base' After Kissing [PHOTO]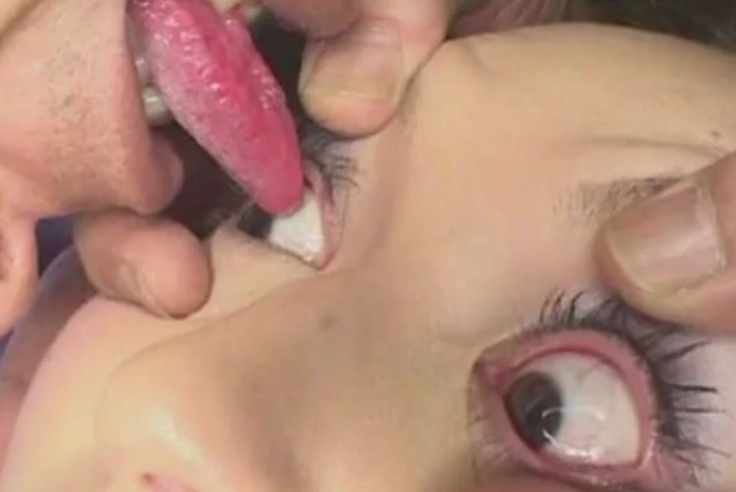 Eyeball licking is apparently the new form of French kissing in Japan. The unusual fad, which involves two teenagers licking each other's eyeballs as a sign of affection, is not only bizarre but can also lead to the spread of diseases such as pink eye and chlamydia.
Officially known as oculolinctus or "worming," the practice made headlines after a local teacher, known as Mr. Y, described his experience catching two students in the middle of the act:
"After class one day, I went into the equipment store in the gymnasium to tidy up. The door had been left open, and, when I looked inside, a male pupil and a female pupil had their faces close together and were kind of fumbling around. Could it be bullying? I wondered, but when I had a good look, the boy was licking the girl's eye! Surprised, I shouted, 'What are you doing? Stop it at once!' And the two of them were so shocked they jumped apart. The girl burst into tears, and the boy just went bright red and was shaken up. At any rate, to try to calm them down I took them to the janitor's room and listened to their story."
The students told Mr. Y that they were licking each other's eyeballs -- it was the next step after kissing. The student went on to say, "It's not just us two anyway. Everyone's doing it."
The student was right. After a classroom assembly for the sixth-grade class, Mr. Y was surprised to discover that one third of the kids had licked someone's eyeballs or had their own eyeballs licked.
Another local Japanese teacher described how the practice has been popular among students since the start of the school year. "From the beginning of this year, styes were practically epidemic in my class. At first, the staff didn't pay much attention to it, but when there were five kids or 10 kids in a single class who all had eye patches, it really caught the attention of the adults."
Some speculate the faze stems from a video from the Japanese band Born, where the lead singer gets his eyeball licked by a woman, ShangaiList reports.
Eyeball licking isn't limited to Japan. "My boyfriend started licking my eyeballs years ago, and I just loved it," Elektrika Energias, 29, from the U.S. Virgin Islands told the Huffington Post. "I'm not with him anymore, but I still like to ask guys to lick my eyeballs. I just love it, because it turns me on, like sucking on my toes."
Doctors warn that eyeball licking can lead to a host of diseases and eye injuries such as conjunctivitis, herpes and blindness.
"Nothing good can come of this," San Diego ophthalmologist Dr. David Granet told the Huffington Post. "There are ridges on the tongue that can cause a corneal abrasion. And if a person hasn't washed out their mouth, they might put acid from citrus products or spices into the eye."
Energias said she wasn't immune to the setbacks of her eyeball-licking fetish.
"I got some weird offshoot of TB in my eye once. I ended up with corneal ulcers, and I spent like a month in the hospital," she said. "I'm just safer now, I guess. Live and learn. I mean. they don't really make tongue rubbers, but maybe they should."
© Copyright IBTimes 2023. All rights reserved.