Japanese Prime Minister Shinzo Abe, Okinawa Governor Clash Over US Air Base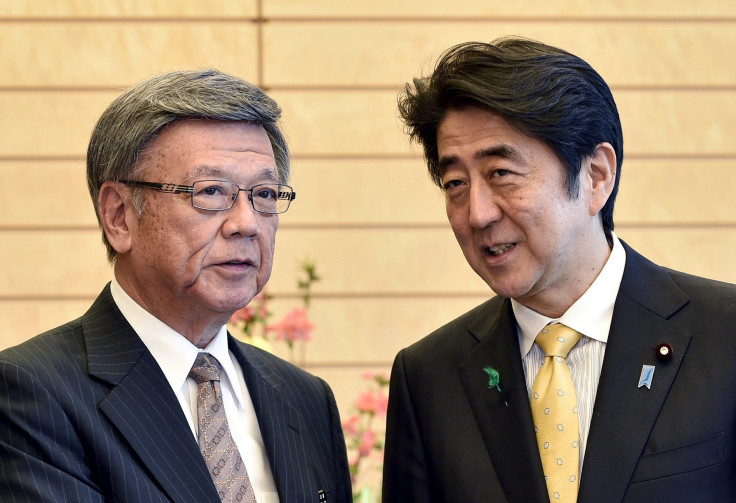 Japanese Prime Minister Shinzo Abe publicly clashed with the governor of the southern island of Okinawa on Friday over the relocation of a controversial U.S. air base that has remained a thorn in relations between Tokyo and Washington.
Marine Corps Air Station Futenma, which has hosted the majority of U.S. forces in Japan since the end of World War II, has become highly controversial ever since the election of conservative Governor Takeshi Onaga, who beat candidates from Abe's ruling Liberal Democratic Party.
The tensions concern plans to move the U.S. Marines base near the city of Ginowan to land yet to be reclaimed from waters near the town of Henoko in northern Okinawa. The plans hit a snag when Onaga ordered all underwater survey work be stopped, amid fears that it was damaging local coral reefs, Reuters reported.
The Friday meeting between Onaga and Abe ended fruitlessly, with the former demanding a stop to all ongoing work and asking Abe to tell U.S. President Barack Obama that the people of Okinawa are opposed to the relocation plan. "I said that I will never allow a new base in Henoko," Onaga later told reporters, according to Reuters.
Abe, meanwhile, insisted, in his first meeting with Onaga, that the Futenma base posed a danger to nearby residents and that relocating to Henoko was a necessary solution as the current location raised concerns of an aircraft crash near the densely populated city of Ginowan, the Japan Times reported.
As the meeting took place, around 100 people gathered to protest against the base's continued presence in Okinawa. "Keep your dirty hands off Henoko," one placard read, Reuters reported.
Japanese government officials maintain that the U.S. air base should remain in Okinawa due to its strategic position near the disputed Senkaku Islands, which have soured the ties between Japan and China.
The U.S. and Japan agreed to close Futenma in 1996, but plans for replacement have been strongly opposed by residents, who reportedly support relocating the base outside the prefecture.
© Copyright IBTimes 2023. All rights reserved.