Japanese And South Korean Businesses Seek To Leave Behind Difficult History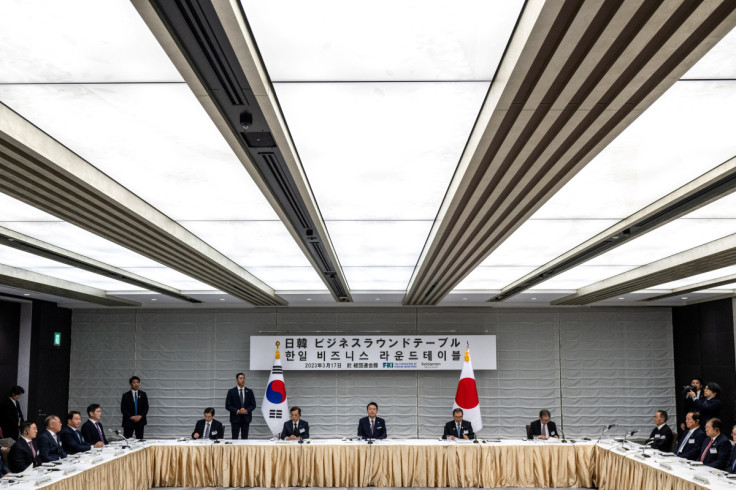 Business leaders from Japan and South Korea pledged to work more closely on chips and technology on Friday, seeking to put behind years of acrimony over wartime history that have stoked South Korean public anger.
South Korean President Yoon Suk Yeol met with executives from both countries in Tokyo as he makes the first visit there by a South Korean president in 12 years. On Thursday Yoon and Japanese Prime Minister Fumio Kishida promised a reset in relations and dined on "omurice" - omelettes served over rice.
The strain between the two neighbours and U.S. allies had been a deepening concern for the United States, which wants to present a united front against China's rising power and threats from North Korea's expanding missile programme.
Washington has worked to improve commercial diplomacy with both countries, focusing on areas such as chips, where South Korea and Japan are critical players, in an attempt to blunt China's growing technological might.
There is "a lot of room for cooperation" between Japan and South Korea in semiconductors, batteries and electric vehicles, Yoon said at Friday's meeting.
"Both governments will do everything to create opportunities to interact and do business with each other," he said.
The business lobby groups of both countries said they would together finance a roughly 200 million yen ($1.5 million) "future oriented" foundation that companies will can pay into. The money is meant for research into securing rare resources, tackling supply chain challenges and youth exchanges, the groups say.
But it is unclear whether those efforts will be able to escape the pull of history, given the backlash in South Korea, where many feel Tokyo has not sufficiently atoned for abuses during its 1910-1945 colonisation of the Korean peninsula, including the use of wartime forced labour.
The newly announced foundation appeared to allow Japanese companies to fund programmes that could benefit South Korea without forcing them - or Tokyo - backtrack on the long-held stance that the compensation issue was settled under a 1965 treaty.
Lee Jae-myung, the leader of the main opposition Democratic Party, said Yoon "sold out our country's pride, the victims' human rights, and the justice of history, all of that, in exchange for a bowl of omurice".
LAWSUITS
Relations between the two countries plunged to their lowest point in decades after South Korea's Supreme Court in 2018 ordered Japanese firms to pay reparations to former forced labourers. Fifteen South Koreans have won such cases, but none has been compensated.
Companies such as steelmaker Nippon Steel Corp and industrial group Mitsubishi Heavy Industries Ltd have been a target of lawsuits by former labourers.
A turning point came this month when South Korea said its own companies - several of which benefited from the 1965 treaty - would compensate forced labourers.
Yoon's support has fallen since that announcement, with his approval rating now at 33% amid public dissatisfaction over his handling of relations with Japan, a Gallup Korea poll showed on Friday.
"Japan has maintained its position that the wartime forced labour issue has been settled under a 1965 treaty," said Yuki Asaba, a professor at Doshisha University and an expert on Japan-Korea relations.
"It is likely that Japanese companies will show their sincerity by providing funds to the fund created by Japanese and Korean business groups," Asaba said. "This is the biggest goodwill gesture."
($1 = 132.9400 yen)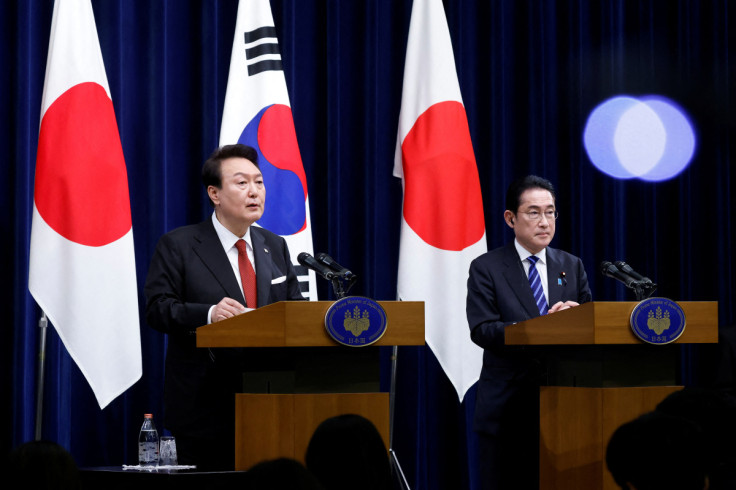 © Copyright Thomson Reuters 2023. All rights reserved.