Japan's Cabinet Approves Bills Allowing Greater Military Powers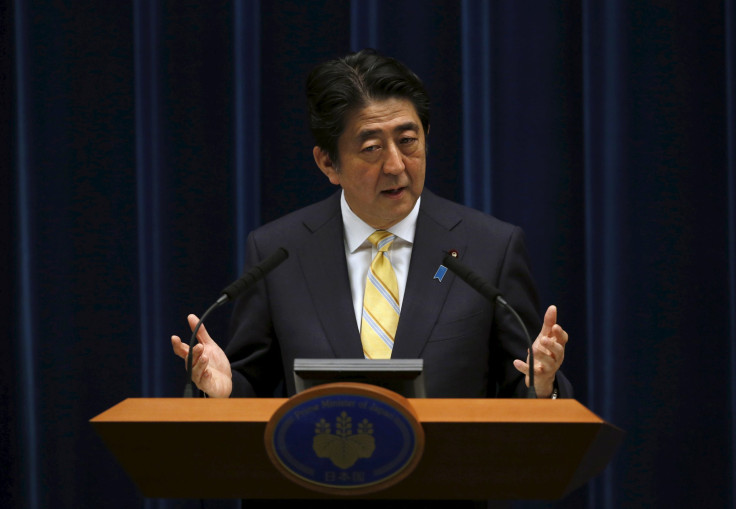 Japan's cabinet approved a set of major military reforms on Thursday, which would significantly bolster the country's defense capabilities. The new set of bills is designed to allow Japanese armed forces to operate with fewer restrictions.
Under its current constitution, which includes terms imposed by the U.S. at the end of World War II, Japan is prohibited from maintaining a standing military and can only keep a self-defense force to use in the event of a direct attack. The latest move would allow Japan to act in its "collective defense" if it were put in an "apparent danger" by an attack on its closest ally, the United States. Japanese Prime Minister Shinzo Abe, however, said that Japan would "never become entangled in a war being fought by the United States," the Washington Post reported.
The decision was taken by the cabinet last year, but Thursday's legislation formally introduced it.
The new laws would also enable Japanese troops to be deployed overseas in a supporting role alongside other nations, although the government would require the approval of Japan's parliament, the Diet, every time it wished to send troops abroad.
"We live in an era when no country can any longer protect itself alone," Abe said in a press conference, Agence France-Presse (AFP) reported. "In the past two years, Japanese nationals have fallen victim to terrorism in Algeria, Syria and Tunisia; Japan is within range of hundreds of North Korea's ballistic missiles and the number of (fighter jet) scrambles has risen seven-fold in a decade.
"This is the reality. We should not try to ignore it."
The bills need to be approved by the Diet where they are expected to be submitted on Friday. The step comes after Tokyo approved the country's largest military budget in 70 years in January.
Abe's efforts to shift Japan's global military role have been deeply divisive among the Japanese public. In a December poll, 55 percent of the respondents opposed his security policies, the Japan Times reported.
Chinese foreign ministry spokeswoman Hua Chunying said Thursday that the decision was important for "historical reasons."
"We hope that Japan will draw lessons from history, pursue the path of peaceful development, and make more positive efforts for the peace, stability and development of the Asia-Pacific region where we live together," she said, according to AFP.
Washington and Tokyo agreed on new defense guidelines last month, which called for greater military cooperation between the two powers in several areas, including missile defense, cyber and space attacks, and maritime security.
© Copyright IBTimes 2023. All rights reserved.