Japan's Shinzo Abe Looks For Opposition's Approval To Revise Constitution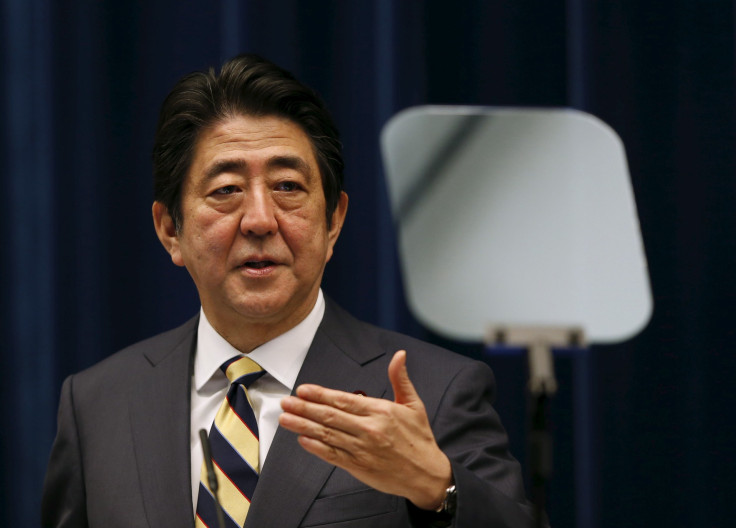 Japanese Prime Minister Shinzo Abe reportedly reiterated his goal Sunday to secure a two-thirds majority in the parliament's upper house to revise the country's pacifist, post-World War II constitution.
The Japanese leader has staunchly pursued a revision of the U.S.- drafted constitution, but a formal amendment requires approval by two-thirds of both houses of parliament, and a majority in a referendum, which the prime minister said he hopes to gain with help from his party members as well as opposition leaders.
While Abe's Liberal Democratic Party and its junior coalition partner, the Komeito Party, hold a two-thirds majority in the lower house, they only hold a simple majority in the upper house, according to local media reports.
Abe mentioned the Osaka Innovation Party as one such group that could be collaborated with to amend restrictions on Japan engaging in international disputes militarily, Kyodo news agency reported Sunday.
"There are parties that are favorable toward a constitutional revision such as the Initiatives from Osaka," it quoted Abe as telling Japan's national broadcaster NHK in an interview.
Abe is particularly focused on revising Article 9 of the constitution, which renounces war. In September, parliament passed controversial security laws, reinterpreting the constitution to allow "collective defense," meaning the ability to support allies and peacekeeping forces in and around Japan. Last month, the cabinet also approved a record defense budget of around $5 trillion yen ($42 billion) for the 2016 fiscal year, marking an increase for the fourth straight year.
While some admirers of the Japanese constitution reportedly view it as the source of Japan's peace, prosperity and democratic government, many of Abe's conservative backers have panned the charter for aiming to keep Japan "forever subdued."
Japan's current constitution was drafted by U.S. officials in a week in 1946, and it renounced the right to wage war or maintain armed forces. Since then it has been stretched to allow Japan a military equal to the size of Britain's but is still constrained compared with other countries' armed forces.
© Copyright IBTimes 2023. All rights reserved.