Jazz vs Spurs: Game 2 Live Stream Online, Preview and Prediction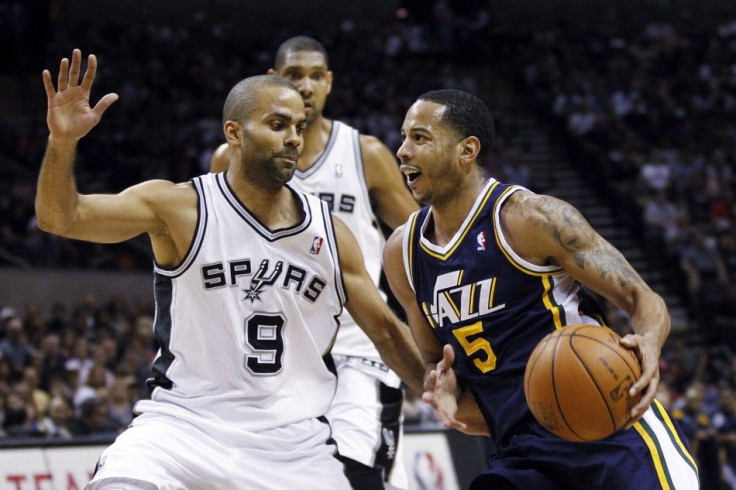 The San Antonio Spurs' 103-91 victory over the Utah Jazz in Game 1 of their first-round opener of the NBA playoffs may have quelled much of the doubt some may have had over once again being undermined by an eighth seeded team a la last year's playoffs against the Memphis Grizzlies.
For the first time in four years, the Spurs won a series opener, with guard Tony Parker taking command in familiar postseason fashion with a 28-point, eight-rebound outburst. Shooting 10-of-19 from the floor, the French native had his best playoff game since scoring 43 against the Dallas Mavericks in 2009.
And, it was Parker who was slashing past counterpart Devin Harris and seemingly the rest of the Jazz defense with relative ease, contributing to San Antonio's 36 percent shooting from behind the arc. As a result, Utah plans to be more physical in the paint, especially with Parker when he aggressively tries to drive through the frontcourt for a layup or kick-out three.
The playoffs is physical, said Jazz center Al Jefferson. We just can't let him feel like he can come down in that paint any time he ready.
That may be easier said than done though given Parker's elusiveness and quick shots. The star point guard himself remained confident.
It's not the first time someone has said that, he said. My answer is always going to be the same: I'm going to keep coming.
The Spurs proved on Sunday that they were the NBA's top 3-point shooting team when they hit three three-pointers in a two-minute burst to finish the third quarter. However, what the Jazz have that the Spurs don't is size, particularly in the paint.
Utah outrebounded the Spurs 45-39 and blocked six more shots (8-2) than them. Forward Paul Millsap and Jefferson, though they combined for 36 points on better than 50 percent shooting offensively, might have to ramp up their defensive heavy-lifting a little more to contain not only Parker , but also Tim Duncan, who scored 17 points and, despite his 36-year-old age, grabbed 11 boards.
Backup Spurs center Tiago Splitter is doubtful for Game 2 after spraining his left wrist in the series opener, which leaves San Antonio even more undersized to the benefit of the Jazz. Center DeJuan Blair will take over Splitter's minutes. Expect him to play a key backup role if the Spurs hope to take a 2-0 lead.
The player to watch for Utah will be Josh Howard, who will remain in the starting lineup despite going scoreless in 16 minutes in Game 1. Although he may not be playing great offensively, he brings veteran playoff experience from his nine years in Dallas.
Game 2 between the Jazz and Spurs will begin at 7:00 p.m. ET at the AT&T Center on TNT. A live stream can be watched here.
PREDICTION: The Jazz played formidably in Game 1, but couldn't contain Parker or Duncan despite a size advantage. That highlights the Jazz's youth and the current roster's playoff inexperience. The Spurs, despite being in the top ten in the league in points and rebounds, are underrated in both categories. Their bench is also deeper having outscored the Jazz's 44-31 in Game 1. The Spurs take Game 2 99-86.
FOLLOW MORE IBT NEWS ON THE BELOW CHANNELS