Jeb Bush Announces Plans To 'Actively Explore' 2016 Presidential Campaign: 7 Things To Know About The GOP Candidate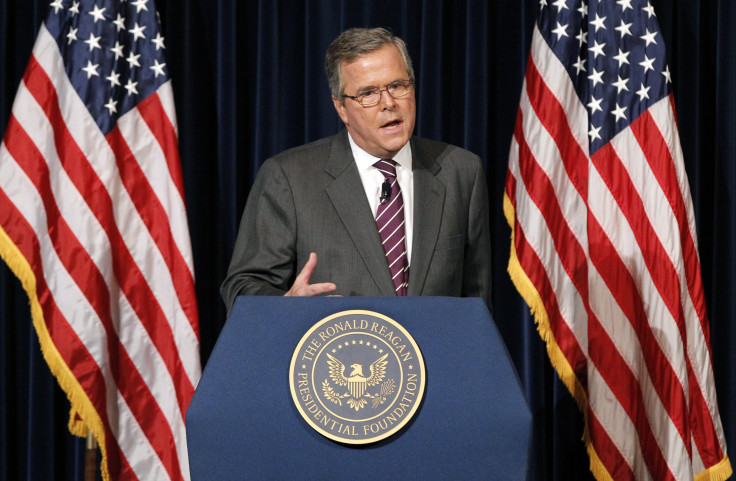 Former Florida Gov. Jeb Bush announced Tuesday that he would "actively explore the possibility of running for president" after years of considerable speculation about his ambitions for the Oval Office. The announcement ensures every little detail about his background will be scrutinized by pundits and journalists alike throughout the months leading up to the 2016 GOP presidential primary.
Bush said in a holiday message posted on his Facebook page and Twitter account that he had discussed the "future of our nation" and a potential White House bid with his family over the Thanksgiving holiday. "As a result of these conversations and thoughtful consideration of the kind of strong leadership I think America needs, I have decided to actively explore the possibility of running for president of the United States," Bush wrote. "In the coming months, I hope to visit with many of you and have a conversation about restoring the promise of America."
To kick off all that intense scrutiny, here are seven important things you should know about the Republican politician:
1. He is the only Republican governor to have served two full terms in Florida's history. The Texas native moved to Florida in 1980 and mounted an unsuccessful run for governor of the state in 1994. Four years later, Bush was elected Florida's 43rd governor and re-elected in 2002. While in office, he was known for record increases of the state's education funding, as well as a historic $2 billion investment in saving Florida's Everglades, according to the National Governors Association.
2. He is worth an estimated $2 million. After finishing his second term in office, Bush was worth an estimated $1.3 million, reported the New York Times. Since then, he has taken on a host of speaking engagements and other lucrative projects that range from real estate investments to advising companies. One estimate from the celebrity finance site Celebrity Net Worth puts Bush's current net worth at $2 million. His 2016 presidential bid could be undermined by his aggressive approach to making money, suggests the Times, because it "would inevitably require dismantling the business empire that he has assembled."
3. His family will be significant on the campaign trail. Bush is the son of former President George H.W. Bush and the brother of former President George W. Bush. The Bush family name could prove a liability for the former Florida governor-- among both liberals and conservatives. A majority of Americans still blame his brother for the state of the U.S. economy, according to a poll released earlier this year. However, some speculate that Jeb Bush's wife and children could actually help his candidacy. His 40-year marriage to Columba Bush, a Mexican-American, could prove to be an asset as the GOP fights to win over Latino voters, a crucial demographic for the 2016 election.
On the other hand, Columba's notorious aversion to the spotlight-- which was one of the main hurdles to Bush declaring his candidacy in the first place-- could be a challenge, according to Politico. Attention on his children's past brushes with the law, including daughter Noelle's arrest on drug charges in 2002, could also become an issue for the candidate's family, which has made a point of prioritizing its privacy in the past.
4. He might have a tea party problem. Conservatives have been "freaking out" about the prospect of a Bush run for weeks now, according to a report from Business Insider that argues that the former governor could face a significant obstacle in rallying support from the far right wing of his party. Tea party groups are opposed to Bush's stance on immigration, along with his embrace of educational reform efforts like the state-driven Common Core standards.
5. He was the one to approve Florida's controversial "Stand Your Ground" law. In 2005, Bush signed into law a controversial concealed carry-gun measure commonly known as "Stand Your Ground," which he reportedly praised as "a good, common-sense, anticrime issue," according to the Tampa Bay Times. The law came under fire following the 2012 killing of teenager Trayvon Martin in Sanford by neighborhood watchman George Zimmerman, who had considered using the law in his defense. Bush has since qualified his stance, saying that the National Rifle Association-written law should not have been applied in the Zimmerman case. However, his association with the contentious legislation could become significant amid increased national attention to racial injustice, including the "Black Lives Matter" protests that have taken place around the country following a spate of police violence against African-Americans.
6. His foreign policy mirrors that of his brother. Bush recently detailed his foreign policy stance at a speech in Florida, introducing a seven-point strategy that the Miami Herald called a comeback of "the Bush doctrine." The speech to a crowd of donors covered U.S. policy toward Cuba, which Bush said should include the strengthening of an embargo, along with more military and cybersecurity spending, according to the Herald. Though Bush did little to directly link his foreign policy vision to that of his brother's, his precepts closely mirrored those of the former president, said the Herald.
7. He is trying to distinguish his immigration policy from President Barack Obama's. Despite the fact that Bush has previously expressed support for a pathway to legal status for immigrants in the U.S. illegally, he has publicly criticized Obama's recent immigration order for going "way beyond" what previous presidents have done, according to the AP. Bush has said that the president's order ultimately makes it harder for Congress to adopt lasting reform measures.
© Copyright IBTimes 2023. All rights reserved.
FOLLOW MORE IBT NEWS ON THE BELOW CHANNELS