Jeb Bush On Undocumented Immigrants: 'Politely Ask Them to Leave,' 2016 Hopeful Adopting Harder Stance On Illegal Immigration?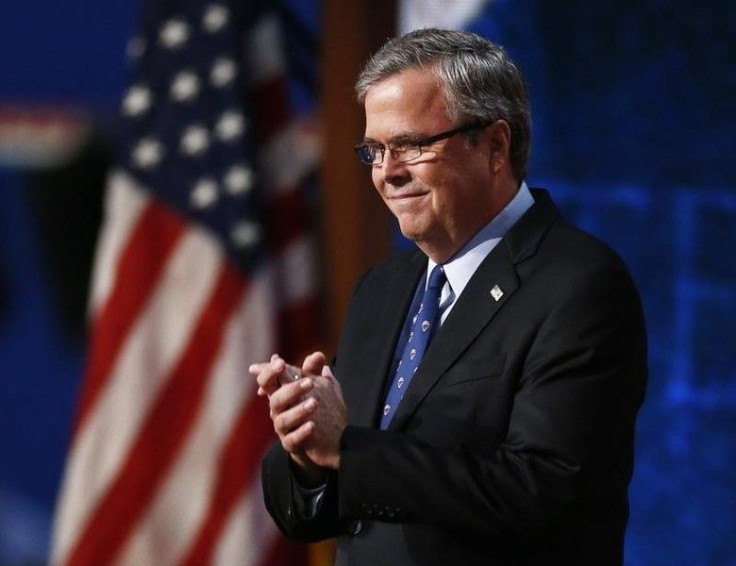 Republican presidential hopeful Jeb Bush could be adopting a slightly tougher stance on illegal immigration to win over far-right primary voters ahead of the 2016 White House race. Bush said it was time to fix the nation's "broken immigration system" during a speech at the National Automobile Dealers Association convention Friday. Bush added that the government should find immigrants without legal status and "politely ask them to leave."
"First and foremost we need to control our border," said Bush, a former governor of Florida. "The 40 percent of the people that have come here illegally came with a legal visa and overstayed their bounds. We ought to be able to figure out where they are and politely ask them to leave."
Bush's remarks slowly were made public this week and conservatives responded with a big shrug. Bush has gotten into trouble with far-right Republicans for his more liberal views on illegal immigration in the past. In April, Bush said many immigrants who enter the U.S. illegally do so out of an "act of love" for their families, according to the Washington Post. Bush also used the polite line at that time. "A great country ought to know where those folks are and politely ask them to leave," he said then while speaking during an event marking the 25th anniversary of the presidency of his father, George H.W. Bush.
During the auto convention, Bush also addressed claims that the Obama administration had grown the economy since his brother, former President George W. Bush, left the White House in 2009. "Sixty percent of Americans believe that we're still in a recession. They're not dumb. It's because they are in a recession," Jeb Bush said, according to the SF Gate. "Portfolios are strong, but paychecks are weak."
A video of the speech can be found here.
© Copyright IBTimes 2023. All rights reserved.