Jerami Grant Move Opens Up Max Contract Offer For Coveted Suns Center
KEY POINTS
The Detroit Pistons traded Jerami Grant to the Portland Trailblazers for multiple picks
Detroit can now go after Deandre Ayton with a max-level offer as a restricted free agent
Ayton and the Phoenix Suns have had a tumultuous couple of weeks
NBA fans knew that the relationship between Jerami Grant and the Detroit Pistons was never going to last, and those sentiments would come to fruition after trading him to the Portland Trailblazers.
League insider Adrian Wojnarowski dropped another one of his famous "Woj Bombs" on the league by announcing the trade via Twitter.
The trade is as follows:
Detroit Pistons receive:
2022 second-round pick via Portland
2025 first-round pick via Milwaukee (protected through no. 1 to no. 4)
2025 second-round pick via Portland
2026 second-round pick (via whoever has the more favorable pick between Blazers and New Orleans Pelicans)
$21 million trade exception
Portland Trailblazers receive:
It seems like the Blazers had fleeced the Pistons in this scenario, but it is looking more like the Pistons are trying to achieve another thing altogether: throwing a max contract offer at Phoenix Suns center Deandre Ayton.
Ayton has been linked to the Pistons for a big chunk of this offseason, and Detroit is getting closer than ever to potentially stealing away the former No. 1 pick from The Valley.
The relationship between Ayton and the Suns has not been in a good place in recent days after the big man has reportedly set his sights on leaving the franchise because of contract disputes plus the franchise supposedly "does not view Ayton as a max-level player."
However, Evan Sidery of BasketballNews.com noted that odds have shifted about Ayton staying in Phoenix from plus-350 to plus-100, meaning that the likeliest scenario at this time is him re-signing.
But this does not necessarily mean that the Pistons are not interested in Ayton still.
If anything, this just means that they will no longer be going after him via a sign-and-trade and instead take a pot shot at him on the open market.
Ayton is a restricted free agent because of his rookie-scale contract.
Throwing the Bahamian big man a max deal worth upwards of $128 million over the next four years certainly looks to be the agenda for the Pistons after the Grant deal, and reports may soon leak out that Detroit has fielded an offer.
With the offseason building up towards the draft on Thursday, June 23, teams will start to even be more aggressive in their plans for the 2022-23 season and it may just include Ayton wearing another jersey or possibly staying in Phoenix for the long haul.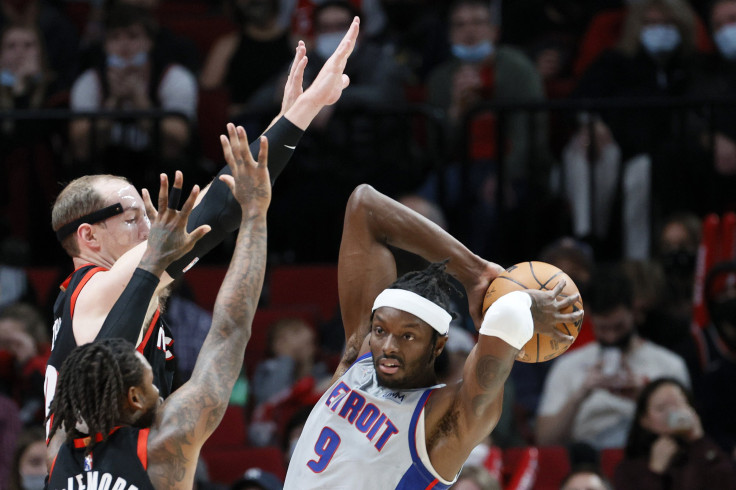 © Copyright IBTimes 2023. All rights reserved.