Warriors Coach Compares Stephen Curry's Impact To Lakers, Spurs Icons
KEY POINTS
Stephen Curry was compared to Magic Johnson and Tim Duncan by Warriors coach Steve Kerr
Curry finally took home his first Finals MVP after four tries
His exploits on the court make him the ultimate Golden State Warrior
The Golden State Warriors were able to overcome the odds and took home their fourth title in eight years after a stellar six-game showdown with the Boston Celtics in the 2022 NBA Finals.
The franchise celebrated its return to the mountaintop with a momentous championship celebration that featured Draymond Green calling out his most ardent haters multiple times and Klay Thompson inadvertently running over a fan during the whole thing.
Following their title parade, Warriors head coach Steve Kerr made an appearance on the Damon & Ratto radio show and talked about just how massive Stephen Curry's star has power has grown.
"Steph [Curry] is our Magic Johnson, our Tim Duncan. He's the face of the franchise. Everything has been built around him. For that reason, I will always think of this title as Steph's crowning glory," Kerr happily noted.
The 2022 NBA Finals saw Curry bring home the elusive accolade that was missing from his already Hall of Fame-worthy resume--the Finals MVP.
Curry's hopes of attaining a fourth ring looked to be in danger after a surprising loss to the Celtics in Game 1 because of a blown lead in the last quarter thanks to Al Horford's sudden surge of scoring from deep.
However, this was the Warriors' title to lose and Curry was going to have to play the series of his life to overcome the Celtics' core of Jayson Tatum, Jaylen Brown and Marcus Smart.
Curry did just that to the tune of 31.2 points, six rebounds, five assists, and two steals in six games while "Splash Brother" Thompson pitched in with 17 points, 8.8 rebounds, 2.2 assists, and putting up 1.5 steals and blocks.
The Warriors were also given a lift thanks to the performances of key "others" like Andrew Wiggins, Jordan Poole and Gary Payton II, with the former being the most impactful player of the series.
Wiggins bared his entire skillset during the series and was eventually tasked with stopping Tatum from going on his personal scoring runs, something he did with much success.
When it was all said and done, Curry took home Finals MVP honors and proved to his naysayers that he can lead a team to the promised land by himself.
At this point in his career, being compared to Los Angeles Lakers legend Magic Johnson and San Antonio Spurs icon Tim Duncan is completely fair because his exploits on the hardwood have made him the quintessential Golden State Warrior.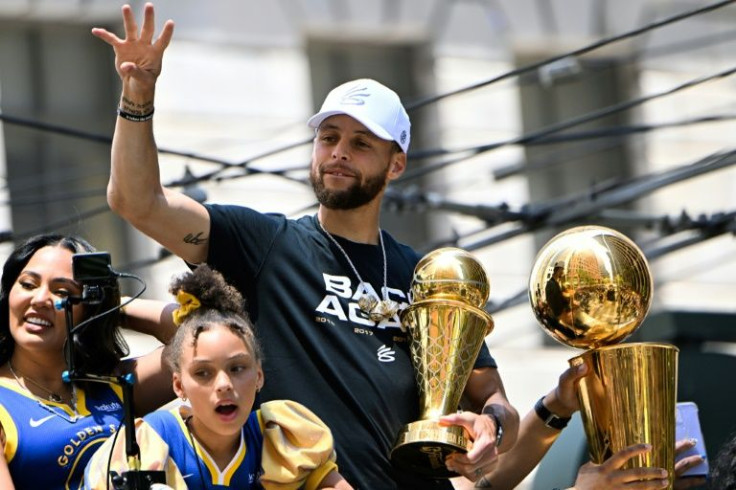 © Copyright IBTimes 2023. All rights reserved.