Jeremy Lin, Knicks Lose to Celtics in Overtime 111-115 [VIDEO]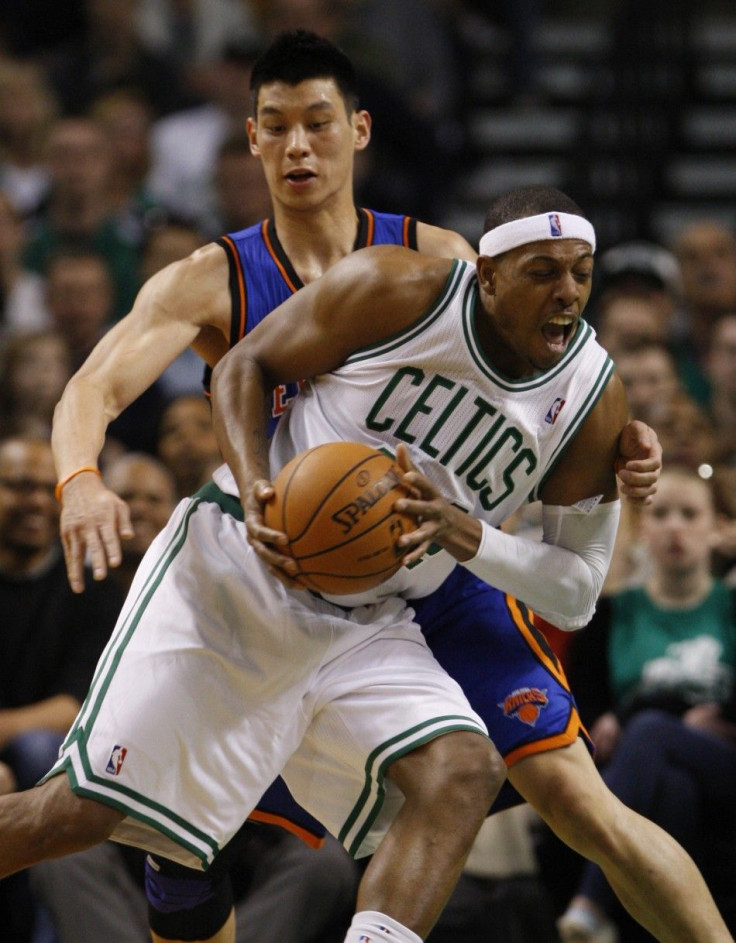 The Boston Celtics continued their winning streak with a fifth straight victory Sunday, while the Knicks continued to stumble in their search for a formula for success since the emergence of Jeremy Lin raised playoff hopes.
The game ended in overtime play as the Celtics pulled off a narrow win at 115-111. The Knicks rallied during the fourth quarter, which they started nine points down, and Carmelo Anthony scored 11 of his 25 points during the final 12 minutes. Starting point guard Jeremy Lin had trouble this game, possibly showing signs of the toll that leading the Knicks in the past weeks has taken on him. Lin got into early foul trouble, turned the ball over to Boston six times and finished with just 14 points.
The Celtics were led to victory by forward Paul Pierce, who tied his season high with 34 points, including a three-pointer with just 4.9 seconds left in the game to send the two teams into overtime. Boston's guard Rajon Rondo also dominated play, scoring 18 points, dishing out a season high 20 assists, and grabbing a career-high 17 rebounds. Star Celtics player Kevin Garnett scored 18 points and had 10 rebounds, racking up five defensive fouls to help Boston force overtime.
The game first turned in Boston's favor during the second quarter, when the Celtics rallied from behind to cut their 12-point deficit to just five. During the third quarter Boston continued to rally, tying the score up at 60-60 and then embarking on a 20-5 run. The Knicks returned fire in the fourth quarter, but couldn't keep Boston from tying things up in the last five seconds.
The game ended in a heated overtime. Boston's Ray Allen scored a three-pointer and a lay-up with Rondo's help to provide a five-point cushion that led to victory.
The Knicks will go on to play the Mavericks on Tuesday night and the Spurs on Wednesday night, both at Madison Square Garden.
Jeremy Lin Does Not Give Up
Paul Pierce forces overtime:
First Half Highlights:
© Copyright IBTimes 2023. All rights reserved.