Jerusalem Muslim Tourists: Increase In Visitors From Indonesia, Turkey Amid Israel Tourism Downturn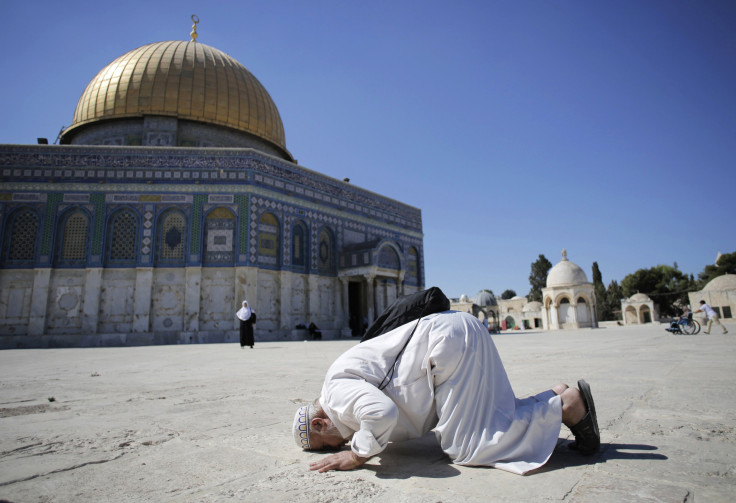 Israeli tourism is still reeling from the crisis sparked by the 2014 Gaza war and has seen an overall downturn in visitor numbers to hotspots like Jerusalem-- except among one apparently unlikely demographic. The number of Muslim visitors to the country has grown significantly in recent years, as tourists from Muslim-majority countries like Indonesia and Turkey have flocked to visit Islamic holy sites in Jerusalem, despite longstanding opposition across the Muslim world to visiting the Jewish State.
Muslim tourists may still constitute a minority of all foreign visitors to Israel but their numbers have grown significantly over the last few years. At least 10,000 tourists from Muslim countries have already entered Israel in just the first two months of this year, according to a report in Israeli newspaper Haaretz published on Tuesday. In 2014, Israel welcomed 26,700 tourists from Indonesia, an almost threefold increase from the 9,800 who visited in 2000. Tens of thousands of tourists also arrived from Turkey and Jordan which, unlike Indonesia, recognize Israel diplomatically. Several thousand more came from states that do not have diplomatic relations with Israel like Malaysia and Morocco.
This increase comes as Israeli tourism suffers, even during its typically busy spring season during which Christian and Jewish pilgrims throng to Holy Land for the Passover and Christian Holy Week festivities. The director of the Jerusalem Hotels Association told Haaretz that hotel reservations in the ancient city were down 20 percent from the same time last year.
Travel agents organizing trips to Jerusalem for Muslim tour groups report the opposite, however. Bookings by Muslim tourists, particularly those from Indonesia and Malaysia, have ramped up over the last two months, said Murad Najib, an employee at the Amman to Jerusalem Tour agency in the Jordanian capital. Traveling to Jerusalem is seen by many of these tourists as a pilgrimage and part of the religious obligation to visit Islam's three holy cities, Najib said.
The Al Aqsa Mosque, located in the compound known to Jews as the Temple Mount, is revered by Muslims, who believe that the site is where the Prophet Muhammad ascended to heaven. The mosque is considered the third-holiest place in Islam after the cities of Mecca and Medina in Saudi Arabia. Islam requires Muslims with the financial means to do so to make a pilgrimage to Mecca once in their lifetime.
Seeing all three holy cities in one trip is highly appealing for Muslim tourists traveling from countries in the Far East in particular, Najib said. The most common itinerary for these travelers is flying into Jordan and proceeding to Israel from the Allenby Bridge crossing between the two countries. From there, many will continue on to Saudi Arabia via Jordan after ensuring that border inspectors do not mark their passports with an Israeli stamp in order to avoid problems entering Arab countries.
Traveling to Jerusalem, which has been under Israeli control since the 1967 Arab-Israeli war, has long been frowned upon by religious and political authorities in the Arab world. Prominent clerics like Yusuf al-Qaradawi have discouraged the practice, arguing that it would amount to recognizing Israel's occupation of the city. This view has been challenged by the Palestinian Authority amid its push to encourage greater Muslim tourism to Jerusalem, which it says would help Arab-operated businesses in the city and serve as a symbol of solidarity with Palestinians.
That argument has recently been taken up by the Organization of Islamic Cooperation, the world's largest bloc of Islamic countries, which declared Jerusalem the capital of Islamic tourism for 2016. The move was hailed by the PA as a step toward breaking Israel's "siege of Islamic holy sites."
Iyad Madani, the secretary-general of the 57-nation organization, also paid a notable visit to the Al Aqsa mosque in January and urged Muslims to follow suit in order to strengthen Palestinian claims to the holy site. "Coming to the mosque is a right for me as well as every Muslim," Madani said, in comments reported by the Associated Press. "It is our right to come here and to pray here. No occupation authority should take this right from us."
But for many of the tourists traveling from Muslim countries, the opportunity to see the important religious site is far more significant of a motivator than any political agenda, Najib said. "We don't really get questions about the Israeli occupation," he said. "In general, people want to hear about the history… and religious stories more than anything."
© Copyright IBTimes 2023. All rights reserved.