JetBlue Airways Just Implemented Its First Pilot Contract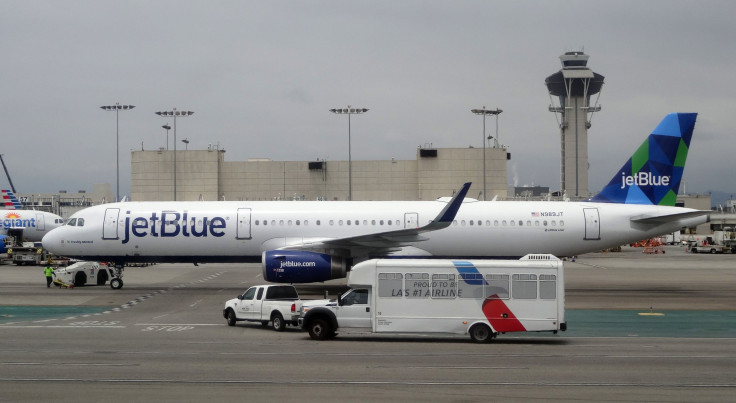 For its first decade as a public company, JetBlue Airways (NASDAQ:JBLU) was a nonunion airline. However, during the past five years or so -- spurred in part by industry consolidation -- it has faced an organizing drive. Back in 2014, its pilots became the carrier's first major work group to join a union. Earlier this year, JetBlue's flight attendants followed suit.
Late last month -- following years of sometimes-contentious negotiations -- JetBlue's pilot group ratified its first union contract. This will avert potential labor unrest, while giving the carrier several years of cost certainty for a substantial chunk of its salaries, wages, and benefits spending. Most importantly, JetBlue was able to maintain its medium-term unit cost target despite handing out big raises to its pilots.
This article originally appeared in The Motley Fool.
JetBlue's Pilots Get Paid
The U.S. is currently in the midst of a growing pilot shortage. Stricter FAA regulations on pilot training and scheduling, a steadily rising number of mandatory retirements, the high cost of flight school, and the airline industry's growth are creating an imbalance between supply and demand for commercial airline pilots.
This has given pilot unions plenty of leverage to press for pay increases. Many recently signed pilot contracts have included immediate 15% to 30% raises, with annual increases thereafter.
Nearly every other major U.S. airline signed a new pilot contract during the four-year period that JetBlue was negotiating its first pilot deal, creating a moving target in terms of industry-standard pay rates. However, since November 2016, when pilots at Southwest Airlines (NYSE:LUV) ratified a new contract, that deal has been the key benchmark for any JetBlue pilot agreement.
Sure enough, the recently ratified JetBlue pilot contract contains a very similar wage scale as the Southwest deal. Hourly pay for captains currently ranges from $227 to $258 at Southwest. Airbus captains at JetBlue will now make between $225 and $259 per hour. The wage scales for first officers are also comparable.
On average, JetBlue's Airbus pilots are getting immediate wage raises of 18.5%, according to Bloomberg. Its E190 pilots -- who already had better wages than peers flying the same aircraft type at some other carriers -- are seeing a more modest 6.8% pay bump. The new four-year contract, which went into effect on August 1, also provides enhanced benefits for JetBlue pilots.
JetBlue Revises Its 2018 Cost Guidance
Following the ratification of the new pilot contract, JetBlue updated its third-quarter and full-year 2018 nonfuel unit cost guidance to reflect higher pilot pay going forward.
For the third quarter, JetBlue now expects adjusted nonfuel unit costs to rise 3% to 5% year over year. It had previously projected a 1% to 3% increase. For the full year, JetBlue revised its nonfuel unit cost forecast from flat (plus or minus 1%) to up 0.5% to 2%.
These guidance changes indicate that the new pilot contract will represent a roughly 3 percentage point headwind to nonfuel unit costs for the next 12 months. That said, it's noteworthy that JetBlue's 2.5% nonfuel unit cost increase for the first half of 2018 and its updated cost guidance together imply that nonfuel unit costs will decline year over year in the fourth quarter.
The Medium-Term Cost Outlook Hasn't Changed
JetBlue expects cost trends to remain favorable beyond 2018, as it confirmed a long-held target to limit annualized nonfuel unit cost growth to 1% or less from 2017 to 2020. Management has insisted repeatedly that this target already incorporated assumptions for higher pilot pay, but many investors remained skeptical of the target.
Much of the benefit from a multiyear initiative to reduce structural costs by $250 million to $300 million will come in 2019 and 2020. Furthermore, JetBlue is in the midst of adding 12 seats to each of its A320s, which will also help hold down unit cost growth over the next few years.
Finally, JetBlue's decision to retire its E190 fleet between 2020 and 2025 should allow it to continue offsetting expense increases in other areas. JetBlue will replace its E190s with A220-300s that have 22% lower nonfuel unit costs. In fact, between this fleet replacement project, the A320 cabin modifications, and the growing number of 200-seat A321s in its fleet, JetBlue has a good chance of holding annualized nonfuel unit cost growth below 1% until at least the mid-2020s.
Adam Levine-Weinberg owns shares of JetBlue Airways and Southwest Airlines and is long January 2019 $10 calls on JetBlue Airways. The Motley Fool recommends JetBlue Airways and Southwest Airlines. The Motley Fool has a disclosure policy.