JetBlue Chooses The Airbus A220 To Replace Its Embraer Fleet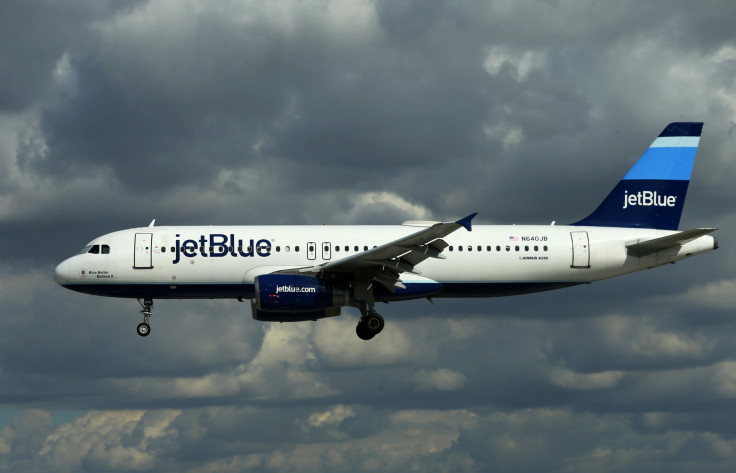 For the past 1 1/2 years, JetBlue Airways (NASDAQ:JBLU) has been actively exploring options for replacing its Embraer (NYSE:ERJ) E190 fleet. The 100-seat E190 has been an important part of JetBlue's fleet strategy over the past decade as the primary tool for serving Boston-based business markets. However, E190 unit costs have been much higher than originally expected.
This article originally appeared in The Motley Fool.
The two most promising options for replacing the E190s were Embraer's next-generation E-Jets (particularly the E195-E2) and Bombardier 's CSeries jets, recently rechristened as the Airbus (NASDAQOTH:EADSY) A220 family. On Tuesday afternoon, JetBlue announced that it had chosen the A220. The company has high expectations for this new fleet type.
Unit cost is the main focus
The A220 series consists of two models. The smaller A220-100 would have room for perhaps 110 to 115 seats in JetBlue's comfortable single-class configuration. Using the same legroom assumptions, the larger A220-300 would probably fit 130 to 140 seats.
Thus, the A220-100 would be much closer to a like-for-like replacement for JetBlue's E190s than its larger sibling. Nevertheless, JetBlue has ordered 60 A220-300s, with options for another 60, although it does have the flexibility to convert some orders to the smaller A220-100.
This indicates that JetBlue's No. 1 goal is driving down unit costs. Moving from a 100-seat E190 to a 130- to 140-seat aircraft on certain routes is sure to drive some unit revenue erosion. JetBlue thinks it will be able to stimulate enough demand on its current E190 routes to make the A220-300's superior unit cost performance outweigh its unit revenue disadvantage.
JetBlue also wants more range and flexibility
Embraer's E195-E2 also will offer substantial unit cost advantages over the first-generation E190. JetBlue's management indicated that the E195-E2 and the A220-300 were very closely matched, making it a tough decision.
Unit costs were again a consideration. The A220-300 is somewhat larger than the E195-E2 and thus has lower unit costs.
However, JetBlue also appreciates the flexibility provided by the A220 family's additional range. All of JetBlue's focus cities are located on the coasts, so transcontinental range is a big plus for any aircraft in its fleet. The E190 was mainly confined to short-haul routes, while the E195-E2 doesn't quite have full transcontinental range. By contrast, the A220-300 can fly between pretty much any two points in the continental U.S. and has competitive unit costs on long-haul routes.
The A220's range will allow JetBlue to increase its aircraft utilization. For example, it could use an A220-300 on short-haul routes around the East Coast during the day, fly to the Rockies or West Coast in the evening, and then operate a redeye return to be ready for more short-haul East Coast flying the next day. Such an increase in aircraft utilization could help reduce unit costs.
Here are the details of the transition
JetBlue will begin its fleet transition in 2020, when it will receive five A220-300s. It plans to retire the first of its 30 owned Embraer E190s that same year. JetBlue will receive another four A220s in 2021 and eight in 2022.
The bulk of the fleet transition will be executed in 2023 and 2024, when most of JetBlue's 30 leased E190s will come off lease. Indeed, 41 of the 60 firm A220 deliveries will come in those two years, followed by the last pair of aircraft in 2025.
In conjunction with the A220 order, JetBlue also converted its remaining 25 A320neo orders to the larger A321neo model and smoothed out the delivery schedule over the 2020 to 2024 period. This will allow the carrier to maintain a steady mid-high single-digit capacity growth rate in the coming years.
The financial benefits should be substantial
Over the next few years, the planned fleet transition from the E190 to the A220 will increase JetBlue's unit costs due to various one-time transition costs and accelerated depreciation on the 30 owned E190s. However, the long-term unit cost savings will be substantial.
The A220-300 will use about 40 percent less fuel per seat than JetBlue's E190s, while non-fuel unit costs will be 22 percent lower. That will translate to a total unit cost improvement of roughly 29 percent.
Of course, the E190 represents a small proportion of JetBlue's fleet. Still, on a companywide basis, retiring the E190s in favor of A220-300s will reduce unit costs by 5.3 percent by 2025. JetBlue expects this to boost its pre-tax margin by about 3 percentage points after accounting for some unit revenue erosion related to "upgauging" to a larger aircraft. This could increase earnings per share by about $0.65.
Thus, while retiring the E190 fleet early will cause some short-term pain, the transition to the A220-300 puts JetBlue in position to achieve strong earnings-per- share growth in the first half of the 2020s. It's just one more reason why JetBlue stock looks like a great bet for long-term investors.
Adam Levine-Weinberg owns shares of Embraer and JetBlue Airways and is long January 2019 $10 calls on JetBlue Airways. The Motley Fool recommends Embraer and JetBlue Airways. The Motley Fool has a disclosure policy.