Jimmy Butler Trade Rumors: New Team Interested In Minnesota Timberwolves Star
The latest team to reportedly be interested in the services of wantaway Minnesota Timberwolves star Jimmy Butler is the Dallas Mavericks.
Reports first emerged last month that Butler, who has a year left on his current contract, wanted a trade away from Minnesota. His three-team shortlist included the Los Angeles Clippers, who were his initial preference, the Brooklyn Nets and the New York Knicks.
Then his preference became the Miami Heat who began dicussions with a hesitant Minnesota over a potential trade. The trade was close to being finalized earlier this month such that the Wolves even shared Butler's medical information with Miami.
However, ESPN's Adrian Wojnarowski reported Minnesota made a last-minute bid to further sweeten a deal for them, causing trade talks to collapse.
Since then, the Houston Rockets have been reportedly aggressive in trade talks but nothing further has developed with the 29-year-old even featuring in three games for the Wolves this season after sitting out the preseason.
The lack of speculation for now, is due to the risk of Butler being a one-year rental for any team that trades for him and lacks the cap space to re-sign him in the summer, according to ESPN's Brian Windhorst, who appearing on the HoopsHype podcast, recently revealed the Mavericks are another team interested in the shooting guard.
"The ground is not fertile for a trade right now, there's a couple of reasons," Windhorst said. "One is that for some teams, Jimmy Butler will clearly be a rental. That depresses his value to some teams. Then you have teams that want to trade for him, teams like Miami and Houston, he has more value to them because they wouldn't be able to have a chance at him in free agency, so they have reduced leverage because of it [in terms of a trade offer]."
"For example, like if the Clippers call, the Clippers are a team that wants him, the Mavericks, for example, are a team that want him. But those two teams have salary cap space so they know they can sign Jimmy Butler without trading anything for him in the summer. Their offers are going to be much lower than the offers of Houston and Miami. Not all offers are the same."
The Mavericks will certainly have the cap space to sign Butler in the summer if he becomes an unrestricted free agent and his addition would be a huge boost to a side currently led by rookie Luka Doncic and Dennis Smith Jr. Whether he will join Dallas is another question though.
Butler has a $19.8 million player option for the 2019/20 season and is understood to want a full 5-year, $190 million contract extension with a new team.
The Marquette graduate currently averages 25.3 points, 5.7 rebounds and 3.0 assists in the three games he has played this season so far, with Minnesota currently boasting a 2-2 record.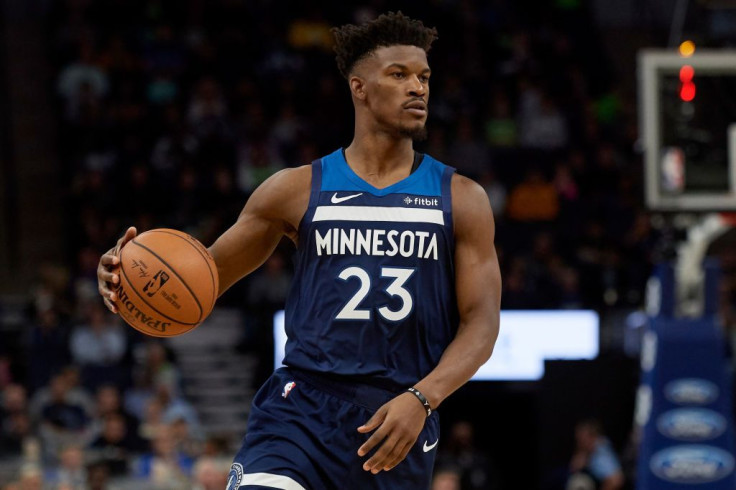 © Copyright IBTimes 2023. All rights reserved.