Jimmy Carter Cancer On Brain: Radiation Treatment For Melanoma Starts For Former President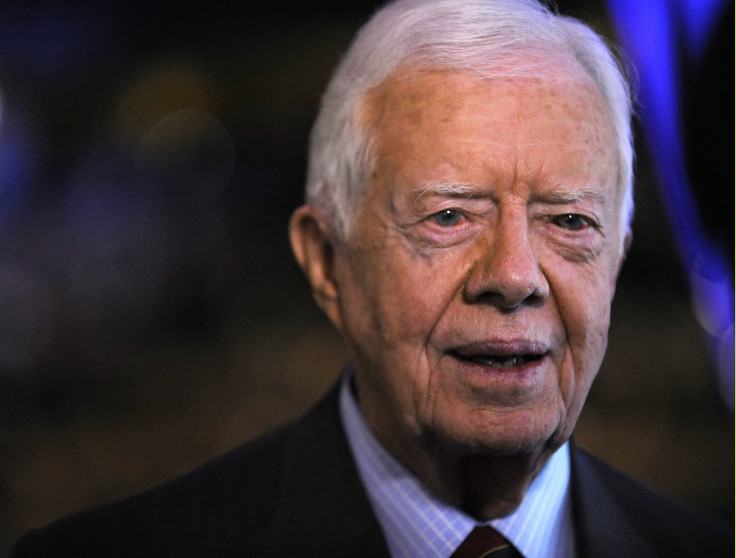 Former U.S. President Jimmy Carter announced Thursday that he has melanoma in four spots on his brain and will start radiation therapy immediately. As a result of his treatment schedule, which includes four sessions at three-week intervals, Carter said he plans to cut back on his work with his nonprofit, the Carter Center in Atlanta. "I can't really anticipate how I'll be feeling, obviously, but I'll have to defer quite substantially to my doctors," he said.
Speaking at a news conference, Carter said doctors found the cancer earlier this month on his liver and believe it started elsewhere. They scanned and found four spots in his brain, but the doctors expect the scans to discover it elsewhere. Melanoma, known usually as a skin cancer, can also occur internally.
Carter said his first treatment will be Thursday afternoon. "I've had a wonderful life ... an exciting and adventurous and gratifying existence," he said.
Carter, a Democrat, was the 39th president of the United States. He was in office from 1977 to 1981. After his term, Carter and his wife, Rosalynn, started the Carter Center aimed at working for human rights and health around the world.
Carter revealed his diagnosis last week, issuing a statement saying he would scale back his public schedule to make time for treatment at Emory University. He underwent surgery earlier this month to remove a "small mass" from his liver after a bad cold forced him to leave Guyana in May.
The announcement caused many to speculate that the former president had pancreatic cancer, which killed his father, both sisters and a brother. Carter's mother also had pancreatic cancer.
For years, Carter's doctors closely monitored his pancreas in regularly scheduled CT and MRI scans, but he told the New York Times those had mostly stopped by 2007. At the time, he theorized that his family was so affected by pancreatic cancer because his relatives smoked cigarettes, something he's never done.
© Copyright IBTimes 2022. All rights reserved.
FOLLOW MORE IBT NEWS ON THE BELOW CHANNELS